As the season's first (but sadly not last) international break draws to a close there's been much excitement from United fans regarding our return to Premier League. This is hardly surprising given our flurry of activity towards the end of the transfer window and United fans, myself included, are right to be excited about our upcoming games. This excitement has led to people attempting predict van Gaal's side for the upcoming home match against QPR. While I don't have anything against people predicting teams, I'm gonna do it here after all, most of these predicted sides have included as many of the club's new signings as possible, if not all of them.
First of all, I don't know how Louis van Gaal operates day in, day out, but one of the most well-known concepts of football is the settling in period for players. Continuity is key in football and momentum so important that as tempting as it may be for managers to throw all their new signings into the team at once, the need to keep the side relatively settled means that more often than not new signings are introduced slowly. It's hard to tell if that will be the case for United. After all, does van Gaal particularly want his side to carry its lack of momentum onto the next game? The international break, as well as the new signings, has lifted much of the doom and gloom away from Old Trafford but van Gaal is known for taking time and being patient when introducing his philosophy, so perhaps he'll have the same approach with United's new recruits.
Saying this, most are at different stages of their integration into the squad while others (Blind) is already well known to van Gaal so may require less time settling in. Taking this all into account (and assuming van Gaal sticks with his so far favoured 3-5-2) here is the first team that I feel has a realistic chance of starting against QPR, and winning.
GOALKEEPER: David de Gea. No prizes for this one. Effectively the first name on the team sheet, such is his command over his position.  United's best player last season and growing in reputation and  quality with every passing game.
LEFT CENTRE-BACK: Tyler Blackett. Though inexperienced, it appears van Gaal has taken a liking to Blackett. He has been described as dedicated to learning and this attitude bodes well for him under the Dutchman. From watching his debut and onwards it is clear that he still has much to learn. His passing can be erratic and he often chooses the wrong option but he has the blueprints to be a top centre-back. He is commanding in the air, something we can struggle with when Smalling is in the team, and given the current woes of Jonny Evans the manager may opt for the youngster at home instead.
CENTRE-BACK: Marcos Rojo. Though a new signing, the Argentine was not one of the deadline day recruits and has been at the club and trained with his team mates since August. Difficulties in obtaining a work permit forbade him from playing any part against Burnley but with that sorted out, and United's defence continuing to look rather weak, I expect him to be brought in to attempt to shore up a defence that has become United's main weak point almost overnight.
RIGHT CENTRE-BACK: Phil Jones. Providing the Englishman is fit (he came off during England's Euro 2016 qualifier against Switzerland with a hamstring injury) there's little doubt that he will feature from the start against QPR. Though derided by many for his gung-ho and often self-destructive style of play, the stats suggest that Jones has actually been more impressive than some have suggested this season. According to WhoScored, Jones has a 91.2% average pass rate, has made 18 clearances and 17 interceptions over his first three league games, collecting a rating of 8.02 overall. Stats aren't everything but they give you an indication into how a player is performing and these suggest that Jones is doing all the right stuff at the moment. If fit, he'll play.
LEFT WING-BACK: Luke Shaw. The England left-back was one of the clubs first summer signings alongside Ander Herrera. Earmarked by David Moyes but given the van Gaal stamp of approval, the 18 year old has had to deal with fitness issues from the moment he arrived at the club. Van Gaal himself admitted that Shaw wasn't to the required level of fitness, but did add that he had impressed with his level of dedication in training. His absence so far this season has led to Ashley Young deputising at LWB, indeed he impressed in during pre-season but (much like the rest of the squad) has failed to impress in during competitive games. Shaw's return to fitness should mean a more fluid set up from United. He's a natural left footer and defender and is athletic enough to get up and down the pitch. Should be a nailed on starter when fit.
RIGHT WING-BACK: Rafael da Silva. You might be starting to see a pattern here. The Brazilian has been laid up on the physiotherapist's table since Louis van Gaal arrived at the club following the World Cup. It was reported during the summer that van Gaal was willing to listen to offers for the still relatively young Brazilian but it appears that the Dutchman would rather see him play first. Such has been United's difficulty in adjusting to 3-5-2 in competitive games it is highly likely that Rafael, a right back but more naturally a wing-back, will get the nod ahead of Antonio Valencia. Both Shaw and Rafael are full backs with strong attacking tendencies so they should suit the formation. The hope is that Rafael can try to replicate the sort of form we saw from him during the 2012/13 season and cement the RWB spot at the club. No better time to start than on Sunday.
CENTRE-MIDFIELD: Ander Herrera. The Spaniard, signed from Athletic Club, impressed during the pre-season tour of the USA but has been injured since the opening day defeat to Swansea. United have missed his quick thinking and awareness in midfield as all too often Darren Fletcher has been exposed. The continued injury to Michael Carrick as well as the loan of Tom Cleverley to Aston Villa suggests that a home game to QPR is the perfect time to reintroduce Herrera into the team. He has the ability to run games and hopefully this Sunday sees the start of a long run in the team for him.
CENTRE-MIDFIELD: Daley Blind. Such has been the severity of Darren Fletcher's struggles that it would not surprise me at all were Louis van Gaal to start Blind, the deadline day recruit from Ajax, against QPR. The Dutchman and recently crowned Dutch player of the year can play at either left-back or centre-midfield and is obviously trusted by van Gaal. It's not unreasonable to think that his inclusion may help smooth United's transition to 3-5-2, as he's already well aware of what it takes to make this formation work. His defensive capabilities, as well as his passing and physical strength could see him selected over Darren Fletcher in midfield. He's got it all to play for too. United have been begging for a midfield enforcer since the sale of Roy Keane and Blind has the chance to make the role his own.
ATTACKING MIDFIELD: Angel Di Maria. This was a tough position to predict as it has been occupied by Juan Mata for some time now. The simple fact is that one of either Rooney or Mata will have to relinquish their starting position to accommodate Di Maria and with Rooney being the club captain, it may well the Spaniard that suffers as a result. He has impressed more than most this season but has still been significantly below the level we came to expect towards the end of last season and especially his time at Chelsea. Di Maria is such an explosive and hard-working player that you can't really begrudge or disagree with his potential inclusion over Mata. Even on his debut at Burnley he showed the sort of dynamism and quick thinking that this side sorely needs. He draws opponents in and gets his team mates involved in play. His performance for Argentina against Germany last week (albeit in an inside-forward role) suggest he's in confident form and that bodes well for United. Providing Herrera and Blind can release him when possible, Di Maria could do serious damage against QPR.
FORWARD: Wayne Rooney. Truth be told, I'd rather Rooney didn't start. I feel he takes away from our momentum and build up play and essentially slows us down. His first touch is poor to boot. But this isn't my ideal XI, this is the XI I expect van Gaal to pick, and as such Rooney makes the cut. The very fact that van Gaal made Rooney his captain shows that he expects him to play regularly. He stated from the start that the captaincy was important to him and as such Rooney must be considered an important part of the attack. He's not had a particularly good season so far, scoring 1 in 3 games, but this goes along with the general United trend of playing poorly this term. The hope is that with the influx of new signings, it gives Rooney the necessary impetus to try and ignite a bit more excitement into his game. The more likely result however will be that Rooney keeps doing what he's doing – slowing us down, spreading 40 yard passes and occasionally scoring crackers. That appears to be enough. Moving on!
FORWARD: Radamel Falcao. I pondered over how likely the Colombian's selection is but ended up plumbing for him over Robin van Persie. The impotence of the United attack so far this season suggests that van Gaal will be looking to excite and entertain on Sunday. He's not one to make decisions for fans but surely he too must be nearly salivating at the prospect of seeing the loanee take to the Old Trafford turf. Almost everything that could be said about Falcao has already been said but simply put, he scores goals. Lots and lots and lots of goals. He's scored them wherever he's been, since he was a child. To paraphrase Moneyball, the best indication of a player's future is his past performance, and using that thinking, it's hard to see Falcao being anything other than an unmitigated success. He appears fully fit following his lay off with a knee injury and though he's only had a few days training with his new side, he's professional enough and above all good enough to walk straight into this team and score goals instantly. For what it's worth, I reckon he'll do just that.
Here's what they should look like.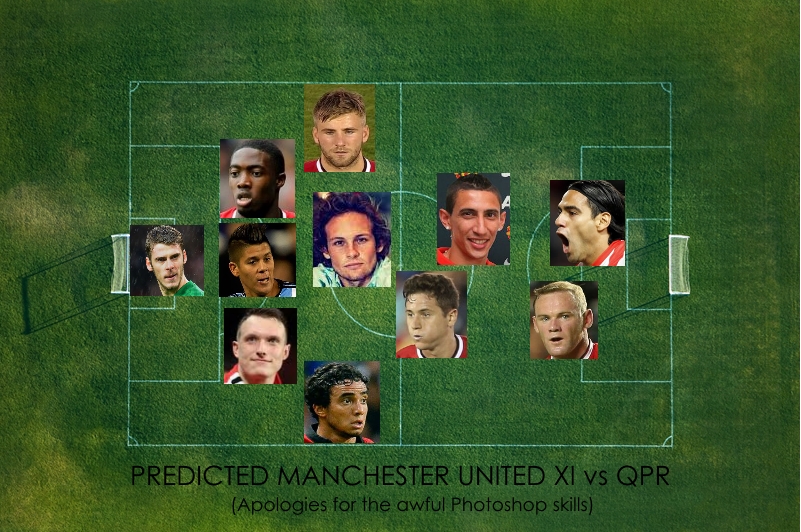 So, do you agree? Have I been kind or unfair to some players? Do you think Mata will start ahead of Di Maria or van Persie ahead of Rooney or Falcao? Feel free to let me know below.