Since the start of the mid July pre-season tour in the US, the 3-5-2 formation has become a regular component of Louis van Gaal's Manchester United, and despite the objections of many fans, the 'Iron Tulip' persists on using a system that, for English football, is relatively alien.
After a disappointing start to the Premier League season, United's young centre back selection has probably felt the biggest change of positioning out of the whole squad. By using this format, each of three positions requires players with differing qualities and characteristics. Despite the fact Van Gaal may return to a much more traditional two man centre-back pairing when QPR visit Old Trafford on September 14th, I shall be discussing who would be included in my preferred centre-back trio.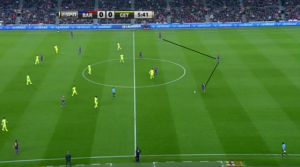 Now, first things first, how should this defensive system be set out. The image above shows a game involving FC Barcelona where the Catalan club had reverted to a 3-4-3 system under the guidance of Pep Guardiola. As we can see, the three defenders create a triangular shape when in possession of the ball. It is obvious that one of them must play deeper in front of the keeper with the other two playing wide and high up the pitch. As a result of the pressure put on the wider centre-backs, due to playing so high up the pitch, they must have sound ball control and the mental ability to pick out a pass in crowded situations. The deeper centre back must form a final line of defence in front of the keeper. This player must act as a sweeper and an organiser in the defence. Many of you will think a certain Nemanja Vidic would be ideal for this position but unfortunately for you, and me, this cannot be the case.
With Daley Blind likely to play as a holding midfielder, our current centre back selection consists of; Phil Jones, Chris Smalling, Johnny Evans, Tyler Blackett and Marcos Rojo. As seen in Van Gaal's pursuit of a left sided player for the left centre-back position in the summer, it is obvious the Dutchman prefers left sided players for left sided positions. For this reason it is likely Blackett or Rojo would occupy the left centre back role. Due to his ability to out muscle attackers and habit of putting his body in dangerous places, I believe Jones would be best suited for the deeper centre back role. These characteristics are perfect for a player who forms the last line of defence in front of the keeper in my opinion. For the right sided centre-back position, I think Chris Smalling and Johnny Evans are the best suited because of their ability to bring the ball forward out of the defence and, of course, they are both right footed players which Van Gaal will prefer for a right sided position. However, I do question their ability to pick out a pass and cope with pressure from attackers.
In conclusion, my preferred centre-back trio would be Evans, Jones and Rojo. I have picked Evans over Smalling as I feel he is quicker and has better ball control. I do not believe Blackett could play week-in week-out due to the fact it's his first season as a senior player and he lacks experience. As a result of this, I have chosen Rojo. Another reason I chosen the Argentine defender is because of his impressive season with Sporting Lisbon and his performances at the World Cup in Brazil. Finally, I believe Jones is the ideal player for the deeper defender role (for the reasons stated in the previous paragraph) and could potentially be a future captain in my eyes at least.