Have you ever fallen in love with someone who takes you places you've never been?  It's a thrilling experience that leaves you with stories to tell your grandchildren for years to come, and just as many that you can't.  Unfortunately, these types of relationships tend to end tragically, whether it's because the more adventurous partner takes matters a bit too far, or because the cautious one falls to his/her death after having been cajoled into climbing a sheer cliff wall hundreds of feet above the Mojave Desert without the benefit of a safety line.  Such a relationship is the one supporters enter when a certain Dutchman becomes manager of their club.
Brian Phillips, the former leader of the exiled Run of Play and currently brilliant at-large scribe for Grantland, the excellent sport/pop culture offshoot of the American branch of ESPN, recently catalogued the most bizarre of new United manager Louis van Gaal's escapades in a primer for stateside fans ahead of the epic, if ultimately meaningless, encounter between the Red Devils and Real Madrid in the 105,000 seat University of Michigan Stadium, known to college gridiron fans as the "Big House."
I use the term meaningless both pragmatically, because it is pre-season, after all, and somewhat tongue-in-cheek, because journalists, Madridistas, and Man United detractors alike, took pains to point out that Carlo Ancelotti's UCL Champions did not field their best side to start the match.  As though an eleven including Xabi Alonso, Luka Modric, Iker Casillas, and 85-million-pound-man Gareth Bale isn't a formidable one, the absence of a certain Cristiano Ronaldo until the final quarter-hour was viewed in some circles as los Merengues laying down for their opponents.
Viewed through any prism, the match was nonetheless a stellar affair.  Both sides put on a show that was watched in person by an over-capacity crowd of 109,318, with all but one customer leaving completely satisfied.  That poor fellow suggested in a chat room on another site that no soccer matches should ever be held at the Big House, due to the horrendous traffic.  It was unclear whether the complainer was a college grid-iron fan intimidated by such an immense, record-setting display of support for an evilly socialist pursuit in the middle of the American heartland, or a United supporter frustrated that he had missed the opening kick.
Like Karim Benzema in an important match, however, all of that is drifting off topic.
In his primer, Phillips listed such audacities as Van Gaal congratulating Ajax on hiring the "best manager in the world" when the Dutch giants gave him his first dugout job in 1991.  He admired the pugnacious gaffer's audition for John Woo, Jackie Chan, and the rest of the Hong Kong film industry, the execution of a near perfect flying heel kick in the face of a fourth official after a similar foul against one of his players had gone unpunished on the pitch.  Rapturously, he retold the clubhouse tale of the Dutchman making his point that anyone — or anything — was capable of being dropped, by loosening his belt and allowing his trousers to fall around his ankles in full view of his entire Bayern squad.  With reverence, he described the newly appointed Barcelona manager's farsighted motivational act of pushing a teenaged Gerard Pique to the ground, screaming in his face, and in front of the boy's horrified grandfather, that he was "too weak to be a Barcelona defender."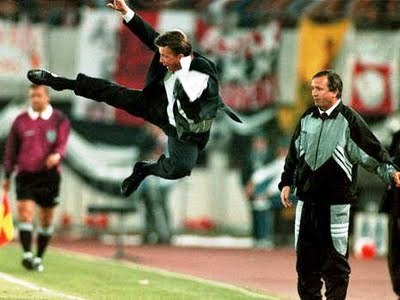 In effect, Phillips was warning United fans to expect literally anything from their new boss, and, to his credit, Louis van Gaal immediately lived up to billing in a pre-match presser in Michigan.  Taking a completely contradictory view to that of the pro-Madrid crowd, the new man in charge suggested that he may not need to improve his squad before the season begins.
"We are winning," he said, and further intimated that he was prepared to give his current squad the opportunity of a full season to come together.
Such a statement will alternately thrill ManU supporters, and frighten the bejesus out of them.  On the one hand, it reaffirms that this squad is closer to the championship side that Sir Alex Ferguson left behind than the incomplete, sub-par, ragtag group with which his short-lived successor, David Moyes, inferred he had been saddled.  On the other hand, not so much.  This is largely a young, inexperienced roster, especially at center back and in the defensive midfield.
Pundits and supporters alike have been clamoring for Van Gaal to sign three of the top players available (stretching the definition of available to its extreme limit) to outfit his new side with the type of disciplined, experienced, and, in the one instance, blazingly fast and outrageously talented performers that have been staples of his previous sides.  A combined fee in excess of one hundred million pounds to see Mats Hummels, Arturo Vidal, and Angel di Maria become the United version of Ron Vlaar, Nigel de Jong, and Arjen Robben hasn't caused fanboys who can't afford the average ticket price to a match at Old Trafford to even blink.  This author admittedly wrote a recent opinion advising a more reserved approach to investing in the squad, but an approach nonetheless.  Van Gaal, though, seems to be saying why bother?
This is the type of Stone-Cold Stunner that Looney Louis typically unloads on unsuspecting fans.  I mean, has any manager, at any level, let alone the most-watched competition on the planet, ever taken charge of a side without anticipating a transfer budget to sign new players?  Ever?  Even incumbent managers not named Arsene Wenger expect to do some business every summer.  Fergie, despite indicating that he was satisfied with the squad, would still throw in seven million quid now and then for a Bebe, just to give the fans something to chew on, if not swallow.
To be fair, Ander Herrera and Luke Shaw have come into the side.  Those players, however, were Moyes' targets, brought in only allegedly with Van Gaal's approval.  When you see Shaw banished to solitary for fitness issues, you have to wonder whether Van Gaal had all that much input into the two signings.  Did Ed Woodward somehow convince him that the deals were too far gone, and that United pulling out would further damage their ability to do business under the green, newly appointed Executive VP?
Both players are overflowing with potential, and it is easy to see that Van Gaal is more than ecstatic with Herrera.  Yet, it remains that neither were the Dutchman's players, and not putting his stamp on a new club is an action hitherto alien to any football manager.
When the results suggest that you do not have a good team, and seventh place tends to say you do not for a club of United's reputation, standing pat is generally not the advised choice.  By way of example, the other club I support (having grown up in Southern Ontario) is the NHL's Toronto Maple Leafs.  With the exception of the occasional bit of impulse buying, the Leafs have enjoyed (again stretching definition to the limit) a reputation for standing pat in the off-season.  The result is that professional ice hockey's wealthiest, most supported team has not won the Stanley Cup since 1967.
Until the Moyes era, following the Red Devils, with their one trophy per annum rate of success, offset the pain and suffering of being a Leaf's fan.  In fact, I long ago convinced myself that being tied to both clubs helped me maintain a healthy balance as a sports fan.  Lately, however, I've begun to wonder if it hasn't made me a manic-depressive.
But somehow we've done a Benzema again.
The question at hand is whether Van Gaal is serious in his suggestion that the squad does not need improving at present.  As captain for the day at the Big House, Darren Fletcher's distribution in a deep-lying midfield role was a pleasant revelation.  His array and accuracy in passing far outshone his rusty counterpart, Xabi Alonso, and perhaps, despite his long layoff to battle an intestinal disorder, suggested that plumping 37 million for Arturo Vidal is surplus to requirements.  Apart from young Michael Keane's imitation of a lion downing a wildebeest, which led to Gareth Bale's penalty conversion, United also looked capable in central defence.  Ashley Young's brace from the wing, along with the imminent return of Adnan Janujaz from post-World Cup holiday, might make any pursuit of the Argentine, Di Maria, seem both extravagant and detrimental to the development of this young squad.
To my mind, however, there is a pressing need for a bit of experience at the back, especially without a veteran goalkeeper to marshal the defense.  If Fletcher has indeed made the defensive midfielder's role his own with his collective performance on the US tour, I wouldn't complain if large bags of money were thrown at Juergen Klopp, enabling Hummels to exchange his yellow jersey for a red, but a more economic option, along the lines of City's January acquisition of Martin Demechelis, would suit me just as well.
Some people have pipped the already in-house Jonny Evans for this role.  For me, the Northern Irishman needs to polish his own game before becoming concerned with the team as a whole.  He is a step or two behind Gary Cahill in his development, and the Chelsea player still has the support of John Terry as he prepares to take over the Chelsea back line.
That said, there remains nearly a month before the transfer window closes.  With further opportunities to evaluate his squad in the interim, Louis van Gaal may yet decide to spend some of the Glazer's money, thereby revealing that he was just leading the media and fans on for a bit of fun while simultaneously boosting the confidence of his new charges.
This is the way of it with the Dutchman.  In the true Sinatra tradition, he does it his way, and the ride is never boring.  Titles in three leagues with four clubs suggest that things usually work out spectacularly, but then again, the debacle in his return to Barcelona, with the dismally unfulfilled guarantee of a championship, prove that his failures can be startling, as well.
If you're a United fan, all you can do is fall in love and hope Van Gaal takes you to a place you've already been.