On Monday a Manchester United fan named Jack Holt had his Twitter account suspended following complaints from the brand protection department at Old Trafford alleging unauthorised use of the club's logo on his pro-MUFC page.
The username was @ManUtd_Players and the idea behind the account was to periodically name every player to have played for Newton Heath or Manchester United. The account which has now been suspended had just over 100 followers on Twitter and it only followed current and former players.
"I was using the current club crest as the avatar," Jack said. "This is clearly where the problem is. It had the black background, slightly different in that the official account uses a white background. The account was described in its bio and in no way purported to be official. It could be seen as being so, of course, but with only 100 followers I highly doubt anyone did!"
Jack had not posted on the account for over a week to see the warnings Twitter had in place. This is what they sent on February 24, 2014.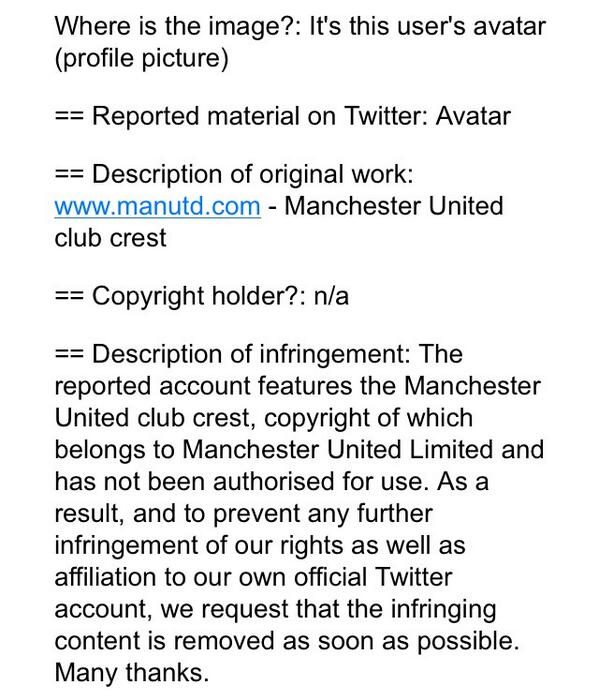 The same e-mail was repeated on February 27.
Strictly speaking, the use of a club crest as a Twitter avatar is breaching copyright laws, but if Manchester United want to alienate their fans, they're going the right way about it.
While there are Manchester United crests on several blogs, we removed ours shortly after launching. It didn't make sense to use it as an independent voice of the club. We obviously do things differently (stay away from our logo!).
On February 27, Jack received yet another e-mail.
Twitter has received multiple, compliant DMCA takedown notices for content posted to your Twitter account. As a result, we are temporarily suspending your account as a warning.

If you would like your account restored, please respond to this notice with confirmation that you understand Twitter's Copyright Policy (https://support.twitter.com/articles/15795). Please be aware that your account may be permanently suspended or terminated for repeat infringement.

Thanks,

****
Twitter Trust & Safety
Jack has since accepted the warning and deactivated the account. However on his personal Twitter page, he currently models a pisstake crest designed by SN columnist John Young.
It's not as if the club has other issues in need of addressing.