Manchester United take on Fulham at Old Trafford this Sunday. After the dreadful result away to Stoke City last week, we're hoping to see some sort of response that will grant us three points.
Odds on an MUFC win at 1/1 are generous giving that we are more than capable of beating a side placed at the bottom of the Premier League.
Fulham have lost 9 of their 12 away games in the Premier League so far this season and that woeful record should continue on Sunday.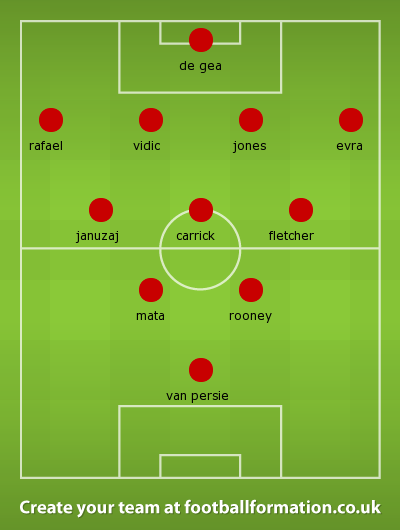 Following the announcement that this will be Nemanja Vidic's final season at Old Trafford, David Moyes confirmed that Jonny Evans would be ruled out for at least a week after picking up a calf strain against Stoke. Phil Jones, who was stretched off in the same game with concussion however, is due to return.
Meanwhile, Marouane Fellaini's first season has took another setback. The Belgian midfielder suffered a groin injury in training despite being close to a return. Cut the hair to stop the jinx?
Speaking to Fulham fan and sports journalist James Andrew of the Daily Mail earlier this week, he didn't sound a bit confident ahead of the game. That's interesting when you consider how the lesser teams (no offence or anything) have come to Old Trafford this season with a dog-eat-dog mentality. They arrived believing they could nick something.
When asked for a match prediction, James went for a 1-0 Fulham win, although he followed up by saying "realistically though it will probably be 5-0 to United."
I would like David Moyes to release the handbreak and go for it. We had the players up front to do it against Stoke, but there was little to no service. Cut the constant wing player and endless crossing. If we spiced things up and added more interchanging or played through the centre more often, we wouldn't be so predictable.
Come on, lads. Entertain us.
[divider]
Like Stretty News on Facebook and interact with other readers.