With the signing of Juan Mata, the return of talismans Wayne Rooney and Robin Van Persie to the squad who had all trained over the weekend, United were sure to line up a stronger force against a Cardiff side who had won 0-1 in the FA Cup over the weekend away to Bolton. United handed Mata his debut and lined him up alongside Robin Van Persie with Wayne Rooney making the bench. Moyes opted for a bit of steel in the centre of the park and selected Phil Jones over Darren Fletcher and pitched him alongside 'the never ageing' Ryan Giggs, who made his 800th starting appearance for the club. United continued with width, with the inclusion of Ashley Young and Antonio Valencia on each wing, who were flanked by Patrice Evra and Rafael respectively. Furthermore, Chris Smalling was chosen alongside Jonny Evans as the centre back partnership to lead the line.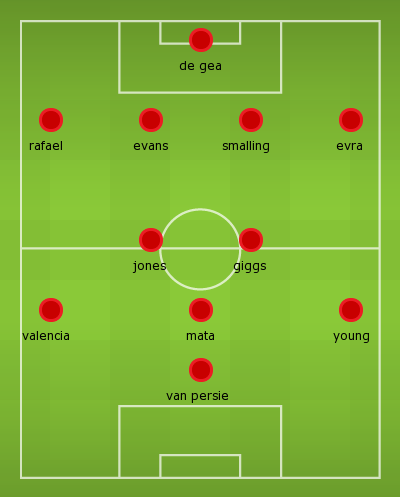 Key Highlights & Analysis
United started out the brighter of the two teams with Juan Mata making a confident entrance to his Old Trafford career. Taking a number of nice touches and making some nice cutting passes he was able to assist the first goal with a delightful long range pass from the middle of the field to Patrice Evra who very skilfully kept the ball in play and laid it to Robin Van Persie who in turn laid Ashley Young off for an expertly taken cross to plant the ball onto Antonio Valencia's head, hitting the bar. However, luckily the ball landed for Robin van Persie who after a couple of attempts steered the ball home with a wonderful headed effort.
Following the goal, the game became a bit flat with Mata seemingly pushed into a deeper and deeper role by the Cardiff midfielders, this in turn ensured a frustrating end to the half with United looking good value for their lead. It must be noted that Cardiff did play some nice football and with all due respect to Mr Solskjaer, his team look a different animal when playing against, with the ever energetic duo of Mutch and Noone who were Cardiff's best players by some margin.
The second half began rather similar to the Sunderland game, when Cardiff huffed and puffed attacking United from the off, however a superb performance by centre back duo of Smalling and Evans ensured United never looked like they were going to concede.
It took an Ashley Young screamer from 25 yards to increase United's lead to 2-0, and shortly after both Robin Van Persie and Juan Mata were substituted for Wayne Rooney and Adnan Januzaj. A couple of Wayne Rooney shots from 30 yards out and an almost Evans corker from a similar distance nearly took the scoreline into figures United fans would only dream about seeing this season. However, United looked composed, assured and with a bit more match practice and training for the attacking quartet of Van Persie, Rooney, Mata and Januzaj we could soon see them all on the field together. Frightening.
It's evident that we're still short in the midfield, and that we could do with bringing in one or two quality box-to-box midfielders to feed the quality attacking options we have. Sort that out and we'll be a lot better off. It also must be said that the reception for a certain Ole Gunnar Solskjaer was remarkable, with the stadium erupting into song on a number of occasions singing "Who put the ball in the Germans net?" and the like. It was a pleasure to welcome back a true legend.