A comfortable 5-0 win over Bayer Leverkusen on Wednesday secured our place in the knockout stages of the Champions League. Elsewhere as expected, Shakhtar Donetsk gave Real Sociedad a hammering, so the Ukrainians will have to win by seven goals to prevent us from getting top spot when we host them at Old Trafford in a few weeks time which will hardly happen. A defeat for them would increase Leverkusen's chances of getting through granted they take three points from Sociedad.
I ran a live blog which over 5,000 people read. Depending on your feedback (e-mail, Twitter or Facebook), it may become a weekly feature on SN.
Shinji Kagawa
Wednesday night saw his first start under David Moyes played in the hole behind a main striker. It is something many fans, including myself, have wished upon the new manager to address rather than play the Japanese sensation out of position, on the left wing. At Dortmund it worked tremendously under Jurgen Klopp but there is a valid argument against the idea at United. Wayne Rooney is in the form of his career and it would be difficult to drop a player like Robin van Persie when fit. A headache nonetheless for Moyes, but a positive one at the same time.
His performance made United look creative and innovative. We played Leverkusen off the pitch and sat patiently until they made mistakes. Then, once we retained possession, Kagawa and Nani would break forward and cause the German side problems. Up top Rooney looked to have enjoyed himself, creating 4 of the 5 goals.
Giggs, an ageless freak
Just a day off 40 and there's no sign of age biting Giggsy in the arse. I mean, what an absolute professional to remain playing at this standard all these years. A 92% (57/62) pass success rate kept United settled and Leverkusen on the brink. He ran in and out between their players like he would in his early years.
David Moyes said:
"Some people have mentioned his age, but you can't mention anything about his footballing ability. He's an unbelievable footballer and is even getting better. His vision, his pass for Nani's last goal – you wouldn't say he needed to come off because of his fitness. He's a wonderful footballer and I'm lucky to be working with him. I got asked the question the other day about how long he'll carry on and the situation with Ryan is that you keep playing. He'll tell us when he thinks he's had enough, but he keeps training, he keeps playing and his performances have been excellent."
Squad depth
When you have players in your squad like Rooney, Kagawa and Jones all so versatile, it boosts your chance of success. Smalling did a job out of position at right back with Rafael still out injured. Nani and Valencia are in and out of the team due to neither displaying enough constancy to warrant a definite place, although both got their names on the score-sheet and performed well.
Leverkusen were poor over both legs and that undoubtedly contributed. That, however, does not change the fact we played superbly and scored 5 goals away in Europe against a side renowned for their solid defense and record at home (won 8 of their last home fixtures in the Champions League before we came to town).
#MoyesOut
Ever since Moyes became manager we've become accustomed to plebs writing the man off whenever the chance arose. "He has no experience in Europe" was a common one used when he first got the job. Did Roberto Di Matteo have any before he won the Champions League with Chelsea?
He told reporters that there will be more to come from his side this season.
"It's the best we've played in my time here and there's more to come. The goals will get the headlines but we defended well. For us to come away from home and score five goals is really special. There were so many great performances. All around it was a great performance from the players. That is what I was hoping to get more often this season."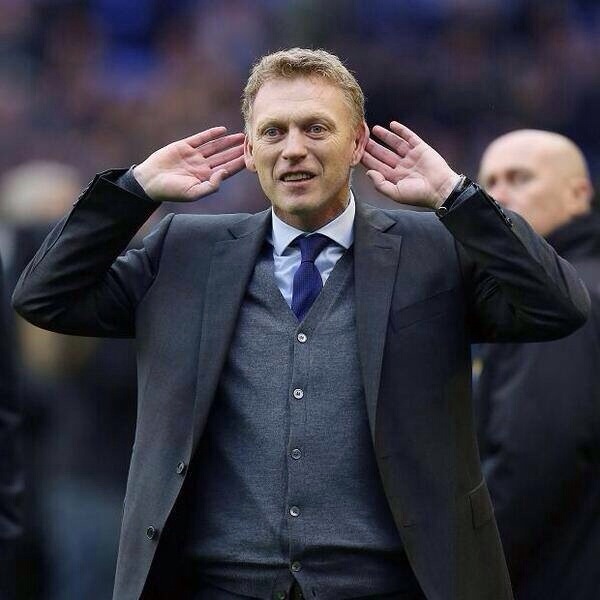 [divider] So, in conclusion, a great result, best performance of the season and it looks like we'll top Group A. Time under Moyes doesn't seem so bad after all.
Image: Manchester Evening News