If we take a glance over the past 50 years, Manchester United certainly have experienced the luxury of world class players. We could sit for hours on end talking about Wayne Rooney, Ryan Giggs, Mark Hughes, Denis Law, and now Robin van Persie. However, there is one man – a gentle figure with sublime skill in front of goal who reigns above all others even after 50 years – Dennis Viollet.
Lightening quick and a large part of the United championships in 1956 and 1957, Viollet was much more than a goal scoring machine. An ambassador of the worlds beautiful game, Viollet was a fighter. A survivor whom lived to tell his story of the icy night in Munich. As eight of his beloved teammates fell on that fateful evening, Viollet would walk away from the rubble with a gashed head and facial injuries.
As the Busby Babes fatally departed far too soon from the world, it was Viollet whom kept United steadfast. Retaining the captaincy for the reds, he led Busby's boys into battle, holding none of his God given talent back.
Credit to the entirety of Manchester United for overcoming the Munich Air Disaster, but credit to Viollet for his achievements on the pitch following such a tragic event. In the 1959-60 season, Viollet scored 32 goals in 36 matches – a record which still holds true to this day.
Viollet is a legend in the football world. With 178 goals in 291 matches for United, he provided numerous memorable moments. Viollet tallied four goals against Anderlecht in the 1956 European Cup, as United went on to thrash the visitors 10-0.
The pioneer of English football is a survivor. A man who made the most of his 30 years immersed in football. A man who made the most of his life, a man who paid tribute to his fallen comrades. And despite being sold to Stoke City by Matt Busby in 1962 at just 28-years-old, he's forever remembered as a red. A damn fine red at that.
What Viollet realized early in his career was that football was nothing without its fans. Viollet indicated he'd never be able to do the things he'd done in his illustrious career, if it were not for the gracious support of the United faithful.
And that's the thing – as fans, we thank the man for engineering space in the centre of the park. We thank Viollet for his brilliant football brain, tidy in possession and chalk full of talent. The man with character and heart of a lion, could make a goal out of anything.
In 1958, the entirety of Britain was in shock when hearing about Munich. As Viollet was one of the last names to come through, immediately it was destiny. It was not his time, Viollet still had plenty to give to the world. Call him lucky, or call him a fighter – Viollet was a man of intent. Either with his words, or either boot, he was a star: and above all a true gentleman.
Once again, we're left with an unbroken record. We're left with the wonderful images of Viollet with his slicked back and dark hair primed and ready for battle.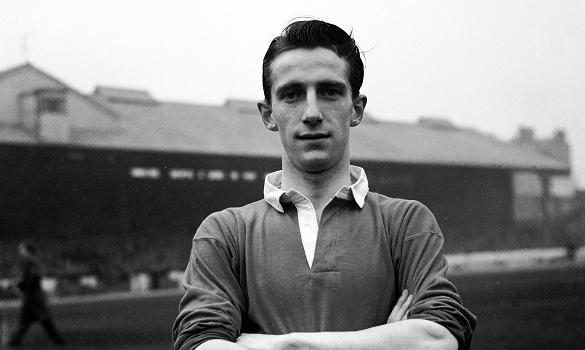 Arms crossed and a grimace on his face as if there was always another job ahead – Viollet will go down as one of the brightest men to even throw on a United shirt. During his time, with another goal lurking around every corner, his thin but powerful legs proved menacing to opposition. A firm elongated facial structure, his gentle combover complimented his persona. A tidy red, a well kept man, and a hero.