It has been 30 days since David Moyes first drove into Carringt-, sorry, the Aon Training Centre. We look at his story so far.
It was a dark and stormy night.
No. Wait. It was early May and it wasn't stormy. Or at least the storm that was brewing, wasn't in the sky. The rumours of Sir Alex' retirement started on the 7th of May and within 48 hours David Moyes was officially announced as the new manager. It provided very little time for the pointless comparisons between Mourinho and Jürgen Klopp or any other managers and I think the club handled it quite well.
David Moyes decided to bring in his own staff and let Mike Phelan, Eric Steele and Rene Meulensteen go. He didn't start his work until the 1st of July though. May and June consisted of tributes for Sir Alex Ferguson from almost everyone in world football – most listing his trophies by numbers. But is that how people will remember him? You don't hear people just listing what Sir Matt Busby won. They talk about the way the Busby Babes played, Bobby Charlton, Denis Law and the way George Best left opponents high and dry (and many Miss Worlds, well, probably one of those two things). Sir Alex will be remembered for the come-backs, the late goals and Ryan Giggs leaving his opponents high and dry (and, erm, we should probably leave it at that). Ferguson's presence will be missed by everyone, but this was an exciting, venturing-into-the-unknown type of thing for reds. This is the first chapter in United's history which many of us would be starting from page 1 and considering the kind of script Manchester United is capable of producing, I can't wait to turn the page.
On his first day at work David Moyes smiled creepily for the camera in his new office and to continue Sir Alex's tradition, decided to play the mouse out of its position.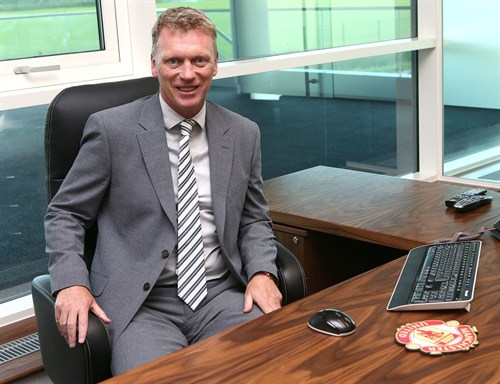 In his first press conference David Moyes came in like a batsman at no.3 with a firm intent of not playing anything outside the off-stump or above his waist. In an awkward phase during the press-conference he was asked 6-8 times about what Wayne Rooney had told him and he didn't answer once. These were his answers:
1st question: Talked about Rooney being close to Law and Charlton's goals and said that Rooney's not for sale. "Rooney's training well."
2nd question: "I'm more than happy to work with him and make sure we get success. Rooney's training well."
3rd: Talk about challenging Denis Law and Bobby Charlton's number and a World Cup for which England hasn't yet qualified. "Rooney's training well."
4th: "What has happened has gone. I've been impressed by how he's done in training."
5th: "I wasn't a part in Wayne and Sir Alex's meeting."
6th: "Has Wayne Rooney categorically said to you that he doesn't want to leave?"
"I can tell you categorically Wayne Rooney's training fantastically well for the last 2 days that's all I can categorically tell you. Rooney's training well."
When asked about transfers and Cristiano Ronaldo in particular, he said that he would never talk about players at other clubs. And that didn't last long.
If midfielders in today's market are Gods, Fergie's an atheist (maybe a monotheist considering his reliance on Michael Carrick). And if that's true, Moyes has tried to disguise himself as the pope.
David Moyes confirmed that United had made a bid for Cesc Fabregas twice and also informed the media that they are thinking about a third offer. He never said anything about Thiago Alcantara, but after a lot of talk of him accepting United's proposal and his subsequent move to Bayern Munich, United fans can only keep 'liking' his Facebook/Instagram updates. It won't affect a thing. He has moved on… I'm OK.
A bid for Baines was also rejected. Chelsea made their offer for Wayne Rooney public. Fans who wanted to know about every possible transfer, be careful what you wish for. Gone are the days when Ferguson and David Gill ran a tight ship with Fergie yelling "You can't handle the truth!". Or was that a different Marine who said that? Anyway…
United played their first pre-season friendly in mid-July. They didn't keep a clean sheet and lost 1-0. Januzaj and Zaha impressed but there wasn't anything else to talk about.
The second match was in Australia and United didn't keep a clean sheet but won 5-1. DANNY WELBECK SCORED TWICE and Lingard scored one in the first half and cracked a cracker in the second. Van Perise grabbed a goal as well and Januzaj and Zaha impressed again.
United conceded three goals in the third and lost by a goal. Januzaj and Zaha impressed.
The fourth match ended with the first Moyesie time goal scored by Zaha but United had conceded two and only managed to draw.
The last game, played on a pitch which showed pattern baldness, could've been considered as a beach football match  DANNY WELBECK SCORED THE FIRST goal for United. Januzaj got his first. Lingard cracked a cracker. United didn't keep a clean sheet.
The tour overall was more or less a success with shabby defending but plenty of attacking flair particularly from Zaha. Thankfully, there weren't any major injuries to players and none of them flew back. I don't know who Wayne Rooney is. The tour was definitely a commercial success for the club with packed stadiums throughout.
The pre-season continues with plenty of games left and a few players joining the squad and hopefully Edward Woodward is not wayward with his negotiations.
Either way, United play at Wembley in a few weeks. Follow me on Twitter – @saliliphatak