In response to all the stick television host Piers Morgan gives Robin van Persie and other members of the Manchester United squad, our Dutchman has had the last laugh sending a picture of himself with the Premier League trophy to the Arsenal fan.
The British journalist whom has his own show on CNN in America posted a series of tweets while sharing the picture with his followers. Van Persie wrote: "Piersy my man, thanks for all the support! You made this day even more special! All the best, Van Pursestrings."
On the second side of the letter, the 29-year-old continued: "Great to be a champ.. so many #Tears4Piersy."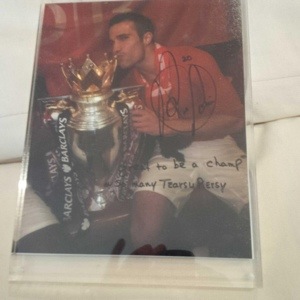 Moments later, via the social network, Morgan replied: "I will of course afford Van Pursestrings' gift the respect it deserves. And use it as my loo doorstep in Beverly Hills… @Persie_Official."
Just when you thought it would be impossible to love Van Persie that little bit more, he goes and does this. Brilliant.
___