Are you Fergie'd out yet? After nearly a week of wall-to-wall coverage of the great man, you could be forgiven, just a little bit, for maybe shying away from yet another article about the man from Govan. After all, he's got a knighthood, a stand named after him, and it's not as though he's died, is it?
People at work. They're twats aren't they? Happy to spout whatever claptrap they've heard Adrian Durham spewing on Talk Sport, or to regurgitate nonsense from their tabloid of choice… The ABU's have been out in force this week: they've celebrated Fergie's retirement with more vigour than they did Aguero's winner in stoppage time against a QPR side who'd basically decided to throw the match once they knew they were safe from relegation. (Incidentally, was anyone else absolutely delighted by the shambles of QPR's season? Good riddance, I say. Please, please let it be Sunderland next…)
Or else you get the lame-duck jokes coming in on text or on Facebloodybook. Crap about Sir Alex and retirement presents. He'll be getting a new watch to mark out his remaining 'Fergie time'. Rubbish about how Ferguson was just about the only 71-year-old bloke who made the front page this year without it being a story about, well, you know.
Worse, sometimes, are the platitudes. 'Celebs' and 'sports stars' chucking in their two-penneth in, claiming ownership of our Ferguson. Elbowing their way into our memories, our grief.
Everyone's got their view on Sir Alex. And once they've told us their definitive views on the man, they expect us to simply shut up. And now they tell us they're sick of hearing about it. They're pissing and moaning because Fergie got more air-time than the bloody FA Cup final. They're up in arms because Fergie 'wasn't a very nice man' sometimes. Once he chucked a boot at David Beckham's face, dontchaknow. And he didn't speak to the BBC – to Saint Gary Lineker – for six years! Hell, he got away with speeding too, because he claimed he had "the trots".
Fergie was a lot of things, but the best thing about him was his extraordinary longevity. That's why we won't shut up about him for a long time yet. Fuhgeddaboutit. I hope the celebrations from Sunday – yes, celebrations, we've won the league – will go on all summer. I hope we never stop talking about Sir Alex. I hope there's always a new story about him and an old, dog-eared memory to revisit.
Quite simply, the Ferguson years have been the best time in the world to be a Manchester United fan. During his reign, United won – including Charity/ Community Shields – an eye-watering 38 trophies. And during this time, fans have been lucky enough to have witnessed some of the greatest moments, the greatest players, the greatest teams, in Manchester United's long and proud history. And Sir Alex has been the one common denominator. His drive, his desire, his nature as a winner is now scrawled into the DNA of the club. I want to talk about it. I want to watch hastily cobbled-together documentaries. I don't want to move on…
Like every single one of us, I love Alex Ferguson. I hope I have made that abundantly clear.
But now I need to get something off my chest.
Sir Alex Ferguson has always loved a good conspiracy theory. Amongst his extra-curricular hobbies – wine appreciation, horseracing – he counts reading books about the assassination of John Fitzgerald Kennedy as one of his most favoured means of 'getting away from it all'.
And, like the death of JFK, Fergie's announcement of his retirement as manager of Manchester United was a real where were you when moment.
And here's the rub. I was in my office, putting the finishing touches on a book about United which was intended to be released to coincide with the lifting of our 20th title. And though everyone talks about their initial reaction being one of surprise, or shock, followed swiftly by disappointment, I reacted a little differently.
My first thought was oh for God's sake, now I'll have to bloody rewrite the whole book.
I feel very guilty for this now.
I'm naturally superstitious about my football. I hope my initial reaction to Fergie's retirement will not come back to haunt me. I hope that we've not now had our feast. I hope we're not about to enter a time of famine (after all, we saw in twenty-six years without a league title followed by just over twenty-six years of unmatched success. What's this going to be followed by?)
I hope I never take United for granted.
I hope I continue to question things (such as the Scots' mafia in English football management. This is how Moyes got his job at Everton: "Walter Smith recommended me…" And this is how Moyes got his job at United: "The search for a new manager has been very short. Alex was very clear with his recommendation." There must be something that completes the circle, involving Smith recommending Fergie for something or other… Or else Moyes recommending Smith…)
Most of all, I hope I can carry on talking about United. Constantly. Full of the knowledge that, deep-down, other people only want to close their ears because they're jealous.
I'll be writing a few articles for Stretty News over the next few months and I hope that over this time, I can get over my Fergie-guilt. I also hope that I can somehow persuade myself that David Moyes isn't a disastrous appointment. Looking forward to sharing my views.
ABOUT THE AUTHOR
Andrew J Kirby is the author of 'Fergie's Finest', which was released this week, and by no means cashes in on Fergie's retirement… Take a look on Amazon now.
ABOUT THE BOOK
Sir Alex Ferguson was one of the greatest football managers of all time.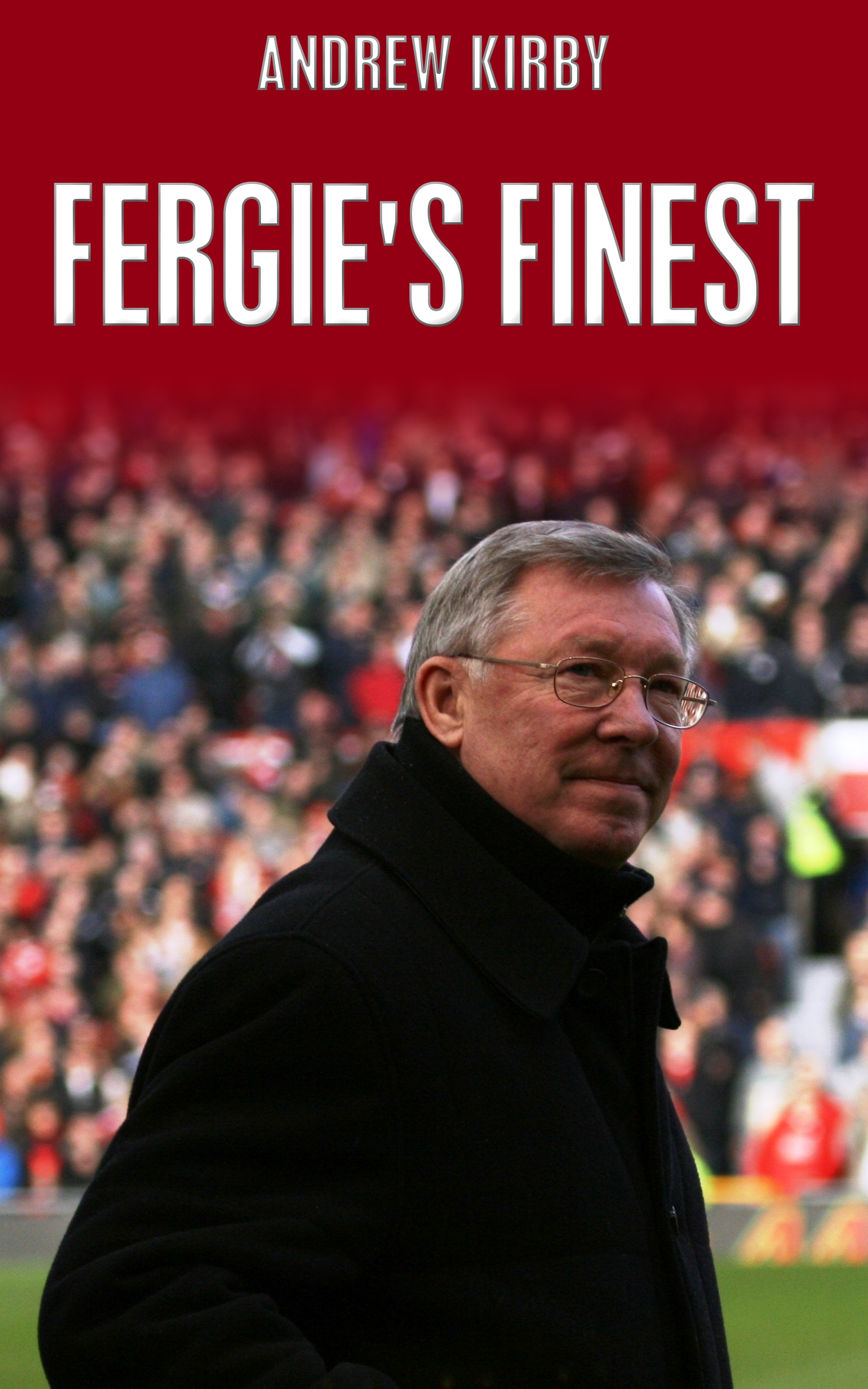 In over 26 years in charge of Manchester United, his passion for winning and tactical flair made them the most successful club in the Premier League. Under his guidance, United won an eye-watering 38 trophies, including 13 league championships.
But who were the greatest players of the Ferguson era?
Over 185 players debuted for United under Ferguson and more than 200 players wore the red jersey for Fergie.
They included legends of the modern game from David Beckham to Ryan Giggs, from Roy Keane to Bryan Robson, and from Eric Cantona to Cristiano Ronaldo.
But which were the Greatest Eleven?
Is Robin Van Persie the greatest striker? Or Ruud Van Nistelrooy?
Was Paul Scholes the best player in the heart of the midfield? Or Bryan Robson?
In this fascinating study, Andrew Kirby selects the ultimate 'Team Fergie'?
With interviews from football writers and former players, this book considers the leading contenders for each position in Sir Alex Ferguson's First Eleven.
It is the one book that every Manchester United fan – and indeed every football supporter – will want to read.
Andrew J Kirby's sports writing has featured in BBC Sport magazine, and on the Radio Five Live website. He has held a Manchester United season ticket for the entirety of the Sir Alex Ferguson reign at Old Trafford, and regularly follows the Reds across Europe and beyond.
He also writes award-winning crime fiction as AJ Kirby, and has published five novels including Sharkways and Paint This Town Red, which was shortlisted for the Guardian's Not the Booker Prize 2012.
Endeavour Press is the UK's leading independent publisher.