Today sees Sir Alex Ferguson retire after spending 26 years in charge of Manchester United. There are a lot of reasons why I am drawn towards loving this man. He is Scottish, in fact Govan where Sir Alex was born is only six miles away from where I was born. He is an extremely successful man but with it he is a very down to earth gentleman who has never forgotten his shipyard working roots. This article is a personal story about Sir Alex and maybe it gives you a different insight to the man who rocked up in Manchester almost a quarter of a century ago today.
My grandfather before he retired was a very popular Glaswegian bookmaker, he used to know all the Old Firm players and in particular the Rangers players of the 60s and 70s. He has also met Lev Yashin, Jimmy Greaves, Frenc Puskas, Alfredo Di Stefano and Eusebio. In fact my grandpa's business partner at the time was Rangers player George McLean and one day he introduced to my grandpa to a team mate by the name of Alex Ferguson. Seems obvious now when you see how much in love Sir Alex is with horse racing but my grandfather was kind of there for the start of that passion. So I asked my grandpa to describe the Fergie he met that day, the response was 'A  young, gangly, self assured boy.' Rangers would later travel to Australia for some friendlies and Willie Henderson was meant to visit my gran's brother unfortunately Willie fell ill. Without being asked Sir Alex took his place and my Aussie relatives have never shut up about it since, saying he was so generous with his time and just bloody lovely!
Years more like decades went by and obviously contact between my grandfather and Sir Alex became non existent, not that it was a friendship anyway. Sir Alex became far too interested in traveling to Aberdeen and Manchester and winning silverware rather than return home to Glasgow for a few bets (they have bookies in those cities too, who knew?). But only two years ago they would meet again. Unfortunately they have reached that age where it was at the funeral of a mutual friend. My grandpa, who can be shy and get kind of embarrassed easily noticed Fergie straight away but was never in a million years going to go over and bother the great man. Ten minutes later that same great man came up to my grandpa & asked 'Oh how are you?', My grandfather shocked, replied 'Eh fine thanks, do you remember me?' Sir Alex quickly said 'Aye of course I do noisy'. My grandfather was delighted (also sad for the deceased of course) that SAF had not only remembered him but so much so that he even remembered his nickname (Noisy – because as a young bookie starting out my grandfather was shy and quiet). That story always amazes me, after all those years after all that success Sir Alex remembered where he began and who was there at the beginning.
One of my brothers friends a PE teacher works at school in Govan. One day Sir Alex visited and he smiled all day. He loves Govan. Now I have been to Govan its not Paris or Prague or any beautiful area you can think of, its a bit of a dump but if you are from there and lived your early life there then it shapes you. It made Sir Alex self assured, it toughened him up and it gave him a bit of a steely age with a dry wit. That day he had time for all the kids and teachers and was proudly telling them all he was from this area and they can be anything they want to be. Glasgow has a hardened image and us Glaswegians do have that mean side but we also produce friendly honest people who can be extremely loyal. Sir Alex is almost the human symbol of a typical Glaswegian, albeit more successful than most.
Two years ago I had the honour to interview Celtic legend Sean Fallon, who was Jock Stein's number two. After the interview I had the pleasure to share a lovely sandwich and cup of tea with Sean and his wife. They adore Sir Alex and thats what they call him by the way. Before passing away he phoned Ferguson regularly to check on how he was doing. He once spent a holiday in Ireland as Sean celebrated his 80th birthday. Fergie invited them both down to Manchester for his 25th anniversary party. Now think what you like of SAF as a manager but he seems to me to be a truly great friend.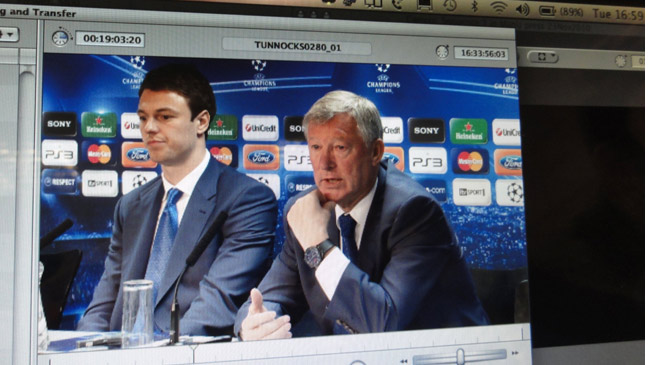 I have never personally spoke to the legend but I have been in the great mans presence. Three years ago I attended the Rangers Manchester United Champions League press conference. He came into that press room and everyone from the media shut the hell up, no matter if they had been in the industry for four years or forty, their eyes were glued to Sir Alex as he took his seat. The aura he had was almost electric and you felt you could almost see it! I just remember him batting away questions about any problems with Rooney or the Scottish referee crisis. He said it was great to be home and he had told his driver to drive through Govan and that put a smile on his face.
Now I really started watching English football in 1992, so I have seen every league title Sir Alex Ferguson has won down south and every time he does win I have a wry smile. I think I am his good luck charm and deserve a medal too… What do you mean he was extremely successful at Aberdeen! I am not a Manchester United fan but I jumped for joy that night in Barcelona when United dramatically snatched the Champions League away from Bayern. His modern use of the mind games has won trophies from the grasp of Rafa and Keegan. He has recently built what his fifth Manchester United team. I don't drink wine but I think this Sunday I shall raise a nice glass of red wine and salute Sir Alex the manager but more importantly the gentleman!
___
The author of this post, Scott Johnson, runs TheFootyBlog.net. Follow Johnson on Twitter.