Manchester United USA Supporters Club and ICONS are giving fans the opportunity to win signed jerseys from Wayne Rooney and Paul Scholes. Both players played a part in reaching the club's record 20th league title, and have many other honours to their name.
Our partners Manchester United USA Supporters Club are the officially recognised branch for supporters in the United States of America. Meanwhile, ICONS specialises in selling signed memorabilia from the world's best players. They have come together to give you a chance of winning a fantastic prize.
To enter, simply prove your dedication to Manchester United in the most imaginative way possible. Whether it's a photo of your jersey collection, your face painted red or you and your friends going mad at Old Trafford, they want to see it. Follow this link for more information.
You can also check out ICONS' full Manchester United selection, which includes gear from Van Persie, Ronaldo, Charlton and Law.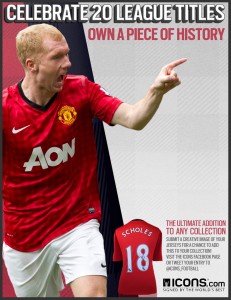 ___
Follow Manchester United USA on Twitter and Facebook.