Not that any of us need any extra encouragement to look back on our glorious Treble season of '99, but looking back it was easy to recollect the best individual performance I have still ever witnessed. Travelling to the Stadio Delli Alpi, the then home of Juventus, was a daunting enough prospect without the added burden of conceding an away goal in the home leg. The situation was bordering on critical when Pippo Inzaghi struck twice within the blink of an eye to make the task of getting to the Champions League final, the third chapter of the Treble mission, almost unsalvageable.
Enter Roy Keane. Already two goals down, he cynically, in typical Keano fashion, hacked down their maestro Zinedine Zidane, the resulting booking was curtains, even if United were to progress to the final, their talismanic leader would be ruled out through suspension. This was not at the forefront of the Irishman's mind. Keane scored a powerful near-post header and almost single-handedly transformed our fortunes. Despite the hindrance of a booking, he hurried and pressurised Zidane, a man famed for his composure and effortless grace in possession. He was a man possessed, driving on the 10 other players in a virtuoso manner. We ended up triumphing with a 3-2 score, it was our first ever victory on Italian soil, virtually solely down to one man.
Keane was the sort of individual who team-mates would run through brick walls for; he was an inspiration and some. Which got me thinking about natural leaders and how sometimes the armband fits perfectly on certain individuals. This, combined with our atypically charitable defence this season, brings me onto the focus of my piece.
Minus our colossal Serbian warhorse, after initially showing encouraging signs that he was coming back to fitness at the start of the season, our defence has been bereft of that natural leader akin to last season where we would almost certainly have not capitulated in the manner we did had Vidic spearheaded our defence. Vidic's absence would be as grave to us as it would to the blue lot losing Vincent Kompany.
Throughout the season, we have demonstrated a healthy knack of possessing more than enough artillery to outscore the opposition, but requiring four goals just to beat Reading, who are currently bottom of the league, spoke volumes of the shakiness and uncertainty that wreaks havoc when the Serbinator is missing. That night, no-one was taking charge of the back-line, without the added assuredness that Vidic intrinsically provides.
When the United defence is put under the microscope, which is almost on a weekly basis given the haters, Vidic is a unique entity; he is unlike any of the other defenders at the manager's disposal. He is a throwback to yester year, someone who has the balls to risk life and limb and is very much in the 'old-school' folder, not one for playing out of the back or tippy-tap, he sees the ball and clears it, simple as that really.
Nemanja is an out-and-out defender, with the sole objective of keeping out the ball. It was stated by the Kopite Alan Hansen, that Vidic and Ferdinand was one of the best ever centre-back pairings in Premier League history, and their complimenting of each other resulted in a uniquely obdurate and water-tight defensive barrier, recognised by many in the game. This formidable combination is highlighted by the statistics.

Even more poignantly, our results improve considerably with the captain in the line-up, with United boasting a 74% win percentage with the Serbian compared to a 67% winning record without him.
Currently, we are predicted to ship a total of 55 league goals, a staggering amount, which would be the most ever conceded if we go on to reclaim our title. The most we have ever conceded whilst going on to win the title was 45 goals, unsurprisingly the first season after the Great Dane Peter Schmeichel's retirement.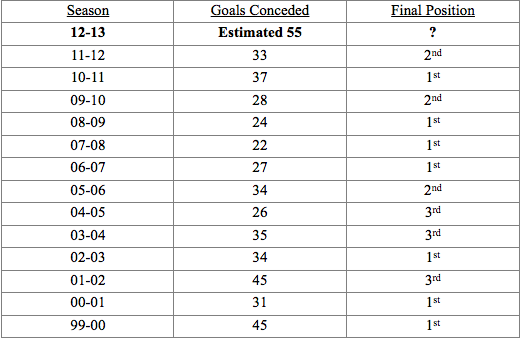 Without question, had Vidic's recuperation and initiation back into the United starting line-up been handled better, we perhaps would not have leaked so many goals and the United bashers would not have been stamping their feet as vehemently. After an almost 12 month absence from competitive football, Vidic encouragingly started United's first 5 matches of the season. But before the crunch fixture away at Liverpool, Vidic played 2 games in 5 days (including one against Galatasaray 3 days before, difficult opponents yes, but surely we could have got the job done without him, especially as we had bigger fish to fry on the Sunday?). Vidic looked considerably off the pace, he was probably rushed in quicker than anticipated and good given a rotten injury crisis at the back, with Jones, Smalling and Ferdinand all missing the opening extracts of the season. Maybe he could have been managed better, just try and imagine the physical demands of playing 5 games in 3 weeks after a year on the sidelines.
That said, we have become accustomed to the Serb's absence. Jonny Evans stepped in almost seamlessly after Vidic's horrendous knee woe in Basel and went on to have his best season and most extended run in the side. He carried on his stellar progress last season and has become a threat in the opponent's box; upon writing he has notched 4 goals already.
Vidic and Ferdinand renewed their once-blossoming partnership on Sunday against bitter rivals Liverpool. With both in the side (nowadays a rarity) there was an overwhelming feeling of optimism, Vidic is a leader of men and brings a sense of defensive sanity that has been devoid at times this year. Match of the Day highlighted the importance of Rio and Vida together on Sunday night. What was evident was Vidic and Ferdinand were not just telling people who to pick up from set-pieces, they were barking at their team-mates to get into position; these are two people who pride themselves on defensive solidity and collective assuredness. Vidic attacked every ball that was put into our area, if it wasn't Vidic who headed the ball, it was his partner Ferdinand. Vidic's presence must make opposition attackers dread the prospect of facing him, he certainly makes the crowd feel more at ease when it is announced he is on the team-sheet. Even when Vidic was roughing it out, taking the little steps on his road to recovery, there were a few murmurs of apprehension, 'is he the same Vidic?' but the old adage 'form is temporary, class is permanent' has not stood the test of time for nothing. Vidic was back to his best on Sunday, the Vidic of old.
However, as Vidic has aged, so has his amount of time spent on the injury table. Which is why the majority of Old Trafford must have winced at the sight of him clutching that knee he so badly injured in Switzerland 15 months ago. That said, this time a stretcher was not required, he was able to walk down the tunnel to a rapturous ovation. That he initially signalled his intent to play on gives us hope that this injury is not serious and his substitution was merely a precautionary measure. You would think that if the injury was serious, Vidic would not have re-taken to the pitch, maybe that is just the warrior in him.
The full extent of Vidic's injury is not as bad as first feared. Whether he makes it for Tottenham on Sunday, a very difficult game in its own right is another matter. What takes more precedence though is hoping the severity of the injury does not result in yet another prolonged absence of our captain.
We simply cannot afford to be Vidic-less in the second half of the season yet again. His loss was cataclysmically detrimental to our title hopes, we would have been Champions with our Serb at the back. With the cushion we currently have, if Vidic and the majority of the squad for that matter steer clear of injury demons, we will surely not cock up a decent margin for the second year running, not under Sir Alex Ferguson.
Our captain is paramount to our chances.
Follow Paul Rowles on Twitter – @RowlesPaul