Last week it was reported that Manchester United had moved ahead of Arsenal in the race for Crystal Palace star Wilfried Zaha and that the club were fully confident of signing the winger in the summer.
We are lead to believe that Palace want to keep Zaha until the summer in order to increase their chances of securing promotion to the Premier League. Palace are currently positioned fourth in the Championship, 10 points behind Cardiff who sit comfortably on top.
The 20-year-old has picked up interest from several English clubs since last season when he turned a number of heads on the terraces. Speaking to Sky Sports on Thursday night, Crystal Palace manager Ian Holloway confirmed that a number of clubs had been in contact but nothing has been finalised yet. However he claimed Zaha is not the type of player that would disrespect his teammates by coming out to the media and flirting with the prospect of joining a big club.
Miguel Delaney from ESPN claims the main difference from the offer United have proposed to Arsenal's is that we are willing to wait until the summer to get the player. By contrast, Arsenal have a greater need to reinforce right now.
Moving on to a rather embarrassing story regarding the player, The Sun today published a story claiming Zaha tweeted "Looks like I'm on my way to the top of the Premier League" on Saturday night. A screenshot of this tweet quickly went viral via Twitter and Facebook but when you look at Zaha's timeline, there was no such tweet. The player himself confirmed that a tweet attributed to him was not from his account.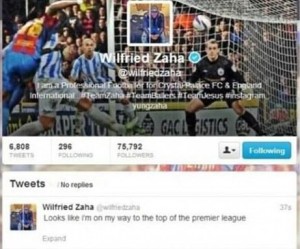 Looking at the picture (above) you see the verification symbol alongside his name but this is clearly a Photoshop. For instance, the number of tweets counted in the image were the same as on his account. Would that have really been the case if he deleted it? No.
Zaha may be on his way to United, but he did not post such thing on Twitter. All in all, it's not the first time journalist Charlie Wyett has looked a bit silly this season. When he isn't submitting articles without doing sufficient research, he's making embarrassing predictions. For example, he told his Twitter followers Robin van Persie wouldn't even get in to double figures for United this season: "Although it hurts, I think Arsenal have done some good business to get £22m for RVP. I don't think he will get double figures for Man Utd."