This week will see our foray into mobile applications with the release of the Stretty News Android app. The app has been under development and testing for the past month and a final version is due for release in the Google Play Store by midweek. The Android app will be the first of various platforms we plan to support with the iOS app coming next followed by a Windows Phone app and a BlackBerry app as well.
In addition to giving the user a mobile-optimised version of the content available on Stretty News, the app also signals the first of a number of changes we have lined up for the next few months. We will be introducing a redesigned site that aims to provide a more user-friendly and intuitive browsing experience and we will also be adding a couple of new features which will definitely come in handy for general content viewing and also providing in-match data.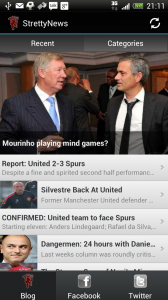 The Stretty News Android app will have an initial launch this week followed by incremental feature additions and will eventually be maintained feature-wise in tandem with apps based on other platforms as they get released. Stay tuned for more exciting news about our mobile app launches starting this week and beyond.