As Manchester United were seemingly uncharacteristically capitulating in the climax of the 2008-09 season, trailing 1-2 at home to Aston Villa, Sir Alex Ferguson typically showed no fear and arguably took one of his bigger gambles during his Old Trafford dynasty. But what a gamble. Just a meagre 17 years of age at the time, Italian rookie Federico 'Kiko' Macheda mustn't have known that what was to follow would change his life.
He replaced Nani with 20 minutes remaining, and United needing 2 goals to calm the nerves that were creeping into their title charge. The dynamic of the game changed completely. Cristiano Ronaldo, who had an enigmatic game but still managed to score the crucial equaliser, leaving 10 minutes to find a much-needed winner. Macheda and Danny Welbeck's youthful energy and fearlessness transformed the overall United performance within a blink of an eye. In the dying embers, Macheda received a pass from Ryan Giggs, the swivel was stunning, the finish was unerringly accurate.
That moment will probably go down in United folklore, we all know Sky's Martin Tyler's reaction to the moment, one of his more memorable bits of commentary. Andy Gray went as far to say 'a star had been born'. This followed swiftly by another Kiko winner away at Sunderland in another hard-fought victory meant he'd secured 4 crucial points which went a long way to cathartic explosion that propelled Manchester United to their 18th league title, equaling Liverpool's long-standing record and answering what now seems a very ill advised banner.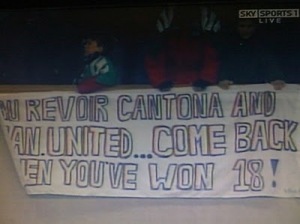 Conventional wisdom holds that Macheda's strike confirmed that United's youth system had life after Giggs and Scholes and that United weren't turning into a big-spending, modern football capitalist after all. As well as Macheda's rise to prominence and graduation from our prestigious youth setup, other youth proteges including Ben Amos, Paul Pogba, Ryan Tunnicliffe and more notably Tom Cleverley and Danny Welbeck have donned the first-team shirt. United have, and always will, have the knack of producing homegrown talent, it's an innate ability which will not be lost in the years ahead.
However, there has been a worrying recent trend of some undoubted young talent going out the other way, and not fulfilling their promise for whatever reason. Paul Pogba had his agent rubber-stamp his Old Trafford exit by packing his bags for him, when seemingly Pogba has a chance to resurrect strained relations by being involved in the first-team picture in the second half of last season. One cannot deny the poisonous role that agents have on today's game, business comes before football or personal happiness in their devil-tinted eyes, and it is setting a dangerous precedent for future generations.
Ravel Morrison to say the least was a loose cannon. To have a successful and distinguished career, you need the right people around you to support and guide you along the way. A fatal combination of being involved with gangs and having brush-ins with the law plus a lack of personal hunger and will to succeed at your boyhood club was even too much for Sir Alex Ferguson, the ultimate man-manager. The fact he has only mustered one substitute appearance for West Ham speaks volumes, hopefully he revive his faltering career at Birmingham.
Zeki Fryers' United career went down a similar rocky road as Morrison's. He shone on his competitive debut against old arch-enemies Leeds United. He made a couple more outings, when Sir Alex tried to tie him down long-term, he refused to sign unless he'd get more regular games (wasn't impressed by the wage offer either). Whether it was personal staunchness from the player or another case of money-grabbing agents, for a local lad to refuse to play is beyond sinful. With his future still unresolved come pre-season, surely any player within the Manchester proximity would look to come back and prove to Sir Alex that they were worthy of the demands they sought? Au contraire it seems. Fryers went AWOL ahead of this season, Tottenham were mooted future employers but nothing materialised. He is now plying his trade at the lofty heights of Standard Liege. Nothing like Old Trafford, eh?
There is no doubt that there needs to be an upwards curve on Macheda's graph to ensure that he does not fall into Morrison/Pogba/Fryers territory. Last season could not have really gone much worse for Macheda. He barely featured in the first half of United's season, then he was shipped out to relegation-threatened QPR. This at the time seemed a great move for both parties, Macheda needed to play games, QPR needed a striker, he would surely play there? Maybe he would've done had it not been for a managerial change. The sacking of the manager who brought Macheda to Loftus Road, Neil Warnock, brought uncertainty to Macheda's short-term future. You'd have thought an ex-Red Mark Hughes might have helped out his former employers by giving the Italian the games he desperately needed. Surely he's better than Jay Bothroyd? Anyway, Macheda suffered a knee injury to all but end a miserable stint in London. This followed a simply disastrous spell back in his homeland, he has the indignity of being relegated with once Italian giants Sampdoria, failing to score a goal in the process. He vented his frustration about his time at QPR on Twitter and subsequently deleted his account. From hero to zero.
It is often ill-advised to look into the United crystal ball and attempt to forsee what will happen over the next 9 month roller-coaster. But anyone can see that Macheda's stock has fallen so much that he is now 5th choice striker behind Rooney, Hernandez, Welbeck, and of course Rocket Robin. This means that Kiko will be limited to say 10-15 games tops, dependent on our success in the Carling Cup, Champions League and FA Cup. He will probably be making sure that Robin's boots are in pristine condition for matchday. Bleak picture really, isn't it?
You have to ask yourself deep down, has Macheda got the desire and hunger to become a top-class striker? An emphatic cry of 'no' can be heard already. It pains me to say it, but I think the white flag will be raised on Macheda's United career unless we see significant improvements, starting now. The only chance we get to see of Macheda in red these days is through reserve football. Although he is scoring at that level, his overall play still leaves a lot to be desired. It is important to recognise at United, it's the little things that mean the most. For example the warm-up routine. The other week, a strong United reserve team beat Spurs' youngsters. I closely examined the warm-up, it was blatantly obvious that the majority were itching to prove their worth to the watching Sir Alex Ferguson. Players such as Fletcher, Evans, Buttner, Powell, Tunnicliffe, Brady- their warm-up was intense and meticulous. The same cannot be said unfortunately to our currently moody young Italian, who looked disinterested and lethargic. In-match he managed to score twice, but his work-ethic made Berbatov look like a headless chicken, despite constant orders to work harder from reserve gaffer Warren Joyce, he did not heed his instructions and was eventually substituted to an underwhelmed reception.
It is all to easy to say that Macheda has brought his downfall upon himself, but one man's loss is another's gain. The aspiring youths could do worse than take a leaf out of a humble local lad's book. Macheda has been usurped by Danny Welbeck, whose stock continues to rise, new contract already signed and a very promising cameo for his country last night shows the rewards of hard graft and a desire to only play for your local club. Everything Macheda does is over-shadowed by thoughts of what he could be doing if had lived up to his early promise – and, believe me, those hypothetical exploits are a lot more exciting than deflected winners against mediocre South African teams in pre-season.
Kiko Macheda has a lot to do to erase the inevitable writing that is already etched on the wall. This season is definitely a case of 'now or never' for the Italian. Sir Alex is a stickler for producing youth and will give it every chance possible to ensure Macheda's United career is now remembered as a two-part roller-coaster. The problem lies in the fact that Macheda will not have ample opportunities to impress this season, given the plethora of attacking options, plus the seemingly set-in-stone striking quartet of Rooney, Van Persie, Welbeck and Hernandez. For most players, loan spells constitute a vital stepping-stone in their development before moving onto greater heights. Macheda has so far been the exception to this rule of thumb, for various reasons. For Macheda, they have merely resulted in extended spells on the sidelines.
Meaning, it is now or never for the Italian.