Wayne Rooney has expressed his desire to emulate the likes of Ryan Giggs and Paul Scholes by seeing out his career at Manchester United.
Rooney, who is out for up to four weeks after picking up a gash on his leg during the 3-2 win over Fulham two weeks ago, was constantly linked with a move away from Old Trafford all summer. The signing of Robin van Persie, as expected, increased the speculation.
After starting the season typically lacking fitness and picking up an injury, Rooney has decided to work on promoting his new book My Decade in the Premier League. Talk about dropping the important stuff. This week quotes have been released from the book in act of promotion, with links to his public outburst in October 2010.
The England international expressed regret at his decision to hand in a transfer request two years ago, describing it as the 'biggest mistakes' of his career. Then again, he would have to say something like that. Followers wouldn't buy the book otherwise. Of course, there was no mention of the £200,000-per-week contract he picked up afterwards.
Rooney lost a lot of respect from the United faithful after eyeing up a move to rivals Manchester City, and the striker has been trying to win back our affection ever since. Rooney now insists he has no intention of leaving Old Trafford.
However in an exclusive interview with the Evening News, Rooney spoke out about when he wanted to leave United because the club couldn't meet his ambition. After picking up a massively improved contract, the 26-year-old lead Manchester United to their 19th league title. I hope as long as he stays, Rooney is ambitious about winning more.
Speaking about his big mistake and being grateful towards the club for accepting his U-turn, Rooney said: "You learn from things. When I look back I realised very quickly I made a mistake. It wasn't my position to say what I said. I went to see the manager and David Gill and told them I thought I had made a big mistake and can we sort it out. I asked what can we do from here. It took just 12 hours to sign a new contract. It is an episode that I am not proud of but it has helped me because it has given me great desire and hunger to be more successful at this club. They could have turned round and made it very difficult for me but to be fair to the two of them, the manager and David Gill, they have been fantastic. They brought me back into the team and the club and, from then on, I knew I had to repay the faith they had shown me. I think since then I have scored a lot of goals for the club and the fans. I know they must have been disappointed with what happened but they have been fantastic with me since. I told them I was wrong and I am grateful they accepted it and we were all able to move on from it."
The fans responded to Rooney's public statement that he wanted to leave the club with banners which read "Coleen forgave you. We won't" referring to his sex scandal with Jennifer Thompson. However the player says we have been great to him.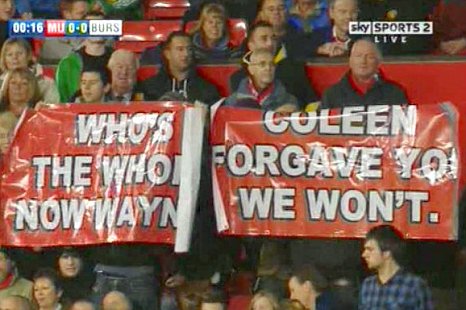 "The fans have been great with me," Rooney continued. "They can see that I am a player who wants to win things for United and I want to be successful at this club. I have made it very aware that I want that success to be here at Old Trafford. They respect that and they have been no problem whatsoever."