Manchester United fans and groups have launched a number of campaigns in the past to motivate anti-Glazer protests. Some campaigns reached degrees of success but looking at the situation we're currently in, none were significant enough to achieve the goal of taking our club away from the Glazer family.
A new ambitious group called Team United are using a power point-esque website to explain their ideas while taking note of attempts in that past that haven't worked yet. Those being M.U.S.T, I.M.U.S.A, fanzines, FC United, and many others (check page 1 for the entire list).
While you would like to think everybody welcomes this new campaign with open arms, you can't blame those being wary of its ambitions and how the website is worded (ignoring the spelling mistakes). On the homepage it can be quoted: "Question: Can United supporters get the Glazers out of United? Answer: Yes. Very easily."  That's a ridiculous thing to say and incredibly unrealistic. It would have happened already if it was that easy.
Team United are not a campaign that plan on taking over the club from the Glazers. Their first ambition listed on the website can be seen below. However from my understanding, all three of the pillars would be impossible to knock.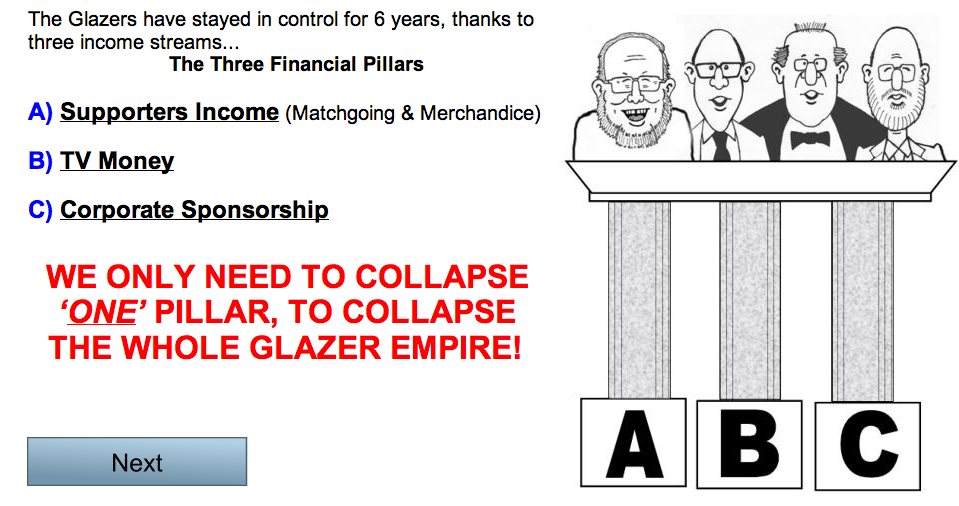 They approach this by trying to get Manchester United supporters to boycott every company that sponsors the club, which would eventually hit the Glazers. From my understanding this could affect United in the long run even after the Glazers are gone. Who's to say sponsors won't be hit in the same way if new investors come in? For that reason alone, it's not reasonable.
Instead of companies sponsoring the club, Team United want outlets to sponsor them. So, basically, they want to ambush marketing. I'm sure the companies they're trying to attract will love that idea… Although the money raised, they promise, will be put towards fanzine pull-outs, velcro patches and match day war-vests. The match day war-vest is a velcro bib that can be worn over people's shirts or jackets. A preview of the vests can be seen below.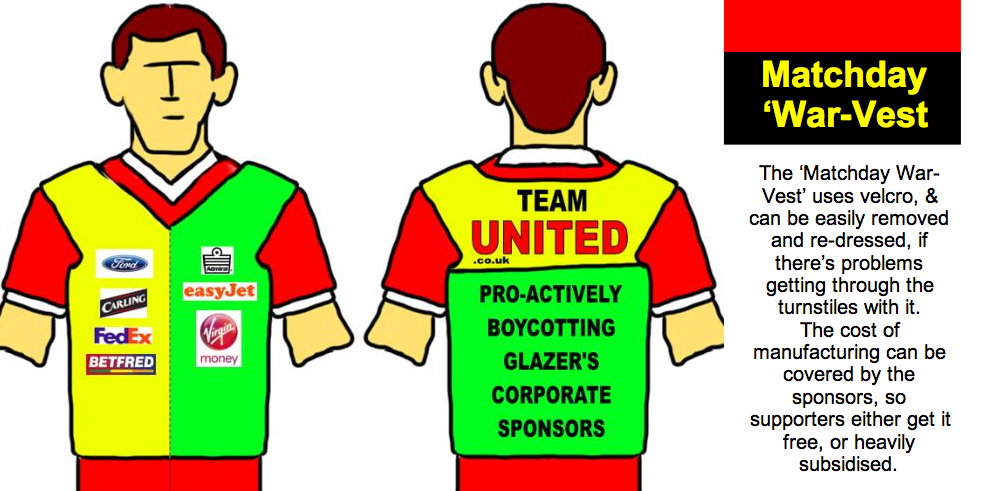 On page 16 it doesn't look exactly convincing. It's titled 'what if it doesn't work?' with a list of three possible outcomes underneath. "A) The 'takeover fund' will be boosted. B) The club will be devalued to the point where the Red Knights can afford to buy it. C) And Glazer-esque potential new owners will be scared away, by the commercial power shift, from owner-to-supporter."
This entire campaign is easier said than done. We're still unsure who's behind Team United but their mention of the Red Knights struck me as being strange. They haven't been in the news or anywhere in the last year or so. Are they still interested in buying the club? Have they spent their money elsewhere? There are plenty of questions that need to be answered before you presume the Red Knights will be waiting at the doorstep of this campaign.
From reading through their proposal, I don't have a reason to be convinced. That's not for one second saying I'm against the campaign or anti-Team United. The way I see it is that they haven't looked into sponsorship policy properly. It would be extremely difficult to get any company to consider aligning their brand with an activist group. It's simply too high of a risk.
L.U.H.G