It is nothing short of staggering to read that an English international who made his competitive debut in 2001 has only mustered 22 caps on the biggest world stage. In a country often described with a 'kick and run' mentality, and with a dearth of cultured, classy midfielders, it beggars belief that Michael Carrick has less than half the caps of Gareth Barry (53 caps).
Carrick informed the FA robots months before the tournament that he would not tolerate being a bit-part player, especially after arguably one of his best seasons in a United shirt. There are two sides to this stance: firstly, I am not advocating that any player, just because they play for United, should walk into their national team, it is essential to earn the right to have this privilege, Carrick certainly did this in the 2011/12 season. In terms of Carrick's viewpoint, I empathise completely. When the national manager deems a £20 million flop who finished in mid-table to be 'better', then there is all but no hope at all.
The glaring and constant problem with England in major tournaments is their frustrating inability to retain possession and win the midfield battle (see Mesut Ozil against Gareth Barry in 2010). Carrick possess an average of 73.1 passes per game for United, a rate higher than all other English players, and the third highest rate in the entire Premier League. There will be little popular uproar at his exclusion, yet his quality in ball retention is arguably more valuable to England than the swashbuckling skills of Fat Frank or the infamous glass thrower Stevie G.
Carrick's most extended run in the side came under Steve McClaren and perhaps he is suffering from the manager's low reputation. Carrick seldom failed for England when called upon, and it should be noted that in one of their most impressive friendly performances in recent times, the 2-1 victory over Germany in Berlin, Carrick was named by both BBC and ESPN as the man of the match.
Roy Hodgson, who up to now has got the nation dreaming of ending their trophy hoodoo and done a good job, has made one grave miscalculation in his assessment of the midfield options:'I'd have to be convinced he was better than the four (central midfielders) I've selected, and that he'd be happy to come out of retirement'. I suppose Hodgson has to say this and stick to it, this is his defence of Carrick's omission, have we seen this before? Yes we have, because everyone obviously believes that Rio was left at home for 'footballing reasons'. Hodgson's previous Liverpool links telling here? Maybe not, but either way England's desire to go down other avenues should be welcomed by United fans.
As Hodgson's chosen 23 slug it out in the heat of the latter stages of the tournament, Ferdinand and Carrick are probably sunning themselves somewhere tropical in readiness for pre-season at club level. A rested and revitalised Rio is paramount, given Nemanja Vidic's almost certain rustiness and relatively youthful defence. In addition, Carrick fully focussed on United is just as important. As stated in previous articles, uncertainties persist over the long-term futures of Anderson, Park and Darren Fletcher. As much as we'd love to see the old-guard of Giggs and Scholes at the peak of their powers for years to come, it is merely a pipedream. This is why Carrick, 31 at the start of next season, is so highly valued. He will be in the core of United's midfield for years to come, something we should savour.
Carrick relishes the understated role he plays at United, where undoubtedly Rooney, Scholes, Nani, Valencia and Young are sure to take the headlines and be most fans' favourite players. The validity of this cannot be questioned, but I look further and the indication that someone is a class above is when they draw praise from their counterparts. We have seen many players on the world stage past and present state that Paul Scholes is the model of a central midfielder, who could argue with Zidane, Figo, Sir Bobby Charlton etc?
It was very telling and interesting pre-Champions league final in 2009 (the first defeat in our two legged shambles against Barcelona) when their starlet Xavi gave a glowing talk about our Geordie number 16: "Carrick gives United balance and can play defensively too. He passes well, has a good shot and is a complete player. United have a very good midfield at a high level and they're strong physically and technically." To be an ever-present in that Barca midfield and be the cornerstone of their attacking flair, Xavi must know a decent player when he sees one.
Carrick started out at West Ham, with their famous academy graduates. Yet, he was also in the shadows of Lampard, Cole, Ferdinand and Defoe. Carrick quietly goes about his business, he thrives just ticking things over and is very much the epitome of a team player. It was seemingly all doom and gloom when the talismatic figure that was Roy Keane vacated our midfield, and Carrick with a relatively hefty price tag was seen as the next Roy Keane, pressure? Yes.
What Carrick lacked in Keane's leadership, aggression, ferocity and tenacity he more than made up in creativity, vision and effectiveness. Carrick was a key piece in the evolving United jigsaw, and was a title winner in his debut season, shrugging off the doubters and establishing himself alongside Paul Scholes, as we saw in the second half of the last campaign. Carrick's arrival helped to claw back the crown from Abramovich's riches, and further success ensued.
Our attacking vibrancy at the start of the season was spectacular but ulitmately costly, need I mention the game I'm referring to? Most notably, Carrick was absent for the first 3 months. November 19th was Carrick's first full 90 minutes last season, Swansea away. After all the swashbuckling, box-office football during this time, Carrick's return yielded a 1-0 away win, and in turn signalled a change of approach to give added solidity and this was the method utilised for the remainder of the campaign. We were 5 points behind City when Carrick returned, and his ever-present status since then was a major reason behind our catching up with you know who.
To be frank, I did not fully appreciate Carrick's efforts, to be diplomatic, until a couple of years ago. I fully agree with Xavi in that Carrick is a complete player. He can score long range goals (2 beauties in the 7-1 demolition of Roma, probably his finest game in a United shirt to date), solo goals, QPR away in 2011 was a prime example of this, although it makes you wonder why we do not see more of this, Jamie Redknapp said after that match, 'Carrick should easily score 10 goals a season', is this a fair criticism? But mainly, Carrick provides for the frontline and proves a very consistent link between the defence and attack.
It is not callous to suggest many fans and media do not see the value in Carrick. Many experts and fans base their opinions on the highlights they see, not seeing the bigger picture and the work that is done off the ball. When I hear people talk about Carrick's absence in the game, his inability to get involved and his lack of goals, they are more often than not only seeing the highlights. When you actually see United play, you see how effective Carrick is and how important he is to the balance and tempo of United. His intelligence, vision and movement means he supplies Rooney, Valencia and Nani constantly and with accuracy, the stats show he was the best English midfielder in the Premier League last season, yet why has he been so neglected by England?
Michael Carrick and England have not exactly been a marriage made in heaven over the years. Instances like in Aug 2011 when Carrick was apparently injured for England, only to play for United a few days later, did not reflect well on Carrick. You could see the awkwardness when Capello 'enmbraced' Carrick when the medals were being dished out. Confusion was ringing out from Wembley Way and, of the two tournament he has gone to with England, the World Cups in 2006 and 2010, he only played in one game, again receiving the man of the match award. The fact his most fruitful spell for England came under the Wally with the Brolley, has perhaps been detrimental to Carrick's cause. That nightmare stint caused changes in personnel, Carrick being overlooked for the likes of Barry and Milner.
England fans prefer to base a player's qualities on the levels of perspiration and gung-ho, headless chicken approach, hence Franz Beckenbauer's 'kick and run' claim. Nothing against Scott Parker, who has been fantastic for England, but if England craved a cultured, balanced and above all disciplined player, then Carrick would probably be ahead of Parker in the pecking order.
For all intents and purposes, if Carrick was Italian, Spanish or German, he would be in their sides; he is in the mould of the Pirlo's, Alonso's and Schweinstieger type player of which we lavish so much praise, yet naive and ignorant that we have one of these players ourselves. It is a travesty therefore that managers, fans and the media have neglected and ridiculed his ability and purpose, unaware that Carrick offers England a genuine chance of success, because his style suits the continental and international game.
Is it a little ironic that one of the world's best managers has used Carrick as his main midfielder in what has been one of United's most successful periods, yet he is surplus to requirements at International level?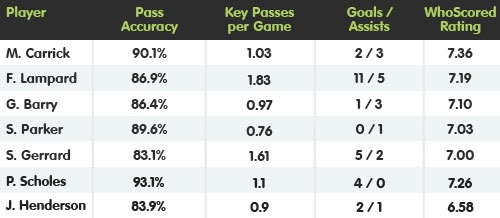 England's loss is United's gain.