As news filters through that Rafael is poised to sign a new contract with United, a sigh of relief can be heard around the Red half of Manchester.
Amusingly linked with Chelsea during this early transfer period, most know what the club possesses with this explosive full back. Blessed with pace, Rafael is a Brazilian full back through and through; some might say that his forward dashes are comparable to those of the likes of Dani Alves with Barcelona or Maicon with Inter Milan.
Extremely likeable with their youthful and innocent faces, Rafael and his brother Fabio were once described by The Times as the Brazilian answer to the "Neville Brothers". Both full backs, brothers and Manchester United players. The comparison seems rather spot on until you watch them play…
Last year was a breakthrough season for Rafael. Fans around the country witnessed a growing relationship with Antonio Valencia and his link up play with the Ecuadorian left more than a few defences bamboozled, as one overlapped the other in order to whip in a dangerous cross in the opposition box. Regardless of how fruitful this pairing down the right hand side was, there is always that one little niggle regarding Rafael that is stopping him from emulating Garry Neville's role as the right-back for Manchester United: his awareness defensively.
Twitter, throughout the season, was very susceptible to exploding with "WHAT IS RAFAEL DOING?!". The two important examples that come to mind are his mistakes vs Benfica and later on, against Everton. Whether it is ball watching, being out of position or making a rash tackle, Rafael needs to work on his defending if he wants to be lauded with the likes of Garry and Dennis Irwin as a great full back.
Of course, the Reds boast two players capable of playing at right-back in Chris Smalling and Phil Jones, but they want to play in the centre of defence is extremely visible when they play out of position. This hinders Manchester United greatly as they lack any sort of natural back up when Rafael gets injured; something which has annoyingly become a rather frequent occurrence.
This is where Mathieu Debuchy comes in.
When Sir Alex Ferguson was seen watching Lille, he, of course, was scouting He-Who-Shall-Not-Be-Named (Hazard, for those who didn't get that), but many reports started filtering through that he had been incredibly impressed with their right-back, Mathieu Debuchy.
Mathieu reminds me a bit of Lille's Gary Neville. He has always been part of the LOSC set up, having started his career in their youth squad in 1998 and earning his first team call up in 2003 at the age of 18. Unlike Nathaniel Clyne, who United are heavily linked with, Mathieu Debuchy has already won a league, played in the Champions League and represented his country. As Fergie keeps on repeating, experience is key.
Mathieu possesses all the assets of a great full back: good pace, balance between attacking and defensive play and a fierce shot when the occasion presents itself. Along with all of the above, he is also a very good passer of the ball. He demonstrated this against England in France's Euro 2012 debut, completing 90% of his attempted passes (35/39 for those who want specifics) and 74% against Ukraine (20/27).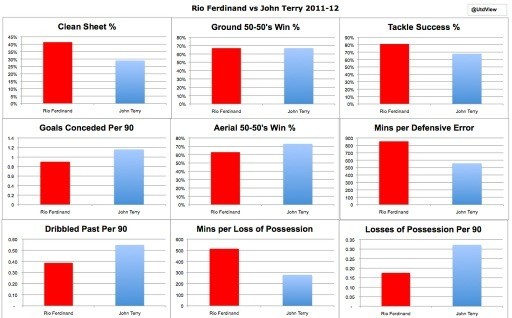 But as the above picture shows, his defensive ability is what makes him the perfect asset to improve Manchester United's beloved Brazilian youngster. England's inability to play down the left during the first half of their game against France was due to Debuchy's awareness and competence at stopping an attack and distributing it cleverly out of the defence with a short pass.
Debuchy would never be a back up for Rafael. He would complement him perfectly as he would start in important games with his balanced game and would allow Rafael to be used more as an attacking option if United need more pace down the wing to help Valencia. This would also allow Rafael to train alongside him, shadow him and learn a bit more about the defending part of the game. The extra competition would not harm the little whippet either.
Having been able to demonstrate his ability to the rest of Europe at the Euros has caused Debuchy to be heavily linked with many clubs alongside Manchester United, including Chelsea and high-flying Newcastle United. A price of around £7 million has been thrown around, one that would be extremely affordable considering the constant talk of Glazernomics hindering the beloved Red Manchester club. S'il vous plaît, Sir Alex, give the Manchester United fans the opportunity to thank you with a "merci beaucoup" and avoid another faux pas in the transfer market by letting another affordable signing slip through the club's fingers.