100 percent. Manchester United extended their impressive run to 24 unbeaten home games at Old Trafford with an emphatic win over arch rivals Chelsea. A clinical,efficient performance against The Blues and another decent performance from a makeshift young side in the Carling Cup against Leeds United capped off a brilliant week for United fans everywhere.
Chelsea boss Villas-Boas must've been scratching his head wondering how his team were 3-0 down in a first half that has largely been partially even, albeit a clinical performance from a very exciting United side. Although Torres did pull one back in the second half, it was United that kept a cool head to finish off the game in spite of the many ramblings of Chelsea fans. Yes, United weren't at their flowing best, but certainly had the gusto to finish the game off, with a tad bit of help from lady luck.  Pondering offside calls, flying tackles and the miss of the decade were all critical and crucial talking points. City drawing against Fulham added to the zest as well. Most importantly though, Manchester United were still largely unbeaten, flying high and tearing defenses apart. Top of the league.
United's Starting Line-Up:
After Lindegaard's impressive showing versus Benfica, it was dully agreed that Fergie was playing De Gea in the Chelsea game. With the confidence riding high, it was only good for David to get a proper full on 'difficult' game under his belt. Jones and Evans continued the defensive partnership in the absence of Rio and Vidic, while Smalling and Evra retained their WB duties. The midfield and forward lines were largely unchanged only for the welcome return of Fletcher. Having played against Benfica, the sturdy midfielder partnered Anderson in the hole, playing on the left, in a central position.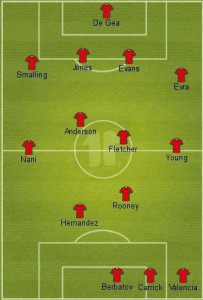 United line-up vs. Chelsea
Game Nibbles:
The Keeper: It must be quite hard for Anders Lindegaard. Having to stay on the bench, put in a performance when called upon, and then sitting on the bench again. Quite difficult. But that's the case when you've got an uber-talented goalkeeper like David De Gea. A comparison in the last Bits 'n Pieces column showed the potential of De Gea, and this was no different in the Chelsea game. A couple of good blocks and a super save from Ramires ensured that United remained in the game.
The Back Four:  The back four were quite sturdy. Evans though still slags off and needs to up his concentration and actually work on his anticipation to stand a chance of keeping any of the current defenders out of the line-up. Jones was a beast as usual. Although United almost did concede quite a number of goals, it wasn't just for the lack of concentration from the defense line, but rather the partial ineffectiveness of the midfield pairing of Ando and Fletch.
The Midfield: The Anderson-Fletcher partnership didn't have the same flair and panache as the Ando-Clev one. This was mainly due to the Anderson not playing to his blistering best and Fletcher a tad bit slow. There were a lot of miss-passes and the midfield gave the ball away a couple of times. Nani and Young though were class as usual, especially Nani, who put in a man of the match performance.
The Forwards:  Rooney, Chicharito and Berbatov all had their fair share of chances. Rooney and Hernandez are blossoming ever so beautifully, and put in a good display, only to be marred by that Ashley Cole horrendous tackle on Hernandez. Berbatov missed a sitter as well.
The Goals:
United 1 – 0 Chelsea:  Smalling has been pivotal since he graced United's shores, and what better way to show your qualities then by scoring goals as well as good defending. A delicious Ashley Young cross from a free-kick on the edge of the area was headed in by Smalling. A shade offside, but poor defending from Chelsea.
United 2 – 0 Chelsea:  A trademark Nani scorcher from outside the box. Picked up Evans diagonal from the midfield, cut past Mata, and unleashed a screamer from outside the 18 yard box. A celebration to match as well.
United 3 – 0 Chelsea:  A carbon copy of a Wazza goal in the Bolton game. Phil 'Beast' Jones galloped from the midfield past 4 Chelsea players, passed to Nani, who back-heeled it into the Chelsea defense, only to fall for Rooney who finished coolly.
United 3 – 1 Chelsea:  Torres pulled one back for Chelsea inside the first minute of the second half after picking up Anelka's superb through pass. Fernando slightly chipped the ball brilliantly past De Gea.
Talking Points:
When I think of Valencia, that's Antonio of course, I think of someone who's super speedy, plays direct football and a humble person. What I don't think of Antonio are his escapades as a RB/WB. Fergie deployed the versatile player in the RB position during both the Chelsea game for much of the second half and the Leeds game in the Carling Cup for the whole game. As seen below, he did ok, on the defensive front that is. I believe that with this crude shift in position by Fergie, United's pacey midfield has been largely complimented with the addition of Valencia as a WB. I've seen a similar approach taken by various managers in various clubs, making use of the pacey midfielder to slot in at RB.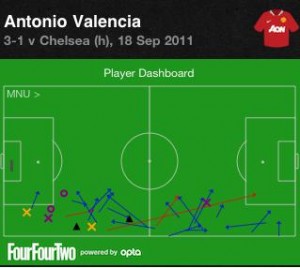 Valencia vs. Chelsea – 2nd Half
 SAF will use Valencia when we're playing much weaker teams, and a possible combination of Nani with Valencia is mouth watering indeed. Only downside is that we could be ousted on the counter, although with Valencia's pace, I don't think that will be much of an issue.
Much has been said about Ashley Cole's ludicrous challenge on Hernandez. The referee didn't give a penalty, yet awarded Cole a yellow card. I've got two points here:
A penalty was not awarded due to the fact that when the challenge was made, the ball was already out of play. This is obvious for example when a player head butts another player when the ball is not at their feet, the referee brandishes a red card directly without giving a free kick, which leads us to point two.
This should have been a red card, full stop. The atrocity of the challenge and the obviousness of the incident after the replay warrant a red card. It was a semi-two-footed tackle that almost broke Chicharito's leg.
With the Carling Cup underway, it was time for the youngsters to come out and prove themselves. Ferguson handed a debut to one player, while giving 3 others the chance to impress. Skipping out on American Ben Amos in goal, who did quite indeed, all eyes were on Pogba and Fryers.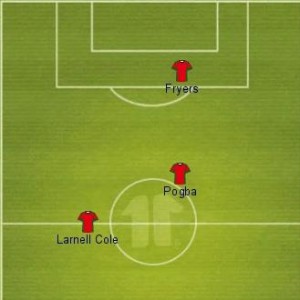 Youngsters for United in Carling Cup
The first of the bunch, and making his debut, defender Ezekiel Fryers. Fryers looked quite composed and confident up until that slight knock he suffered in the second half. Certainly a player I'm keeping tabs on. Two players were introduced in the second half. The ever so impressive Paul Pogba and new boy Larnell Cole. Paul Pogba looked quite confident and wasn't afraid to ask for the ball. My only qualm was that he was slightly nervous. Given the scale of the occasion, that quite acceptable. He also kept the ball too much. Nothing can't be changed with a little direction from Fergie. As for Larnell Cole, to be honest, it was my first time seeing him. I must say, I was quite impressed with his pace and confidence, although slightly concerned about his build. Looking forward to seeing more of these players. I believe Pogba might just get a better chance this season.
Not enough superlatives can do justice for the man, Michael Owen. Yes, he used to play for Liverpool, but he's another one of those model professionals. In the Henrik Larsson mould, when called upon, he's got a killer touch and is one of the best finishers the game has seen. He's also content on being a fourth striker without complaining. With two brilliant strikes and more to come, I believe Owen still has apart to play in this exciting United side.
Coming Up:
Ah yes, Stoke City on Saturday. A team that relies heavily on aerial bombardment and hard tackles. Will be quite interesting seeing how De Gea handles the pressure there. Whether Hernandez will score another wonder back-header goal, ala last season, that's another question. I'm expecting United to beat Stoke by two goals to one.
Mohamed Seif
Get in touch with Mohamed Seif on Twitter –> @MohSeif
If you want to know more about Mohamed Seif, read the list below.
 Sports Editor for READ Newspaper
 Ex Goal.com Africa and England correspondent/reporter.
 Sports Freelance journalist in various publications.
 Football TV Pundit for Nile TV.