A tale of two midfields indeed. The contrast between the two Manchester United teams out against Bolton in the premier league and out against Benfica in the first game of the group stages of the Champions League were quite palpably visible. There was also a stark contrast in the score-line, the average age of the starting 11, and most notably – the midfield. All this was quite acceptable though, after all, we were playing our fiercest/second fiercest rivals the coming Sunday – Chelsea at Old Trafford.
There was also a striking difference between the two performances. From United's scintillating new found pacey one-touch football against Bolton, to the slower, more experienced, more reserved football against Benfica. A rampant United wrecked havoc in the Reebok Stadium, netting in 5 goals to keep Manchester City in the second spot, with Wayne Rooney grabbing his 2nd hatrick of the season and his 7th for United. All was not lost though in the Benfica game. United played out a less than decent game against an organized Benfica side, yet managed to draw through a Giggs wonder goal. With arguably United's most difficult group stage game out of the way, it's time to look forward to the Chelsea game. Manchester United is still unbeaten.
United's Starting Line-Up:
The contrast in the starting line-ups between the two games was palpably visible, comparable, but understandable in a way. With the important Chelsea game coming up on Sunday, it was a given Fergie was going to tinker with the starting line-ups. Comparing the starting line-ups below, only Evans, Evra and Rooney retained their starting positions. There were some slight changes in the structure of the formation with SAF opting for a traditional 4-4-2 in the Bolton game, then utilizing a more reserved 4-5-1 in the Benfica game.
Taking a look at the Bolton game line-up, De Gea continued his run in goal; Rio partnered Evans, while Jones was tried out in the RB back position. Evra LB/WB position is still his. The uber-successful midfield partnership of Ando and Cleverley continued, while the inter-changing midfield-forward quartet of Nani, Young, Chicharito and Wazza. It was quite unfortunate that Cleverley suffered that injury in the 4th minute of the game after a demoralizing challenge from Davies. This was a cue for the introduction of Michael Carrick. He may have his critics, but he's certainly got the experience. That 4-4-2 formation is a continuation of the exciting  're-structuring' of the young United team, playing scintilating, fast, exciting footie.
Taking a more reserved approach to arguably our hardest Champions' League group stage game, Fergie made 8 changes to the team that started against Bolton. Anders Lindegaard made his Champions League debut in goal. Two changes were made in the back four, Smalling partnering Evans, while Fabio took that RB spot. Evra in his usual place. The biggest change came in the midfield with 5 players making their first team starts this season. Fletcher finally recovered from a virus suffered while Valencia came back from an injury sustained during internationals. Giggs, Park, and Carrick made their first starts as well. Rooney retained his place as a lone striker.
Game Nibbles:
The Keeper:  Both De Gea and Anders Lindegaard passed with flying colors here. De Gea's slowly but surely gaining more confidence with each passing game, and he showed in the Bolton game that there's a lot more to come from the 20 year old keeper. Lindegaard was more than impressive in the Benfica game. Looked quite confident on the ball, commanding and quite agile. Made a couple of brilliant saves as well from the Benfica strikers.
The Back Four:  The partnership of Rio and Evans wasn't quite tested in the Bolton game to be honest. Evans, a common factor in the two games, needs to up his level of play of he's ever going to oust Rio, Vidic, Smalling and even Jones. Evans was at fault for the goal conceded against Benfica, failing to anticipate Cardozo's turn. Jones was a beast in the two games and already looks set to become a United regular in the near future. Evra was again almost flawless, making this LB spot literally his. Fabio was average, and needs to rack up a couple of games. Also needs to bulk up a bit.
The Midfield: I'll be talking in details about the midfield differences below, but again, Anderson looks essential in that United midfield now. He adds pace and panache in a rather slow, lack-luster – yet experienced midfield. Nani and Young's blistering pace did wonders against Bolton, with Nani providing a couple of assists. Carrick was better in the Bolton game than the Benfica one, but will again need to concentrate more on getting forward more often if he's to oust out, incredibly, Cleverley. Park is a squad player, and will always be this way. Great for those difficult games.
The Forwards:  Rooney and Chicharito. Just brilliant. They showed again the force of this blossoming partnership against Bolton, and I'm pretty sure had they started together versus Benfica, this game would have been wrapped up in no time. I pity the other strikers, especially Berbatov, who in my humble opinion will not be getting enough chances to keep him happy this season.
The Goals:
United vs. Bolton
United 1 – 0 Bolton: In almost United's first attempt on goal, Nani took the ball on the right flank, took his time and put in a sweet low cross. Chicharito stuck a foot before Jussi to nip it in and score his first goal of the season.
United 2 – 0 Bolton: A familiar goal from an unfamiliar RB. Jones put in a quick cross from the right that was tucked in sweetly by Rooney, who got in between Cahill and Boyata, to score United's second.
United 3 – 0 Bolton: Great interplay between Jones and Nani led to the third here. Jones outran 5 Bolton players from the center line, shoots from the 6 yard box, only to be blocked by Jussi. The ball falls to Wazza who coolly slots it in.
United 4 – 0 Bolton: Nani takes on three defenders from the corner flag into the 18 yard box, but the ball is cleared to Carrick, who shoots a low shot that hit Bolton defenders, only to fall for Chicharito to score his second and United's fourth.
United 5 – 0 Bolton: Rooney completed his second hatrick in a row and his 7th in his United career by finishing of Nani's weighted pass just right after the 18 yard line.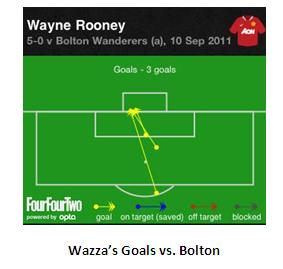 Benfica vs. United
Benfica 1 – 0 United: Lindegaard was hardly at fault here, but Evans certainly was. Cardozo took on Gaitan's exquisite left footed pass, turned Evans who was too slow to react, and finished past Anders.
Benfica 1 – 1 United:  In his first start for United this season, Giggs showed he's still got it with a superb strike from the edge of the box. Taking on Valencia's pass in his stride, he delved in and hit a stinger past Artur.
Talking Points:
Anders Lindegaard turned a couple of heads with that Benfica performance. I was certainly not surprised of that superb, confident performance. After all, he was the best goalkeeper during pre-season. Calm, confident and athletic, Anders looks the part. Come David De Gea. A scrawny 20 year old kid with oodles of potential and heaps of praise. A quick comparison below shows that At 27, Lindegaard is currently more ready to deal with those hard premiership games. On the other hand, De Gea's development from one game to another is pleasing, and therefore Alex Ferguson has a real dilemma on his hands now. We'll see how it goes in the coming weeks. De Gea will play the Chelsea game while Anders will play the Leeds game in the Carling Cup.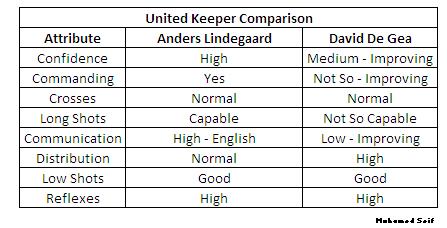 The only two points currently and I mean at this exact time, that De Gea has over Lindegaard:
Potential
Distribution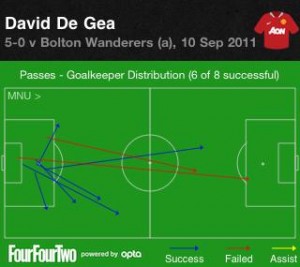 De Gea's Distribution vs. Bolton
The second talking point here is the midfield. Playing a 4-5-1 with a midfield composed of slow players in Carrick, Giggs and Park has its advantages against difficult teams, especially away from home. On the other hand, that quick, blistering midfield of Ando, Nani and Young/Valencia, certainly has its advantages when those one-touch passes are going smoothly. I'm personally with the 4-4-2 formation. It suits United and makes us a 100 percent more threatening side.
I can't believe the amount of stick Carrick's been having. I for one appreciate Carrick's football brain, and I understand the frustration of fans when Carrick lives up to his side/back passes name. Yes, Carrick does have that aspect to his game, but on the other hand, he's got other superb qualities. His reading of the game is second to none, and that could be seen from his interceptions and blocking of opponents attacking play. He's great with short passes (hence the above 90 percent pass success rate), and when he does get that through ball of his correct, it usually results in a goal. And here lies the problem. He doesn't always deliver. In order for Carrick to win over the fans, he should be making more of those plays, improving his shooting, and his pace, yet keeping his usual composure which I like so much.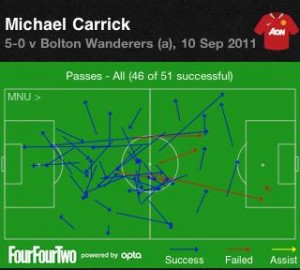 Carrick Passes Dashboard
As seen above, this quite proves my point and the average frustrated fans' point. The side passes issue can clearly be seen, but a couple of those long passes get players through on goal. This also shows that Carrick is ideal in a holding midfield role, and not just going forward. Leave that to Ando and Clev. Carrick is an essential piece in United's jigsaw puzzle when he's playing the way he likes. Comfy.
Coming Up:
An uber-important game is coming up on Sunday. Chelsea at Old Trafford is an always entertaining game, usually full of goals and excitement. We already know that De Gea will be starting, as for the rest of the line-up, well that's for Fergie to decide. I'm expecting goals galore in this game, with the score possibly ending 2-2.
Mohamed Seif
Get in touch with Mohamed Seif on Twitter –> @MohSeif
If you want to know more about Mohamed Seif, read the list below.
 Sports Editor for READ Newspaper
 Ex Goal.com Africa and England correspondent/reporter.
 Sports Freelance journalist in various publications.
 Football TV Pundit for Nile TV.