A downright humiliation. You could sense Arsene Wenger aging by the minute as the clock ticked. It almost seemed that goals were flowing in by the minute. On the other hand, the jubilation of everyone remotely related to Manchester United could be felt throughout, as United's new crop of fledglings gave Arsene's kids a good right on drubbing. Having failed to address Arsenal's weak points in various areas of the field that obviously needed strengthening over the past 18 months (the defense line comes into question), Arsene Wenger must've felt it all coming down in those final minutes. Sir Alex and co on the other hand must've been rightly impressed and overjoyed by the United performance, so much in fact that missing out on Sneijder wouldn't have given them much bother.
The Gunner's faithful would argue that Arsenal fielded a much weakened side, and that's true to an extent, but at the end of the day, the results are what matters most. People talk about Arsenal's young guns, with an average age of 23 years plus, but United fielded another 23 year average starting line-up as well. Age difference is quite the same. As for the quality gap, well, that's another story. Arsenal's 8-2 drubbing extended that impressive undefeated run to 24 games. Old Trafford. Fortress.
United's Starting Line-Up:
Despite claims of Carrick, Park and Hernandez making their way back into the team prior to the game, Ferguson deployed an unchanged team from the Spurs game. With injuries to Rio, Vidic and Rafael still ongoing, the same back four of Evra, Evans, Jones and Smalling were used. The prospering midfield duo of Cleverley and Ando continued, as Nani, Young, Welbeck and Rooney continued the free flowing football.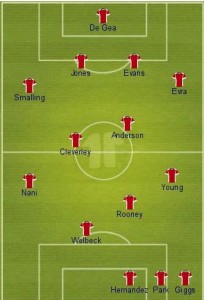 United's Line-up vs. Arsenal
Game Nibbles:
The Back Four: Jones and Evans looked quite settled indeed. Although Arsenal's build-up play was uncharacteristically slow, Evans and especially Jones, showed good composure throughout. Evra was class as usual while Smalling is just growing in that RB position. It will be interesting to see if Rafael will retain his place easily.
The Midfield: I really love that Anderson-Cleverley partnership. Anderson looks like the real deal while Cleverley is constantly improving. What I like about Cleverley is his movement off the ball. Looks to constantly pass and move – pass and move. The ever impressive Young is just a brilliant fit in that United side while Nani continues his rollercoaster displays. Park should be getting more games as the difficult games pile up while Giggs will be used sparingly.
The Forwards: Looks like United's main strikers this season will be Rooney, Welbeck (before the injury) and Hernandez. Berbatov and Owen will be used sparingly while Macheda's situation is unknown.
The Goals:
United 1 – 0 Arsenal: The pressure certainly was mounting on the Arsenal defense, but it took an error from Arsenal's two center backs and a cunning header from Welbeck to break the deadlock. Anderson chipped a delightful pass that bounced awkwardly between the two defenders, only for Welbeck to jump in between them and head it past the dumbstruck Szczesny.
United 2 – 0 Arsenal: A beautiful goal from the impressive Ashley Young. Certainly a contender for goal of the month, and quite possibly the season. Rooney's cross was headed clear by Armand Traore, only to fall to young on the edge of the 18 yard box. He drops a shoulder, turns to the right and places the ball right in the top corner. A beauty.
United 3 – 0 Arsenal: The first of the Rooney goals, and what a beauty it was. United were awarded a free kick after Jenkinson's intervention on Young. Rooney scored his 150th United goal in style as he placed the ball past the wall in the top right corner.
United 3 – 1 Arsenal: Having saved brilliantly a Van Persie penalty, De Gea's confidence grew. He was slightly at fault here though as Rosicky slotted the ball onto the incoming Walcott, who drilled it under De Gea's right leg.
United 4 – 1 Arsenal: The second Rooney free kick was another beauty. Wazza wrong footed Szczesny, placing the ball on the right of Szczesny, who failed to even budge and move.
United 5 – 1 Arsenal: With the game providing loads of beautiful goals, Nani's was no different. Some great interplay between Smalling, Rooney and Nani for this goal. The Portuguese international lobbed the hapless Szczesny for United's fifth after a great through pass from Wazza.
United 6 – 1 Arsenal: Park's customary goal arrived after some passes between him and Young. Young squared it off, Park took a touch then shot a weak, but well placed shot in the bottom left corner.
United 6 – 2 Arsenal: Not even a consolation goal for Arsenal. Robin Van Persie scored past De Gea after Jenkinson headed a cleared Jones header right into the path of RVP near the six yard box.
United 7 – 2 Arsenal: Rooney got his much deserved hatrick from the spot. Evra was brought down by Theo Walcott, and a penalty was awarded. Rooney stepped up and coolly slotted it past the young Arsenal GK for his hatrick.
United 8 – 2 Arsenal: Another beauty from Young. Almost a carbon copy of the first goal, Young took in Giggs cut back just after the 18 yard box, then shoots a screamer past Szczesny to fall in the top left corner.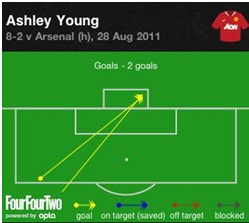 Ashley Young's Two Goals
Talking Points:
It wasn't all about the Rooney's hatrick. Not surpassing Giggs in netting over 150 goals in his relatively short United career. Not his stupendous free kicks and not his work rate. It wasn't about his patch of hair as well. It's about Wayne Rooney getting back to his best. It's about Wazza leading a young exciting United side into a new era. It's actually all the above. Wayne Rooney's form is essential in how United progress and his stupendous displays will not just impress the United faithful, but the whole of the England camp as well. This Arsenal game though will be remembered for his two free kicks and that beauty of a lob that almost nudged it. Welcome back Wayne.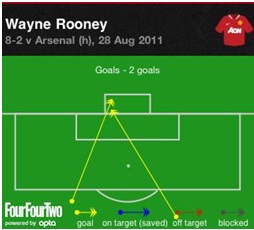 Wazza's Free kicks vs. Arsenal
I had my doubts about Welbeck. A couple of seasons ago when he was scoring goals for fun in the reserves and the youth teams, I wasn't convinced he'll be cutting it at United. A wee bit naïve with the ball, and sometimes more of a Bellion than a Ronaldo, he's still far from the finished article. That loan spell at Sunderland though changed something. He's still got a lot to prove, but he's definitely improving and getting wiser by the game. Too bad he suffered that hamstring injury. He'll be out for at least a month. Whether he'll take his slot again beside Wazza though, that'll remain to be seen.
A quick word about De Gea. I love the confidence and way of how he distributes the ball. Reminds me of goalies in Futsal. That RVP penalty save did loads for his confidence and that was seen in his post-save celebration. It's also great that everyone wants him to do well (Lindegaard – anyone?). Still partly at fault with the goal conceded, but overall a better performance from the young Spanish keeper.
Coming Up:
With the internationals taking place this week, it'll be good for some of the players to get back from injuries and get in shape. Hopefully none of the United international players get any injuries whilst playing for their country. We've got Bolton coming up next, and after Liverpool's hammering and our form, hopefully we'll bag this. 2-0 United is my prediction.
Finally that Sneijder thingy has ended. I won't speak much about it, or rather hide my disappointment, but I'll just say one thing. If a player, no matter how big he is, doesn't have the gusto and real will to play for Manchester United, then we certainly don't need him. Whether he'll be coming next year or not, that's another question.
Mohamed Seif
Get in touch with Mohamed Seif on Twitter –> @MohSeif
If you want to know more about Mohamed Seif, read the list below.
Sports Editor for READ Newspaper
Ex Goal.com Africa and England correspondent/reporter.
Sports Freelance journalist in various publications.
Football TV Pundit for Nile TV.