Harry must've been right on properly impressed. So must've United fans everywhere. They might not have been entirely impressed, but certainly were a tad bit anxious. Manchester United fielded their second youngest side ever (youngest was versus Hull, in the 2008/09 season) against Tottenham Hotspurs for United's first home game of the season – at just an average age of 23 years and 191 days. With an impressive run of 21 unbeaten home games before the Spurs match, and a niggling thorn in Spurs' backside of not overtaking United on their home ground since 1989, history was certainly in United's favor.
That run was dully extended to 22 games and an extra year as a United young side ran rampage in the second half. Although the first half left the Old Trafford faithful questioning how this young side will fare, the second half performance more than made up for that. Although Spurs weren't up to par on fitness and concentration levels, being their first game in the league, it was United who put in a second half performance to signal their intent to the rest of the league. Old Trafford was still a fortress.
United's Starting Line-Up:
With United's injury list piling up, a new look defense line was on the horizon. A home debut for Phil Jones signaled his first start in a United shirt to replace Rio while Evans took the place of Vidic. Smalling retained the RB position in which he fared well in the previous game while there was a welcome return to Evra in the LB position after recovering from an injury. The same midfield and strike partnership of Ando, Cleverley, Nani, Young, Welbeck and Wazza was kept for this game.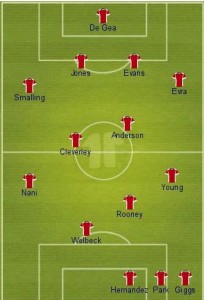 United's Line-Up vs. Spurs
Game Nibbles:
The Back Four: With Rio and Vidic out for at least a couple of games, it was essential that United's young guns and recent recruitments step up and take command. The question was will Smalling retain his place in RB given Rafael's injury or will he play in CB alongside new boy Jones – ala England U-21. Evans and Jones paired up in the center while Smalling assumed the RB position.  Evra recovered from an injury to regain his place at LB. Evans and Smalling performed tremendously, but it was Jones who was the star of the show. At just 19, he showed glimpses of what a capable and dependable defender he'll become. Back four were top notch.
The Midfield: Another game with the same four midfielders. Again, the pairing of Cleverley and Anderson is working tremendously well. Ando's finally starting to fulfill his potential, even scoring a goal or two while Clev's development and leadership in the midfield is for all there to see. Young's debut was excellent, and he's slotted seamlessly in United's midfield. Young looks like he's been playing there for years indeed. Nani on the other hand could look a frustrating figure at times. One day he's going jiggling past every other player and creating chances, other days he's wasting chances and running around himself. I'm wondering if he'll make way for Valencia once fit. Giggs and Park add that touch of experience, and Giggs in this case, was involved in the build up to the third goal.
The Forwards: Wazza was influential as usual, dictating play and scoring goals in the process. He's definitely United's talisman and one of the main reasons Fergie might not opt to buy an attacking midfielder, cue Sneijder. As for Welbeck, well, I was opting for his substitution after the first 45 minutes. He was not making good runs and his touch on the ball was a tad bit too heavy. After that goal though, he was a transformed player. Covering back, making intelligent runs and even attempting an overhead kick. Still, I think Chicharito, who finally made his long awaited return to United will cement his place in United's attack.
The Goals:
United 1 – 0 Spurs: Just as the pressure was piling up and a couple of rants from the crowd were heard, in popped Danny Welbeck. Having had a quite first half, Welbeck put United in front after rising above the defenders to head the ball in. Smalling laid the ball to the impressive Cleverley who put in a peach of a cross for Welbeck who jumped in between Kaboul and Dawson to head the ball past Friedel.
United 2 – 0 Spurs: What a beauty this goal is. Certainly one of the contenders for goal of the month. Some lovely interplay between Wazza, Ando and Welbeck indeed. The ball started off with Rooney, passed on to Anderson, who through passed it to Welbeck right about the 18 yard box. Welbeck then back-heeled the ball right into the path of Ando who slotted it coolly past Friedel. Barcelona-esque.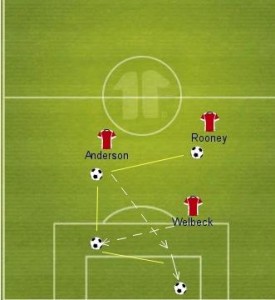 Ando's goal vs. Spurs
United 3 – 0 Spurs: Finishing off the game with a third, the influential Wayne Rooney rose above the Spurs defense to head the ball in from a Ryan Giggs cross in the dying minutes of the game. Giggs snuggled past the defense from the right side to cross with his right foot onto Wazza's patch of hair.
Talking Points:
Well, Phil Jones was certainly the star of the show for me here. At just 19, he's showing he'll certainly become one of the best defenders out there if he keeps on improving. Gary Neville spoke highly of him, rating him as a future United and England captain, and to be honest, he looks the part. Assured, commanding, confident and a good runner, Jones looks already like a bargain purchase. Another positive point is his passing accuracy. With a pass success rate of 84% over the whole game, that's assurance for you. What impressed me most though is his ability to intercept and block a pass. Looking at his movement, running, and interceptions below, I'm more than confident he'll fill Rio's shoes one day.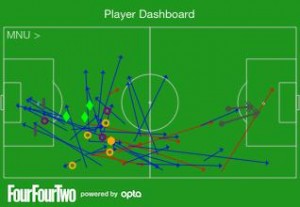 Phil Jones – Performance against Spurs [Click for Legend]

Ah, David De Gea and his Old Trafford debut. This clean sheet will certainly give him loads of confidence, as observed from his post game tweets. You could sense his confidence grow after every cheer from the Stretford End. What was quite laughable though were Harry Redknapp's tactics. Opting for a shoot on sight tactic, it failed miserably after players kept having a go at De Gea from ridiculously long distances. All the better for De Gea, as his confidence grew shot by shot. Still, DDG looked shaky, but he'll learn, and with that clean sheet, it's a bonus.
Coming Up:
Ah yes, the massive game on Sunday. It's United against a toned down Arsenal. If everything goes correctly, we'll likely see a 3-1 scoreline for us. SAF will probably make very minor changes for the game, with Carrick possibly coming on for Cleverley. United must not under-estimate the Gunners however as they bid to increase that run of unbeaten home games to 23. Ironically, its the average age of the team that could possibly start.
Oh, one more thing, deadline day beckons. Less than a week to go now. M'Villa anyone?
Mohamed Seif
Get in touch with Mohamed Seif on Twitter –> @MohSeif
If you want to know more about Mohamed Seif, read the list below.
 Sports Editor for READ Newspaper
 Ex Goal.com Africa and England correspondent/reporter.
 Sports Freelance journalist in various publications.
 Football TV Pundit for Nile TV.