If you think Anderson's dance after United's second goal was a pleasure to watch, you should have seen Jones' tackle on Gareth Bale. A young upcoming English man in complete dominance over the footballer of the year.
Shaun Birch does his usual for StrettyNews.com and provides graphs including eye-opening statistics.
Match Stats: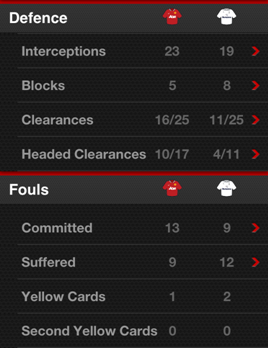 Last week against WBA I highlighted that United would be keen to improve on their shooting. They doubled the amount of shots and more importantly had more on target, testing Brad Freidel several times aswel as scoring 3 goals.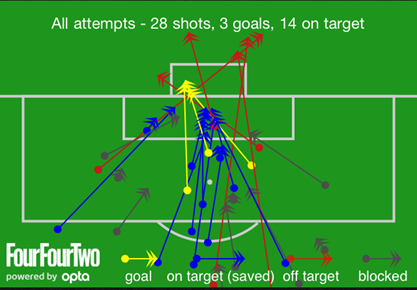 Player Influence:
This graphic is generated using on the ball data (passes, tackles, shots, interceptions ect). The larger the name the more influence. The players name shows up on their average position on the pitch.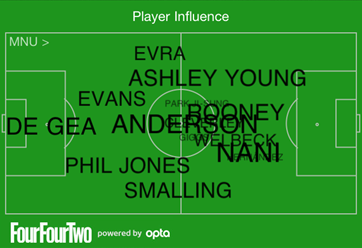 As you can see the we attacked very centrally with Anderson, Rooney, Young and Nani very dominate in the game. Both wingers were spotted cutting in, throughout the match.
Player Focus:
Danny Welbeck
After a quiet 45 minutes, Welbeck came out much brighter in the 2nd half and was rewarded with a goal – a fine header from a superb Cleverley cross. All of a sudden, his confidence increased and his play was great. An attempted bicycle kick, an outrageous assist and some general top play.
Welbeck's Stats: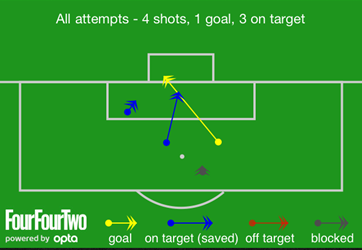 Overall:
After an open first half, with a little amount of chances, United came out firing in almost every cylinder. After getting the break through, the Reds played some brilliant football, especially on the counter. Sky Sports gave the man of the match award to Danny Welbeck.
The stats and graphics came from the FourFourTwo iPhone application 'Stats Zone'. Download it from the app store FREE.