You don't win anything with kids. Remembering that iconic and historic phrase from a certain Alan Hansen, I couldn't have felt more proud seeing that United starting line-up in the 2011/12 English Premier League season opener against The Baggies.
Manchester United fielded a young team constituting of a 20 year old debutant, six players under the age of 25, and quite possibly, Scholes's long term replacement in Cleverley. Oh, and Ashley Young.  For the untrained, neutral eye, that starting line-up might have been mistakenly taken as a second string of Manchester United players. For the United faithful, that signals the start of a very exciting and enticing era in the club's history. With an average age of just 24 and sporting the youngest side in the premier league's opening fixtures, there are certainly some exciting times ahead.
United's Starting Line-Up:
Fergie handed David De Gea his debut in goal. Rio and Vidic, the two experienced centre backs led the defense line, while Smalling and Fabio came in for the injured Rafael and Evra respectively. Anderson and Cleverley paired up in the midfield, while Nani and new boy Young resided in the wings. Rooney and Welbeck led the lines upfront.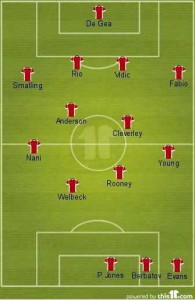 Game Nibbles:
The Back Four:  Commanding as usual, though lacking Rafael's pace, who'll be out for around 3 months. Smalling is now acting as O'Shea's replacement, slotting in across the back-line. Jones and Evans slotted in nicely in the back after the injuries to Rio and Vidic, although I'm pretty sure they'll be more tested against stronger opposition.
The Midfield: I'm really impressed by the midfield due of Anderson and Cleverley. Ando lost weight over the Summer, has more pace and acceleration, and looks overall stronger. Cleverley is looking quite a prospect. He commanded the game and looked and imposing character. Looking forward to his development. Our wingers in Ashley Young and Nani have been solid all match. Young has been exceptional, wiring through defenders and putting in delicious crosses. With an assist to his name, I'm pretty sure that'll be the first of many.
The Forwards: Wazza's new patch of hair is not the only thing looking fresh, as United's prolific striker was all bang on during the game. He'll be the club's main threat this season that's for sure. Welbeck was a surprise inclusion in the line-up, but he definitely adds pace upfront. Looking lively. Berba was quite not in the game due to lack of appearance time.
The Goals:
United 1 – 0 WBA: Rooney flicks the ball off to Young, who cuts in and lays the ball back to Wazza, slightly behind. Wazza holds it up nicely, sets it and shoots in the right corner past Foster.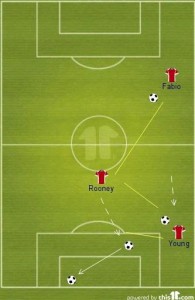 Wazza's Goal vs. WBA
United 1 – 1 WBA: A very soft goal from United. Debutant Shane Long cuts inside Ashley Young from the edge of the box on the left, shoots in a not too strong long. De Gea jumps low but is too slow, jumping over the ball to let in a howler.
United 2 – 1 WBA: Great play from debutant Ashley Young. A return ball from Fabio near the side of the 18 yard box, Young stops and turns, accelerating past the defender then crosses low. The ball takes two deflections and slot in past a hapless Ben Foster. Relief.
Talking Points:
Well, it was quite a torrid day for David De Gea indeed, getting inducted the hard way in the premier league. Great in one on one situations but needs a lot of work during crosses and low shots from any distance. Learning the language is a must now, not losing the trust of his team mates, and elevating his presence in the 6 yard box. The comparisons to M.Taibi are all there to see, and I couldn't help but see an uncanny resemblance to Taibi's debut against Liverpool. Great saves, a blunder, a yellow kit and a post match 'Welcome to the Premier League' Fergie interview. He'll need more than just one-on-one saves to fill VDS shoes, but let's all remember he's ONLY 20 and the potential is there.
I see Smalling is being touted as the new O'Shea by Fergie, but with better technicalities. I'm pretty sure SAF will be using him as a RB till Rafael gets back, but personally, I see him more of a fit in the CB position. Developing really well at the moment.
Cleverley and Pogba. Two players who I've been following since their early days in the youth and reserves teams, and every time I watch them, I can't help but get a tad bit excited. Cleverley's loan spell the previous season has been tremendous for his development, and hopefully he'll get a chance to prove his worth. As for Pogba, well, I'm predicting he'll be one of the best midfielders in the world over the coming 3 years. Yes, that's how highly I rate him. Commanding, fast, a great passer of the ball and not afraid to shoot; if he gets past his slight laziness, we'll have a gem in our hands.
Coming Up:
With our back four dully injured (Vidic out for 5 weeks, Rio for a fortnight, Rafael 3 months and Evra a doubt), it'll be interesting seeing how our young back four will fare versus the likes of Defoe and co in Spurs' first game. I'm expecting largely the same line-up, par Evans and Jones as CB, while Welbeck could make way for Berbatov. Hopefully De Gea proves doubters wrong as well. Expecting a tight game, United to beat Spurs by two goals to nil.
On another note, the Sneijder saga drags on as the rumor mill continues. The 31st of August is getting ever so nearer.
Mohamed Seif
Get in touch with Mohamed Seif on Twitter –> @MohSeif
If you want to know more about Mohamed Seif, read the list below.
 Sports Editor for READ Newspaper
 Ex Goal.com Africa and England correspondent/reporter.
 Sports Freelance journalist in various publications.
 Football TV Pundit for Nile TV.