The Reds opened the 2011/12 Premiership season with a hard working 2-1 away win at The Hawthorns. United controlled most of the first-half playing some great football, and took the lead thanks to Wayne Rooney. But Fergie's men still found themselves going into the break 1-1, after a mistake for new keeper David de Gea. United were put under the cosh in the second half but like the trademark of champions, found the winner with 10 minutes to go when Ashley Young, with the help of a deflection or 2 found the bottom corner.
Lets take a look at some overall team figures from the game.
As you can see, United's passing was brilliant, recording 87% pass success with 79% success in the final third.
Two aspects that United will look to improve on is their balls from wide areas with only 13% of crosses deemed successful and zero corners.
The other area will be the shooting. Whilst fully on top of the game in the first half United created several chances to go 2-0 up which may have resulted a much easier second half for the reds but poor finishing let them down. The graphic below shows where Uniteds shots went.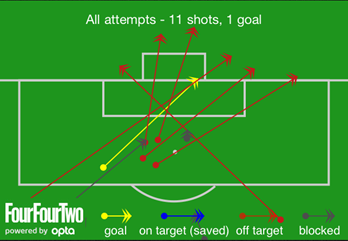 Influence
This graphic is generated using on the ball data (passes, tackles, shots, interceptions ect). The larger the name the more influence. The players name shows up on their average position on the pitch.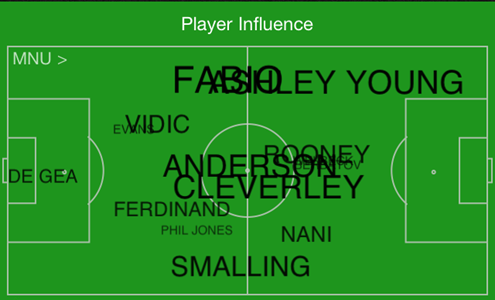 As you can see, Fabio and Young were largely instrumental on the left and Anderson/Cleverley were very influential in the middle on the park.
Player Focus
Ashley Young 
Ashley Young was named 'Man of the Match' by Sky Sports and certainly made a successful impact on his league debut with the Reds. He assisted Rooney for United's opening goal and played a key part in the winner – his cross was deflected in off two West Brom players.
Young recorded an 86% pass success rate with 85% success in the attacking third.
This graphic (below) shows where, direction and result of all Youngs passes.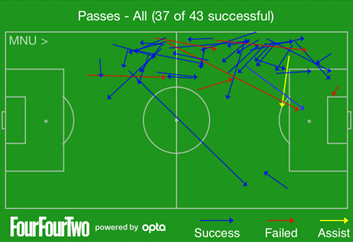 Overall, Young had a very lively game for United, heavily involved in both goals and looking dangerous when on the ball in the final third. I have no doubt as he beds in with the team more we will see even better results.
The stats and graphics came from the FourFourTwo iPhone application 'Stats Zone'. Download it from the app store FREE.
Follow the author of this column on Twitter – @xbirchy.