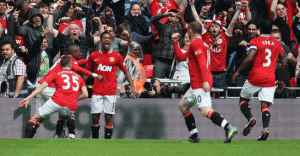 Kevin Levingston offers his opinions on the more prevalent issues being raised about the Reds this summer.
 Let me say this. I love twitter. I love the banter, the discussions, the arguments, the jokes, even the bull that comes with it. It has revolutionised the news industry and all things football. If a major story is coming out of anywhere, football or otherwise, chances are you read it on Twitter first. I have no interest in celebrity culture or using twitter to keep in touch with friends. Rather, I use twitter to keep my finger on the pulse regarding all things football, and more importantly; all things Manchester United. This of course, places me among thousands, if not millions of others who also tweet their football opinions on a daily, sometimes hourly basis. Never before has the everyday football fan had such a forum for discussion and debate. Twitter has become huge. The positives and negatives of this fact are for others far more qualified than myself to decide. However I will say this: Twitter has made us all insane.
I don't exclude myself from this either. I am fully willing to admit that I, like many others have sat glued to my computer waiting for the next "huge announcement" regarding United, and have more often than not been led astray by fraudulent sources claiming to be "in the know" or in possession of inside information. It's a landscape that seems to have become part and parcel of twitter and the people on it. However I must admit that I have been surprised by some of the opinions voiced by my fellow united fans, and the ferocity with which these opinions are being touted.  I'm not saying these people are wrong, but I do believe we are getting a little carried away with ourselves.
Wesley Sneijder is a good player, a fantastic player in truth, but his acquisition or lack thereof will not be the making or breaking of United's hopes this season. Nor do I believe that we have ready made equivalents waiting in our reserve and youth teams that will step up to the required level as soon as they get their chance. The departure of one Paul Scholes this summer has panicked a lot of United fans into agonizing about the state of our midfield. It doesn't take a scholar to figure out that our midfield needs improving, but that has been the case for at least the last three or four seasons, and in that time Paul Scholes has been nowhere near the level of player we claim we need to replace him. All this, and we still make it to three out of four Champions League finals, along with winning four league titles in the last five years and eclipsing Liverpools domestic record. Most other teams would dream of the perceived lack of quality our team has.
Most of these cries for reform come from a growing subculture within the United fanbase that consistently questions our players and our manager. The same people who arrogantly dismissed Ashley Young as "not good enough for United" were undoubtedly the same who castigated David de Gea after he made one small error in his first competitive game for Manchester United, the club we all profess to be the greatest in the world. Some people have been playing too much Football Manager. Undoubtedly the same "told you so" attitude will rear its ugly head if we make no further signings or suffer a blip in form this season.
In the same breath, while our young players may indeed make their first team debuts this year, and show promise not seen coming out of the youth team for some years, it would be foolish of us to expect them to be transformed into world beaters by the simple act of stepping onto the hallowed turf of Old Trafford. This team is a work in progress, a group of players being assembled and blooded by Sir Alex that may eventually grow into another great team. Most expect us to retain our title this year and it would be foolish to deem another European final as being out of our reach. Not bad for a developing team. How we will do this year remains to be seen, but I fail to see how we have become weaker as a team in any way whatsoever.
I realise everyone is entitled to their opinion on these matters and far be it from me to suggest my opinion is worth any more than those roundly criticizing Ferguson, or conversely, hailing Paul Pogba as the new messiah. What I am appealing for is a measure of patience, perspective and clarity, that we might simply support our team and have faith in the management rather than jumping to conclusions one way or another.
The summer transfer window has become a hotbed of madness and speculation that can drive even the most serene of fans crazy with anticipation or frustration. At least now we can be appeased somewhat that football has returned (Thank Christ) and with it, hopefully; sanity.