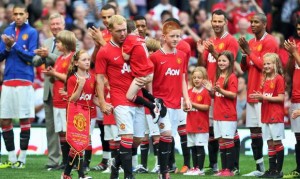 Despite endless complaints at the lack of guest stars on offer in the build up to this game, ultimately there was only ever one man the faithful had come to see – and he wasn't standing in the opposition dugout.
In the age of media chasing superstar footballers, the Salford-born Scholes has always been the exception to the rule, often going to great lengths to avoid the attention others revel in.
He could do little to divert focus from himself nine minutes into this particular game, as he collected the ball on the edge of the area before lashing a ball past a despairing Brad Friedel. It was a strike which brought congratulations and smiles of joy from even the visiting team; a goal that encapsulated the midfielders United career and even brought a sigh of regret from onlookers as it truly hit home what a talent the Stretford must now bid farewell to.
Consummately entertaining for his entire career, it was only fitting that the great man would bow out with such a sublime swansong. Further goals followed; a supremely dispatched penalty from Rooney, a precise finish from Welbeck after some defensive blunders, a beautifully crafted goal from Anderson that could well be a sign of things to come, and finally a well taken brace from Mame Biram Diouf, the forgotten man of the Old Trafford strikeforce.
In the 75th minute Old Trafford rose to salute their retiring hero as he was replaced by Paul Pogba; a young man just starting his career as the man the call "Sat Nav" took the final bow of his.
The Cosmos managed to stem the tide until the final whistle, but in this game the score was of little importance.
As the little man made his final address to the Old Trafford faithful, it is certain he was not the only one fighting back the tears. Without doubt, he was one of the greatest players to ever pull on a United shirt, and no doubt it will take some time to come to terms with a United team lacking Mr Paul Scholes.