Sunderland have today confirmed that Manchester United have accepted bids for veterans Wes Brown and John O'Shea. The deal is subject to both passing medicals, and if the papers are to be believed, Darron Gibson will also be joining in a triple deal in the region of £12M pounds. It has long been accepted by the fans that Gibson is not of sufficient quality to wear the shirt.
Shocking performances against Blackpool and Southampton earned him the backlash of the faithful Utd fans, to the extent that he had to shut his Twitter account down after one day, due to the sheer amount of abuse he received. I'm firmly of the belief that booing players is absolutely wrong, no matter how bad or shocking you believe them to be. Having tens of thousands of fans on your back, will not motivate a player to perform better and to me is the very opposite of "supporter". Gibson was treated harshly, but I must admit to not losing any sleep over his imminent departure.
Wes Brown has been a Manchester United player for 14 years and in his time
made 232 appearances winning 5 Premier League Titles, 2 FA Cups, 2 League Cups and 2 Champions Leagues. Sir Alex Ferguson has said of Brown:
"I think Wes Brown is the best in England. He's better than Campbell and Ferdinand, he will be fantastic." – Sir Alex Ferguson, September 2001
Undoubtedly his best season came in the 2007-08 campaign when he played a major part in the clubs' League and European successes, even setting up Ronaldo's goal in the champions league final. However, injuries have hampered Brown's career somewhat and he has had a frustrating last few years at the club. The emergence of Rafael and Fabio da Silva and the signings of Chris Smalling and Phil Jones mean that Wes Brown will almost certainly get very little playing time, and this move makes sense for both the player and the club. I sincerely hope Wes Brown is a success at Sunderland, and he is treated with the respect he deserves.
John O'Shea came through the academy at Manchester United and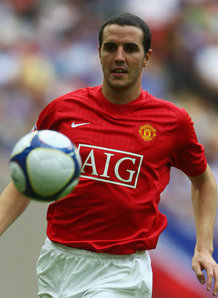 made his senior debut in a league cup defeat to Aston Villa in 1999. He has made 286 appearances since then, winning 5 Premier Leagues, 1 FA Cup, 3 League cups and a Champions League in the process. O'Shea, although not a spectacular player by any means, is a versatile and dependable footballer, having played in every position for the club, including a memorable stint in goal against Tottenham Hotspur.  O'Sheas most memorable moment in a Utd shirt however, remains that game winning goal against Liverpool in 2007.
Selling John O'Shea is a very puzzling decision for me. He can, and will play, at any position the manager needs him to, and he always does a dependable job with minimal fuss. O'Shea has proven time and time again that he can be counted upon when needed, and this is the sort of player that is crucial for any side challenging for trophies. Fabio, Rafael and Rio are also very prone to injuries, a trait I'm told by Blackburn Rovers fans; they share with Phil Jones, meaning defensive cover may well be essential next season. O'Shea can still do a good job for Manchester United, and I for one am disappointed he is leaving.
So we have two defenders and a midfielder leaving the club. This essentially confirms that we will be in the market for a midfielder this summer. Perhaps we are now also a little short of cover at Right Back, meaning we may strengthen in this position this summer. Or perhaps a player from the reserves will be given an opportunity in the first team; coincidentally one being the younger brother of Wes Brown, Reece, who like his brother, is comfortable at both centre and full back.
I believe the transfers of Gibson and Brown makes sense, with both players likely to be afforded few opportunities next term.  I will however be sad to see the back of John O'Shea as I still believe he has a role to play at the club. Only time will tell if this is a good move for player and club.
If you want to discuss this article add me on Twitter @stephenbusby88 or leave some comments.