Ask any Manchester United fan what the transfer priority is this summer, and most will reply with a resounding "Centre Midfield". In fact, for the last two summers, the general consensus has been that we are in desperate need of a creative midfielder, one who can dictate play and add a creative dimension to the team. Given the recent retirement of the legendary Paul Scholes, this issue has surely moved to the top of Sir Alex's agenda.
Yes we have some very good players in midfield. Darren Fletcher, who many claimed would have made a huge difference in the Champions League final 2009, is a solid performer and brings energy and bite to the midfield. Ryan Giggs has excelled in the centre, but his recent performance against Barcelona showed that age is finally creeping up on him.  Anderson has improved tremendously this season, but there are serious doubts about his fitness- the man is treading a very thin line between chubby and ripped. And finally there is Michael Carrick, no doubt of his quality when he is on form, but those rare days have been few and far between in the last few seasons. Regardless, Carrick has the trust of the manager so I expect he will be a regular fixture next season.
But could any of those players walk into another top side in Europe and command a first team place? Fletcher perhaps, could enhance a decent Premier League side, but he wouldn't get a look in at the likes of Barcelona and Real Madrid. The main ambition for this club now, has to be European success, but do we have the midfield to overcome Barcelona? Being brutally honest, the answer is no.
There have been various names linked with the club but the same three have been cropping up consistently: Luka Modric, Samir Nasri and Wesley Sneijder. No doubt all three are quality players, but which option represents the best move for the club, both tactically and financially?
Luka Modric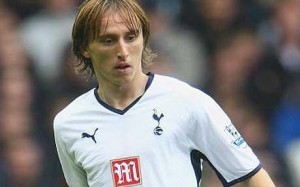 When it comes to midfielders, there are few better in the Premier League than Luka Modric. The 25 year old  Croatian playmaker is probably  the only traditional centre  midfielder of the three.  Excellent in possession, a  master of finding and creating  space and a very hard working player to boot, Modric would be a terrific addition to the squad. He is already proven in the Premier League and is comfortable in our favoured 4-4-2 formation, so would need little time to adapt to playing for Manchester United. The only downside is that Modric has only contributed 5 Premier League assists since the start of the 2009-10 season (Opta), a surprising statistic given that our new signing Ashley Young, claimed 11 last season alone.
Of the three, Modric seems the least likely to join us. The player himself has already stated a desire to stay in London – "I want to stay in London. I am very happy here and so are my family. I like the city."And Spurs will be very reluctant to sell their prize asset to Manchester United, given the history involving Dimitar Berbatov and Michael Carrick.
Samir Nasri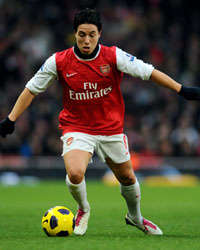 Having just turned 24, Nasri is the youngest of the three to be linked with us. Stellar performances for Arsenal last season earned him a nomination for the PFA Players' Player of The Year award and he was undoubtedly Arsenal's key man last season. Nasri is a tricky player with excellent close control and a keen eye for goal, chipping in with 10 for Arsenal last term. He would provide us with some much needed goals from midfield and would represent the best value, but I am not convinced he is the perfect fit. Nasris's favoured position is on the left or in the playmaker role behind the strikers, and would he really be happy slotting into a 4 man midfield, where any player would be expected to fulfill defensive duties?
Reputable football journalists are adamant that Manchester United are very keen to secure Nasri's signature, but the main issue would be convincing Arsenal to sell to their main title rival. The player himself has declared – "We already earn huge wages. The priority is to make a big career and to win titles" and taking this statement at face value, Manchester United are the club that can easily match his ambitions. Do not be surprised however, if the lure of obscene amounts of money persuades Nasri to join City or Chelsea.
Wesley Sneijder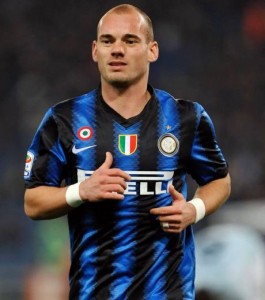 Wesley Sneijder is arguably the finest player of the three. Having won La Liga, Serie A and the Champions League, there is no questioning his pedigree. Sneijder is a midfielder capable of dictating any game with his superb passing and vision. He is also two footed and considered to be somewhat of a free-kick specialist.
Like Nasri however, Sneijder does not strike me as a perfect fit for Manchester United. His favoured and most effective position is in the hole between midfield and attack, a position Wayne Rooney is fond of dropping into. Furthermore, Sneijder is not famed for being a hard working player, often frustrating Inter Milan fans due to his refusal to track back and defend, something which is essential in the Premier League. Sneijder would also cost the most out of the 3 with a market value of £35 million and reported wages of £200k a week. Is it wise in the current economic climate, to buy a 27 year old player for £35 million, given that his re-sale value can only decrease?
So, when deciding which player we should buy, there are pros and cons to be considered. The safest option would be Luka Modric, the cheapest option would be Samir Nasri and if pedigree is the main deciding factor, Wesley Sneijder is your man.
Follow me on Twitter at @stephenbusby88 or leave some comments if you want to discuss this article.