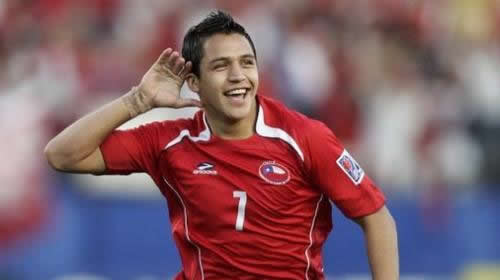 At a time when reading all the reports of the potential transfer of Udinese winger Alexis Sanchez, it looked like even a personal call from Sir Alex wasn't enough to bring him to Old Trafford.  In the past 3 days, it seemed Sanchez was considered a player that we would have to deal with, not count on.
On Tuesday, Udinese owner Gino Pozzo even claimed that City was the likely destination for Sanchez over Barca or Inter Milan.  This comment was made based solely on the spending power of City and the thought that no one would try to compete with them for their number one summer target.
Never count out Sir Alex.  Ferguson is on a mission this summer, and that mission is one of rebuilding with youth.  Sanchez, a 22 year-old Chilean international, has been valued at £35 – £44M since the open of the transfer window.  City's latest openly disclosed offer was reported to be £27M, and was thought to be enough to begin personal contract discussions.
Until David Gill flew out to meet Pozzo.
This meeting over Sanchez raises a few eyebrows around here.  With Ferguson looking to secure the services of yet another winger (a very highly rated and expensive one at that), most certainly calls a few things into question.  The most immediate is the purchase of Ashley Young.  At one time this seemed to be a done deal, but shifting focus to another winger makes me think that the Young deal has hit a snag.  If Young's fee from Villa has topped £20M, then Ferguson may see more value in trying to tempt Sanchez with a bid just over that of City.
This could also signal the end of the line for Nani.  Already seen as trade bait for a few other reported deals, Nani may very well be in a "player plus cash" deal to Udinese.  Udinese would be very interested in such a move since they are resigned to losing Sanchez and need a capable winger next year having secured Champions League football.
As far as the move to City, Sanchez's agent said, "An agreement with City? Sanchez's future is still very much wide open".
Whatever the posturing may be, it would be hard to imagine City losing out on their number one target with all the money they are willing to spend.  But like I said before, never count out Ferguson.  I know Mancini won't.
You can also find me at Yanks Call It Soccer (.com) or contact me via @thestretfordend