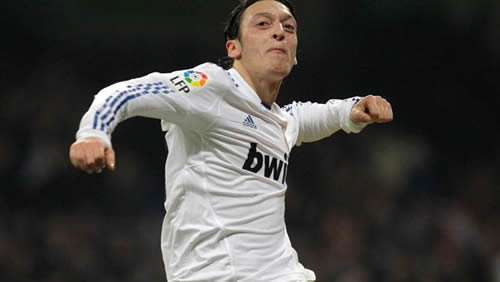 Just as fast as the transfer rumor came in, Mesut Ozil and his people have moved to kill it.  Just this week Ozil was rumored to be targeted by United for a fee that was reported by many different news sources to be in the £20-£25M range (depending on the source); however, last night in an immediate response, both Ozil's agent and Ozil himself made separate statements denying a move away from the Bernabéu.
First the agent: "Thanks, but Ozil is very happy at Real Madrid."
Then Ozil: "I do not move from Real Madrid."
This does seem to rule out a move for the 22 year-old, but I have been through enough transfer windows to know that you never count a player in until they are officially unveiled, or out until the window is closed.
What this does mean for United fans is that Sir Alex is a very active participant in this market.  Unlike last summer, or this past winter, Sir Alex is working through the holiday and player valuation is of no consequence.  Being linked to so many different players, top quality players, shows that United are prepared to spend deep into this market.
The swift reaction by Ozil and his agent also shows United's strength in this transfer window.  United has spread its influence so far into the transfer market, the second that a player is linked with United, a response must be made.  Ozil may very well be happy at Real, and not looking to leave, but the fact that he quickly move to squash the rumor shows that United are serious enough in the transfer market that even a rumor can unsettle a relationship between a player and a club.
The question this summer is "who will it be?"  The comforting feeling is that we know it will be someone.
You can also find me at Yanks Call It Soccer (.com) or contact me via @thestretfordend