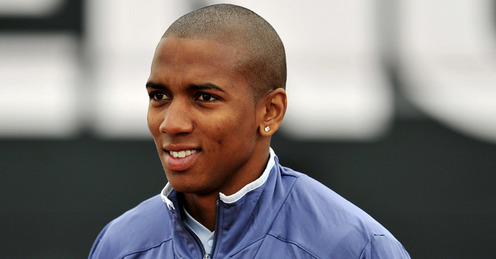 Reports are coming in from all sides that Ashley Young will be a Red Devil as soon as Sunday.  What is causing all of the speculation, or rather assertiveness of the papers to actually claim that the deal is completed?  Well it would be the cancellation of his wedding.  That is a pretty no-nonsense hint.
Young's wedding to childhood sweetheart, Nicky Pike, set to go off on Saturday was suddenly halted.  Now this wasn't a courthouse ceremony, or a quick destination wedding with just your best mates and a beachfront ceremony.  This was a £200,000 wedding.  I know certain items that must accompany a large-scale wedding can be expensive, but £200,000, that was going to be an epic party.
To have the nerve to cancel a wedding of that magnitude with your childhood sweetheart and still have your life in tact means you either joined the Taliban and will never be seen again, or have made a pretty large life changing decision that will affect the both of you for the rest of your life.
The news of the postponed wedding came from none other than his fiance who stated, "Yes, we have cancelled our wedding. Do I look upset? It's not anyone else's business. It's not your life, it's mine."
I didn't actually look at her while I read this quote, so I don't know if she looked upset, but my guess is that once she is sitting inside of Old Trafford watching Young blaze a trail to the Stretford End byline, she won't look so upset.  And the giant ring on her finger might help a bit.
You can also find me at Yanks Call It Soccer (.com) or contact me via @thestretfordend