Now that International duty is on pause until July, it means that the summer rumors will begin to take shape. Players will no longer be able to hide behind answers of "I need to focus on playing for my country", now is the time for top players from around the world to begin the decision making process.
For Manchester United, it is now time to answer the question that has been on the tip of our collective tongues since the moment he announced his retirement, who can replace Paul Scholes? A true United fan hoped to answer this question last summer, but "in Ferguson we trust" and he led us to our 19th title. Now that Scholesy has hung up the boots, we will now get our answer.
What we want to know Red Devil faithful, is who do you want?
Three candidates instantly come to mind, with the third being a recent development. Let me start here;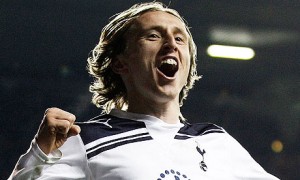 Luka Modric – Est Cost: £25m
What a player. For me the ideal candidate. Before you stop reading hear me out. Luka would cost us an excess of £20m to sign and a player trade with Berbatov going the other way would work for me and drive the cost down. If you are a huge Berbatov fan and are unwilling to let him go, you can stop reading.
I have closely followed Luka ever since Sir Alex mentioned wanting him (notice that when that happened his value tripled). I must admit I wasn't completely immediately impressed. Until this last campaign. Hindered slightly by injury, Modric shined. His is a excellent combination of vision, pace, endurance, and skill that will compliment what we are desperately lacking in our midfield, and at £25m he would be a steal.
Immediate impact – Close control and passing in the midfield
Apparent weakness – Finishing, but seriously, we are trying to replace Paul Scholes
United player who will benefit the most – Darren Fletcher.  Fletch will benefit from Modric's ability to match his endurace and will double up our ability to close down the middle and make it look like we are out numbering our opponents in the middle.
United player who will be left out – Darron Gibson. Sorry, not sure where you fit now.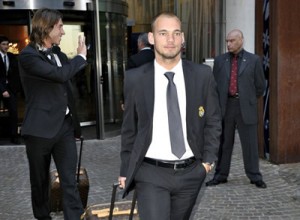 Wesley Sneijder – Est Cost: £30m – £35m
Those of you that know me know that I do not watch Serie A. What this means is that I haven't really watched Sneijder since he was either with Real Madrid, playing for the Netherlands, or in a Champions League final.  In any case, in all three of these occasions, he has shined. This may be the complete package we need to fill the chasm left by Scholes. Sneijder also brings the finishing side, to an already packed skill set.
Immediate impact – An immediate counter to what Barcelona exploited
Apparent weakness – Ego. Not sure who he is playing for, him or the team, which is nothing like Scholes.
United player who will benefit the most – Nani and Antonio Valencia.  Nothing looked better than a driven ball over the outside back straight onto the foot of a wing player. Sneijder has the vision and the delivery to compliment this aspect of United's play.
United player who will be left out – Michael Carrick. Since Sneijder's on field rated weakness is his defensive ability, in steps Darren Fletcher and out goes Carrick.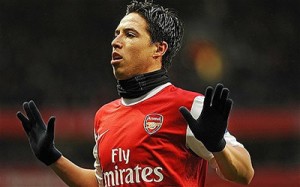 Samir Nasri – Est Cost: £20m – £30m (very broad reports)
United signing Nasri would be very sweet indeed. Twice the Barclay's Player of the month early in the season, Nasri really showed his ability to attack and shed defenses with silky ball control and a lethal finish. These are two things that United need.  We have an over-reliance on our strikers to hit the back of the net and are desperate for more midfield goal production.
Immediate impact – Attacking central midfield option
Apparent weakness – Disappears from the big, marque match ups. Something that is not possible when playing for Manchester United.
United player who will benefit the most – All central midfield players. Stretching the central midfield all the way into our opponent's 18 is something we have not had in years. Ronaldo provided us the ability to stretch the field from our midfield, but it was mostly through his amazing wing play. Nasri allows us to stretch teams right up the gut, 18 to 18.
United player who will be left out – Will have to be Sir Alex. With Nasri's need to sport a snood and his propensity to wear gloves with short sleeves will have SAF seething.
So Red Devils, who would you buy?