This is the third of Stretty News' three part series on the United Season. Part One can be found here and Part Two here.
In February, Gary Neville, who hadn't been able to fully recover from nagging injuries sufficiently to make an impact with the club, called it a career. The former captain had only managed a handful of appearances over the past eighteen months and the handwriting was on the wall. No one will ever argue that he was the most talented player to don the United colours but few will disagree that he was the most dedicated.
Shortly thereafter, Sky Sports announced that they had signed Red Nev as a match analyst, with an eye towards forming he and Jamie Redknapp into the replacement tandem for disgraced Richard Keys and Andy Gray. Pairing former United and Liverpool players in the booth ought to be a ratings grabber!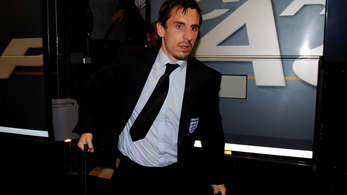 United also moved quickly to arrange a testimonial match for their departing number two. The game took place the week before the Champions League Final, with brother Phil and David Beckham, the latter jetting in for the match from LA, as he had just done for the Royal Wedding the month before, to join Paul Scholes and Ryan Giggs in a match against Juventus, reminiscent of the 1999 Champions League semi-final.
Just as United fans learned of Neville's departure, a trip to Molineux was in the offing. In the build-up to the match against Wolves, Dimitar Berbatov entertained the notion that United could indeed match Arsenal's Invincibles with an undefeated season, as a nice companion piece to surpassing Liverpool on the list of all-time champions. Sir Alex Ferguson tried to maintain an even keel, noting how competitive the league was and that Mick McCarthy's side were a dangerous foe, mired in a relegation battle or not.
The Scot's words had weight, as Wolves spent the campaign losing to lesser sides but stunning sides in the hunt for Europe. Liverpool, Chelsea, Bolton and Man City were all victims of the Midlands side. His players, however, were caught up with the notion of their own greatness and walked right into the jaws of the Wolves' trap.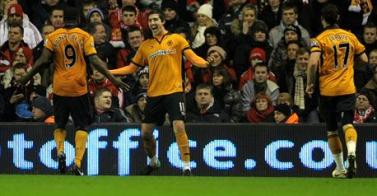 United's minds eased even further when they went up after only three minutes, through Nani, finally enjoying some time on the right wing. At the ten minute mark, though, George Elokobi leveled and, five minutes before the half, Kevin Doyle put Wolves in front. McCarthy's side doggedly held on through a Man United second half onslaught for the win and United's bubble was burst.
Although the loss was followed quickly by a rollicking 2-1 victory over City, in which Rafael da Silva informed Carlos Tevez, face-to-face, that he was persona non grata at Old Trafford now that he wore the sky blue strip, United lapsed into a poor run of form. Goals dried up, with Dimitar Berbatov in a long funk and Fergie too loyal yet to switch to his hot hand off the bench, Javier Hernandez.
A one goal victory over Crawley Town in the FA Cup fifth round was hardly inspiring. Nor was a scoreless affair at the Stade Velodrome against Marseille in the Champions League Round of sixteen. The worst seemed behind the club, however with a 4-0 drubbing of Wigan at the DW, with Chicharito rewarding a long-awaited start with a double.
It was one step forward and two back, though. The following match at Stamford Bridge was lost 2-1 after some very controversial calls from referee Martin Atkinson. A rare Rooney goal was offset by a David Luiz strike, and then a Frank Lampard penalty, awarded when Yuri Zhirkov collapsed under minimal contact from Chris Smalling, moments after Atkinson had declined to book Luiz for an even more blatant challenge at the opposite end.
Fergie, who had been hounded by the media all season, finally took umbrage when, as he saw it, the match officials joined in, and went on a tirade against Atkinson, saying that he "feared the worst" when he saw the appointment before the match. The Scot then added that "you want a fair referee, or a strong referee anyway, and we didn't get that."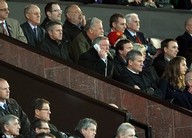 What Ferguson did get was a strong punishment; a three game ban was assessed for this latest infringement and a further two, suspended from his accusation that Alan Wiley wasn't in sufficient physical condition to referee in the Prem last year, were tacked on, as well. Fergie spent the five matches in the stands, seated next to David Gill and speaking into a rather phallic looking white plastic telephone, to relay his instructions to the dugout.
Before the suspension was complete, he would be joined by Wayne Rooney, castigated for screaming obscenities directly into a television camera after completing a hat trick in a rousing 4-2 victory over West Ham, avenging the Carling Cup defeat in November.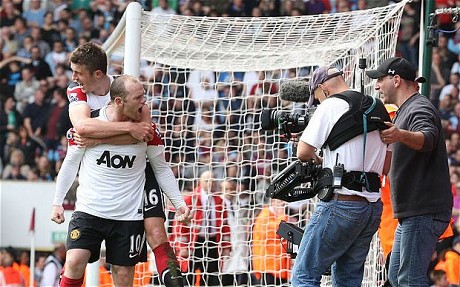 The Chelsea setback was immediately followed by a 3-1 defeat at Anfield. Arsenal were up next in the FA Cup quarter-finals, smarting from a Carling Cup Final capitulation to the eventually relegated Birmingham and a harsh loss to Barcelona in the Champions League quarters but eager to keep their fight for silverware alive on two fronts by eliminating a wounded United.
What followed was perhaps one of the best tactical victories I've ever seen. Limited in the center of the pitch, both by Arsenal's talent and their own suspensions and injuries, including a mysterious virus which had stricken Darren Fletcher, keeping the heart of the United midfield sidelined for the rest of the season, Fergie went with seven defenders in his starting eleven.
Chris Smalling partnered Nemanja Vidic, with Wes Brown and Patrice Evra on either side of them in a traditional back four. John O'Shea was installed as holding mid and the da Silva twins took the wings. Up front, lone midfielder-by-trade Darron Gibson supported Javier Hernandez and Wayne Rooney in attack.
Arsene Wenger attacked, believing he would have all day to hammer away at a conservative formation. The trouble was that it wasn't all that conservative. Rafael and Fabio flew down the flanks, harassing an unsuspecting and shaky Gunners defence. When Arsenal was able to make forays into United's end, they discovered that Edwin van der Sar hadn't retired quite yet. In the second half, Fergie threw a recovered Antonio Valencia into the mix and the long-missed winger set up Wayne Rooney for the match killer, complementing Fabio's twenty-sixth minute gem.
It was the first victory of a seven-match run. Whereas Arsenal saw another hope snuffed out and a promising season on the verge of complete ruin, United separated themselves from the chasing pack in the Premier League, dusted off Marseille and then swept Chelsea in the Champions League. The table was set for another championship season.
Still, it wouldn't be as easy as all that. The second of three matches at Wembley was on deck, a tantalising FA Cup semi-final against City. United dominated the opening forty-five but like Arsenal eight games prior, could not convert possession into goals. In the second half, Yaya Toure made the Red Devils pay their due, slotting home seven minutes after the restart. United couldn't find a finishing touch and when Paul Scholes was given his marching orders with just under twenty minutes remaining, defeat at Wembley was a fait accompli.
London continued to be unfriendly to Fergie's side, as Arsenal gained a measure of revenge with a 1-0 defeat, courtesy of Aaron Ramsey in between United's utter dismantling of Schalke in the Champions League.
Manuel Neuer resisted manfully for the first hour of the home leg, before finally succumbing to the relentless pressure. Two goals in Gelsenkirchen were followed by a 4-1 rout at the Theatre of Dreams. Neuer, though, would not succumb to the Mancunian's recruiting overtures, as he preferred to move to Bayern Munich, instead.
Four days after securing a berth in the Champions League final, a 2-1 victory against Chelsea, their fourth in five matches against the Blues for the year, set the stage for a nineteenth championship. Chicharito was left alone by David Luiz in the opening seconds and the Stamford Bridgers were behind the eight ball. Captain Vidic then powered a strike past Petr Cech on twenty-three minutes to confirm that Chelsea's reign as champion was at an end. Frank Lampard pegged one back in the second half but there was no way back for Chelsea and the vigil for Carlo Ancelotti began in earnest.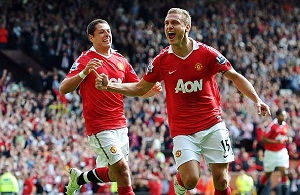 A one-goal draw against Rovers, the following week, with the necessary point secured by a late Wayne Rooney penalty, allowed the club to have a bit of fun in the final week against Blackpool, who were fighting to avoid the drop. The Seasiders were in ascendance early but United proved too much as the match drew on, and Ian Holloway, on his way back to the Championship, was hardly thanked for his defence of Fergie back in October.
The result allowed for a short celebration of number nineteen, pulling Liverpool from their long-held perch, and then the testimonial for Gary Neville. The main focus, however, was on one last date at Wembley.
Unfortunately, Barcelona proved the better side once again in the Champions League Final and what can you say but fair play to them? That Rooney scored, ending the campaign well into double figures despite such a horrible beginning, bodes well for next season. That Dimitar Berbatov has refused to move on, after being left out of the final squad also says something about the Bulgarian's pride and resolve, even if it isn't always as evident on the pitch as some might like.
Fergie, who didn't use Michael Owen, despite preferring him to Berba, has even seen fit to offer the former England and Liverpool legend a one-year extension on his contract. With Danny Welbeck, Federico Macheda and Mame Biram Diouf all expected back to fight for a place up front, such generosity might seem wasteful but it actually consolidates the position, allowing the club to focus on rebuilding the aging midfield.
Paul Scholes has announced his retirement, with a testimonial in the works for August, while Ryan Giggs looked war-weary against Barça, in the defeat. One has to expect his share of match time to significantly diminish in 2011-12. With Darren Fletcher's diagnosis still a mystery, it's even difficult to rely on him returning to full strength until one sees it for them-self.
Thus, the announcement that United will be very active in this transfer window are welcome words, indeed. Ashley Young has been mentioned early but the main target seems to be Inter's Wesley Sneijder, whose vision and talent far outweigh his lack of size. If United can land one or both of those players, there is no reason to fear City's ascension and the supposed revival of Liverpool. If not, the next may well be a long season for United.
In the interim, the loss to the Catalans may have tempered spirits but there is no reason not to look back on all the adversity the club faced over the long, long campaign with fondness. Detractors have claimed that this was the least inspiring of Ferguson's many champions but I disagree. Supposedly superior sides, such as Arsenal and Chelsea, weren't able to overcome a tithe of what United went through in 2011-12.
Resolve may not sparkle, it may not shine, but it is the iron that supports every great club and Manchester United's 2010-11 side proved that they have far more of it than any other club in England.
StrettyNews.com would like to thank Martin Palazzotto for his time, helping us put this year book together.