If Sir Alex Ferguson were a boy scout, he would have earned his firefighting badge several times over in the 2010-11 season. The FA doesn't keep stats for such things but I'd be willing to wager a few bob that Fergie spent more time attempting to put out fires than he did preparing the Red Devils for matches over this campaign. Of course, it's only fair to point out that on one or two occasions, it was the Scot who sparked the flames, himself.
From the moment the season began, in the Community Shield match against Chelsea, to its less than thrilling conclusion (if your heart resides in the Stretford End), against Barcelona in the Champions League Final, Sir Alex constantly found himself having to rationalise one controversy or another. Still, for all that, United continued its winning ways and at last surpassed Liverpool as the most honoured top flight club in English football.  Along the way, they also managed the rare feat of opening and closing their campaign at Wembley. If only the ending were as happy as the beginning.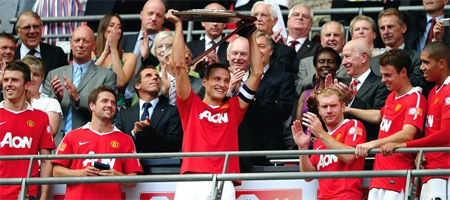 The Community Shield, in many ways, was a harbinger of the season to come. United topped Chelsea, Wayne Rooney was heavily involved but failed to make the score sheet and the three goal scorers, Antonio Valencia, Javier Hernandez and Dimitar Berbatov, were notable names in the shaping of the season. On the other hand, it was a false dawn in the sense that the ease of victory went completely against the campaign's run of play.
When the season proper kicked off, Chelsea looked nothing like the side that had been dominated in the friendly.  Back-to back 6-0 thrashings of West Brom and Wigan were the start of a fifteen game run through all competitions, in which the Blues won twelve, drew one and slipped up for one short period against Newcastle and Manchester City. Over that stretch, Carlo Ancelotti's side racked up twenty-five points in ten league matches, while conceding only three times and accumulating a goal differential equal to their point total.
Meanwhile, United remained unbeaten but were far less convincing. They contrived to either fall behind early, requiring several applications of 'Fergie Time' to rescue points, or concede late to drop points against sides who had been outplayed for almost the entire game. The worries began in week two, when Simon Davies leveled on the hour for Fulham at Craven Cottage, only for a Brede Hangeland own goal to seemingly give United the points with six minutes remaining. Three minutes later, though, Nani missed from the spot and then Hangeland made up for his gaffe with an eighty-ninth minute equaliser. Seven days into the season, Fergie's side were two points adrift of the rampant defending champions.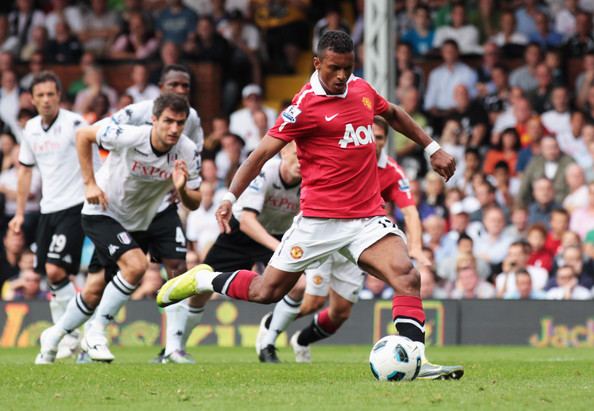 A fortnight later, United dropped two more points at Goodison Park when Tim Cahill and Mikel Arteta brought the Toffees back from a 3-1 deficit in stoppage time. It was Man United's road woes which contributed to their slow beginning, allowed Arsenal to dream of a long-awaited trophy for most of the season and permitted Chelsea, who had tumbled drastically in the middle of the race, to sneak back in during the stretch run.
The troubles of the outside world never affected the club's play at Old Trafford, however. Eighteen wins and a draw over the course of the season, yielding forty-nine of a possible fifty-one points, laid the foundation for a championship season. Despite their inconsistencies elsewhere, it wouldn't be until February that they would actually lose a game in the league, and had only suffered a 4-0 defeat to West Ham, in the Carling Cup, otherwise. In fact, a relatively easy Champions League group, comprised of Valencia, Rangers and Turkish champions Bursaspor allowed them to focus mainly on what was forming up as one of the toughest Premier League seasons in history.
While United found themselves struggling to match the pace of Chelsea on the pitch, with no Burnley, Hull or Pompey to offer a bit of respite, the media was feasting on an endless repast of happenings surrounding the club.
The first morsel in the feast didn't even occur in England.  At wit's end in his efforts to coax suitable performances from a young Wales side burgeoning with talent, John Toshack resigned as Wales' manager.  The instant odds-on favourite to take over was Ryan Giggs and, for a brief moment, the reigning PFA Player of the Year was tempted.  Speculation mounted that Giggs would manage the Dragons while playing one last season in Manchester. Sir Alex exercised his warranty rights on a half-dozen hairdryers and, after he had blown off sufficient steam, explained to Giggsy exactly how much he was needed, and not just for the remainder of the campaign.  Then he convinced him that it wouldn't be possible to commit completely to both projects simultaneously.
Afterwards, you can imagine Ferguson exhaling, relieved that nothing worse could possibly happen after such a narrow escape. No such luck; it was only the beginning.
With Giggs solidly ensconced at Old Trafford, the Welsh FA turned to Gary Speed and the media rounded on Wayne Rooney. As the manager was preoccupied with retaining the services of his favourite winger, his number ten was roasted in the press for an alleged affair with a Romanian prostitute whilst the missus was laid up with child. After the furore surrounding John Terry prior to the World Cup and Peter Crouch subsequently, the story didn't have much legs for an audience who had heard it all before.
Still, Rooney obviously felt vulnerable after a woeful tournament for England, a lack of form afterwards and the hit to his popularity the rumours caused. At least Ferguson had managed to keep the queries regarding his star's lack of goal production to a minimum by pointing out that the Scouser's ankle was not one hundred percent. To his shock, however, Rooney came out and publicly denied any such injury. Days later, Ferguson stunned the media by admitting, with little fanfare, that Rooney had stated his intent to leave United.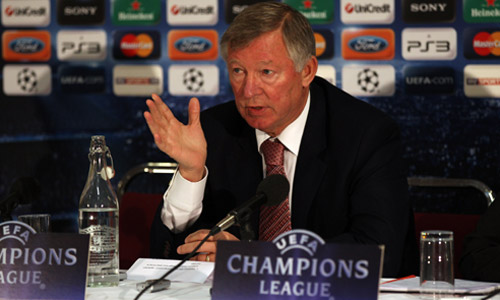 Over the ensuing week, it quickly developed that Rooney and his agent, the ironically named Paul Stretford, were angling for the type of money that Yaya Toure was allegedly collecting across town at City. As the drama played out, several managers, including former players Mark Hughes and Steve Bruce, as well as Carlo Ancelotti, Jose Mourinho and Roberto Mancini all came to Fergie's defence, although none were more passionate, or ludicrous, than Blackpool's Ian Holloway. His rant against greedy players and the Bosman rule was a classic, even for Ollie.
Despite his claims of enjoying his time at United, Roy Keane would come out on Rooney's side, suggesting that players should go after every tuppence they can get, because ultimately the club has no interest in their well-being. According to the Irishman, clubs look at players as meat, to be used in their tender prime and discarded when they've aged to gristle.
In the end, United capitulated and signed Rooney to what is rumoured to be the wealthiest contract in the Premier League, well over £200,000 per week. Nice work if you can get it and why I labeled this story, elsewhere, as the greatest nutmeg of all time.
Here ends the first of this three-part review of the United season. Read the second segment tomorrow.
StrettyNews.com would like to thank Martin Palazzotto for his time, helping us put this year book together.