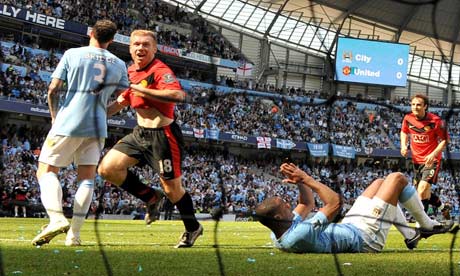 For Ronen (a regular StrettyNews.com contributor) it was an October evening in 1997. Manchester United were playing Feyenoord in the Champions League at Old Trafford at a time when Dutch teams are very much part of the competition. Cantona had retired a few months earlier.
Paul Scholes, a rotation striker in his early years, not a real member of the class of 92,  is pulled back into midfield.
It ended in a 2-1 victory but the final score does not indicate that it was one of United's best European games of the 90s. Suddenly, everything Cantona taught, Scholes knew. How to operate a football machine. How to implement an offensive decision in the flat hierarchy of a football team.
Touch, Control, Pass.
*
In a knowledgeable footballing nation the emerging of a player like Scholes dictates everything for a decade. Who will run for him? Who will cover? Who fits his style? France would move aside Ginola and even Cantona for Zidane. Raul was dethroned for Xavi. But in England it remained "how can we play Lampard and Gerrard together".
Which was great for United.
*
Asthmatic, small, genius – he is joining the coaching staff. Following Saturday's events he may be needed there more than the bench. Can he be United's Guardiola?