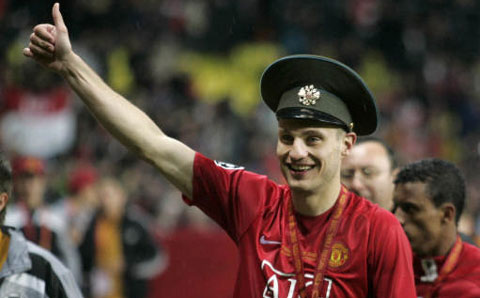 Manchester United captain, Nemanja Vidic, feels a lot better now that he has removed the monkey from his back by lifting the Premier League trophy last week – the club's record-breaking nineteenth time.
Before the season began in September Ferguson gave Vidic the captain's armband when he decided to remove it from now-retired Gary Neville. For a short period of time Rio Ferdinand wore the armband with pride but in the last three years, the former England captain got injured far to frequently.
The 29-year-old has made a smooth transition into the important role. There hasn't been many doubts about his leadership qualities since signing for United in January 2006, some believe he should have won the major player of the year prizes ahead of Gareth Bale and Scott Parker.
But Vidic isn't finished yet. The Serb now has his eyes on tonight's Champions League final against Barcelona at Wembley.
Here's an interesting fact about Serbian captains in Europe's biggest competition: In 1971 and 1991 the European Cup was lifted by a Serbian player – meaning every 20 years a Serb is the winning captain. Vasovic captained Ajax in 1971 and in 1991 Stevan Stojanović lifted the trophy for Red Star Belgrade. So, what does this mean for Vidic in 2011?
"I am happy to be the captain of such a very big club, especially in big games like this one," Vidic said.
"But in the end, if you don't win a trophy you are not satisfied. Luckily, we have managed to win the Premier League title. Now we can focus on this."
Although Barcelona are going into the match as overwhelming favorites, United's captain has plenty of faith in the Red men around him.
If they can cope with Barcelona's "keep ball" style of play, Vidic is confident United will claim glory.
"It is about being ready mentally," he said. "We are preparing more because we have so much experience and so many matchwinners in our team."