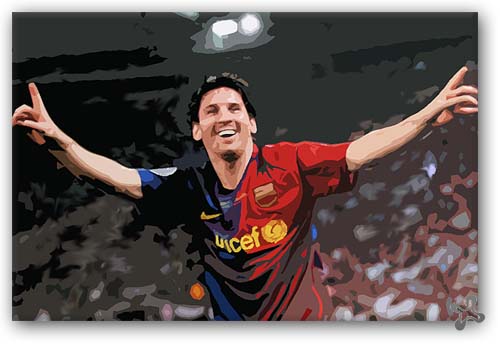 StrettyNews.com contributor Ronen Dorfan has written another fantastic article, this time it's about our opposition's best player, Leo Messi.
It is quite natural to wonder if modern football can actually produce a superstar of the magnitude of Pele, Cruyff, Maradona or Puskas. We will not have a Cruyff who will transform an anonymous club from a negligible footballing nation into world beaters. There will not be a scenario where a medium sized club like Napoli will acquire the world's best player and create the types of challenges Maradona faced and defeated.
And it's got nothing to do with television or the number of hours we can watch modern players. It has noting to do with artificial advertising hype vs. the glorification of yesteryear. It is more simple: in a game that has become increasingly team-oriented and economically tilted, it is almost impossible for a single player to create an historical change. To shift the balance of power. And historical players make history, not statistical history.
But one element is beginning to separate Messi from any player since Maradona. He has been very good for quite a long time. You can only be the best in your own generation. But if you are the best for long enough you append to your name a chunk of history. With Messi's durability, loyalty and low-key life style, he may remain the world's best for 7-8 years.
*
There is something anti-romantic about him. Football is the great democratic game. The greats are supposed to emerge out of nowhere. To arrive on liner at the Lisbon port like Eusebio. To emerge from the jungle with one shorter leg like Garrincha. Now suddenly the greatest arrives from … hmmm…. the youth ranks of a club with 400-million euro annual revenues.
But this for me is the historical meaning of Messi. Barcelona have found the formula. In an era where individualism usually equates trouble, they have created a 21st century megastar.
We live at a time with the greatest ever gap between those sitting in Europe's grand stadiums to those who are playing there. The working class, that adored the magicians and ball jugglers, has been ejected for a middle class mob furious at Nani for not passing the ball. If Mane Garrincha was playing today he would not be Alegria de Povo – "The Joy of the People" but an undisciplined outcast. If George Best would turn up drunk and sexually satisfied to a game at Old Trafford, the corporate crowd would complain they are not getting their money's worth.
Cristiano Ronaldo, the other great star of our time, is a sort of a solution. He lives in the fast lane but at least has a remarkable work ethic.
But Messi is the perfect solution.
*
This capitalist ethos has created a game with extreme physical demands. It seems to screen out many who have the talent but lack in the physical attributes. We are losing many players to this super-physical football. Ronaldo is the natural evolution of the game – a marriage of speed, power and technique but little Messi wasn't really supposed to happen.
I recently saw the biometric data for the Barcelona players in the Champions League knockout phase. Messi is always covering the smallest distance among his teammates. Consistently 75% of the distance covered by Xavi Hernandez.
It's not that Messi is lazy and that his teammates are running for him. It's that Barcelona has masterfully carved a 40 by 40 meter field to play in. On on this mini-field he plays and even chases down defenders and tackles. But mainly does his signature move. Approaches the box, and then either cuts right and shoots from an angle, or drift left from where he can place the ball with his left foot anywhere in the goal frame.
Barcelona has also eliminated the need to for Messi to possess many other Maradonian qualities. His lack of leadership, evident in his national team, is irrelevant. He does not have to worry about his teammates' self confidence. Of-course not face adversity or instability.
Only play on the little playground his club has created out for him. Their he can be Maradona. He can be Pele. He can be Alice in Wonderland.
*
But Messi too has solved some conflicts for Barcelona.
Barcelona is a club that likes to think it is predominately local. The beating heart of Catalonia. But at the same time it's obsessed with the global image of it's great rival Real Madrid. Real has usually successfully adopted the "World's Greatest Player". Di Stefano became Madridista at heart. The exiled and homesick Puskas found his peace. Zidane still lives there. Cristiano Ronaldo is bagging the goals.
Barcelona also made great efforts to adopt the world'ss greatest. But had a more traumatic record. Di Stefano jumped ship to Madrid. Maradona failed. With Ronaldinho it all turned sour (As with Eto'o, Rivaldo and Ronaldo).
Cruyff was the exception. On arrival he announced he would have never signed for Real Madrid because its association with the Franco dictatorship. He then won 5-0 in Madrid and won a title. Cruyff was a political man and the Barcelona values appealed to him. But even he never reached the footballing heights he enjoyed at Ajax.
But now Barcelona has home-made World's Greatest Player. Argentina born, but Catalonia bred.
He has sorted out his employers for two major problems.
Without Messi's Barcelona is an exceptional team, but essentially just another group of Dutchmen passing the ball. And he bridges between their desire for local identity to their aspirations to become Queen  of the Galaxy.