Below, we have listed the nominees and winners from the Manchester United award night that took place on May 18, 2011.
Jimmy Murphy Young Player of the Year nominees: Ryan Tunnicliffe, Paul Pogba and Tom Thorpe.
Winner: Ryan Tunnicliffe
The 18-year-old won the coaches' vote for the award. However, people from our twitter stream were predicting all three players – including those that didn't make the cut. That shows the quality of our youth team that have reached the FA Youth Cup final.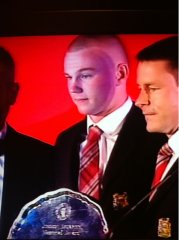 Reserve Player of the Year nominees: Joe Dudgeon, Oliver Gill and Scott Wootton.
Winner: Oliver Gill
The fearless 20-year-old picked up the reserve player of the year award tonight. Oliver, son of Manchester United chief executive David Gill, told MUTV that he wants to leave the club for the second time on-loan, and improve like some of the other youngsters at the club.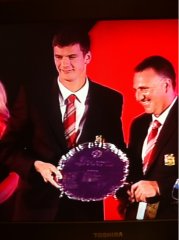 Goal of the Season nominees: Berbatov's overhead vs Liverpool, Hernandez' backwards header vs Stoke City and Wayne Rooney's overhead kick vs Manchester City.
Winner: Wayne Rooney
Rooney's season didn't start so well but he finally pulled his socks up and helped Manchester United win their nineteenth title. Wazza's Goal of the Season was won by 10,000 votes. That goal certainly "shut City up!"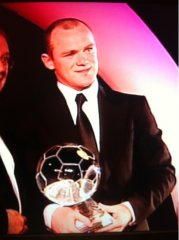 Sir Matt Busby Player of the Year Winner: Javier Hernandez
Who wasn't expecting this one? Since Hernandez arrived in the summer of 2010 he's been a fan favorite selling more jersey's than anyone else in the squad, and scoring important goals throughout the season have hugely increased the love we share for the Little Pea.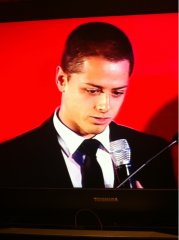 Players' player of the year winner: Nani
Nani did a lot for the team before Christmas when we, I'll admit, looked a bit flat. The Portuguese winger stood out setting up a numerous amount of goals and scoring a few also. Deserved.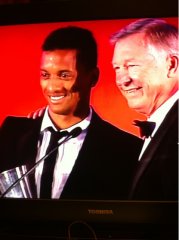 When the awards came to a close, Nani & Rooney spoke to MUTV admitted they both voted Van Der Sar for Player of the Year. Unfortunately the 40-year-old will be hanging up his gloves after his last game in the Champions League final against Barcelona on May 28th. A second European winners medal would give him the perfect goodbye!
Photo's: Pride of Europe