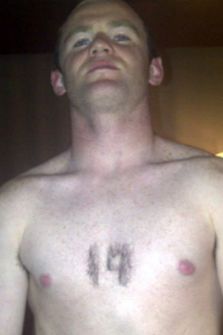 The boyhood Evertonian, who has rediscovered his finest from since signing a new controversial contract in October, 2010, finished a fine display with an equalizer at Ewood Park securing Manchester United's 19th league title. The 25-year-old was quick to salute the club's loyal supporters that traveled up and down the country throughout the season only to see a total of five away wins in the Premier League.
"It's a great feeling after the year I've had with the ups and downs, so for me this is for the fans," Rooney told Sky Sports, before admitting how nervous he was before hammering his effort past Blackburn goalkeeper Paul Robinson.
"It was terrifying," smirked the striker. "It took a long time before the ref gave it. I just had to compose myself. I knew where I was going to put it, I'd been practising all week and it was nice to score."
Wazza grew up supporting (Everton) the blues of Liverpool and his goal today brought even more pleasure as it knocked Liverpool right off their perch!

"Winning the Premier League is an incredible feeling and to get that 19th title to become the most successful English club is brilliant."
"Of course for me personally, being an Everton fan, it's even more special 19 times. It's a great feeling for the whole club, the team, the fans, everyone."