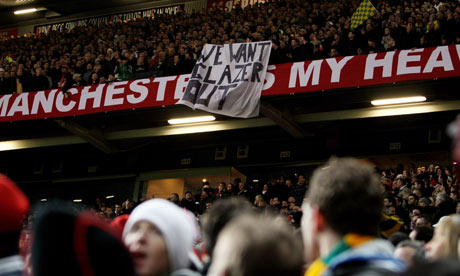 Manchester United are still on course to become the first football club to break through the £100 million preventive for annual commercial turnover.
The reds posted their third quarter figures earlier this morning, which show commercial revenue increased to £75.3 million, up 33pc compared to last year, 2010.
The increase helps outweigh the £5 million decrease in media and match day revenue within the third quarter, which club officials put to down to a reduction in the number of fans showing up for home games. People are currently struggling with unemployment and as a result they cannot afford to be at the games every week, it's nearly impossible for those with families etc.
The club have also confirmed they have bought back an additional £5.5 million in bonds, calculating an overall amount purchased to £29.5 million and the total turnover stands at £231.7m, up from £219.3m to March 31, 2011.
United's gross debt has also hit a backslide after falling to £477.7 million, however it is thought to be a direct result of a conversion of sterling owed in dollars, which is currently weak against the pound.
Manchester United are reported to still have £113 million in cash, despite the likelihood that we will clinch a record-breaking 19th league title and have a Champions League final against Barcelona at Wembley on May 28. The fans will be looking for the Glazers to give Ferguson a reasonable amount of money this summer to invest in his underrated squad.