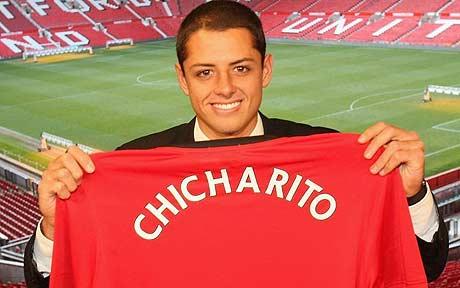 Javier 'Chicharito' Hernandez will be offered a double-your-money deal by future Champions of England, Manchester United, following his terrific debut season at Old Trafford.
The Mexican has become buy of the season in my opinion after scoring a massive 20 goals and playing a key role in helping Ferguson's red army to the Champions League final and the brink of a record 19th domestic league title, knocking Liverpool off their perch.
On 8 April 2010, the little pea agreed a deal to sign for Manchester United for a fee worth around £7million from Chivas Guadalajara on a four-year deal receiving around £25,000-a-week.
Ferguson publicly admitted that the 22-year-old was expected to spend the majority of his season contributing from the bench and filling in whenever needed, but the baby-face assassin picked up a regular place in Ferguson's team earlier this season after scoring a number of goals for fun. Unlike most poachers, Hernandez has more to his game than just being a fox in the box – the leap of a salmon helps him get up and score goals even with the back of his head.
Hernandez' strike partnership with Wayne Rooney has been second to none boosting his transfer value to an estimated £35 million, and it is now expected that this new deal will make him around £50,000-a-week including additional bonuses also written into the agreement.
Earlier this week Pelé hailed the Mexicutioner but United team-mate Ryan Giggs also said: "To score 20 goals in his first season is unbelievable.
"You always have a chance when you have a goalscorer like Javier in the team. He's made a fantastic impact on and off the pitch."