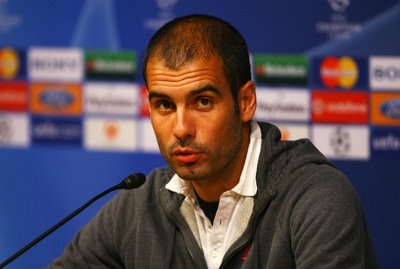 The attack-minded Barcelona coach Pep Guardiola, aged 40, has hailed Manchester United as an "extraordinary" team just three weeks before the Champions League final. Pep's Barcelona, like Manchester United, only need one point to win the title after beating Espanyol 2-0 last night in the Catalan derby.
Barcelona now aim to wrap up the Primera Division as soon as possible so that they can concentrate on winning the European Cup for the forth time – both United and Barça won their first European Cup at Wembley, 1967-68 for the reds and 1991-92 for the Catalans. However the Barcelona boss featured as a player in 1992 for Barcelona and admits he's wary of United's quality and strength in depth praising the brilliance in our squad.
"They played a Champions League semi-final [second leg against Schalke] with a team full of reserves and they won 4-1 – that says everything you need to know about the quality they have," Guardiola said on Sunday. "They have a great squad with two great teams and extraordinary players. We will try to wrap up the league and then we'll think about the final."
Ferguson's starting eleven against Schalke in the second-leg of the semi-final wasn't as strong as it could have been we'll all agree, but I think Guardiola's comments about it are a little harsh calling them "reserves". Manchester United have been criticised all season, even by fans, about the squad being one of Ferguson's weakest whereas I believe that's because we no longer have an individual player like Cristiano Ronaldo. We now play the game as a team with real spirit and when we have one or two players not preforming as they should, we don't play as well. But when they do all perform like yesterday against Chelsea, it makes fantastic viewing for spectators!
There's a lot to learn about Pep Guardiola from the way he conducts himself after beating teams like Real Madrid by big margins such as 5-0. He made an impressive post-match interview dedicating the win to club legend Johan Cruyff and former coach Carles Rexach – unlike José, it's not all about him which is something I like about the man.
The best dressed football manager has also being listed by many supporters as an ideal replacement for Sir Alex Ferguson, whenever the legend decides to retire (hopefully not for another few years). And after watching & listening to José Mourinho's antics a few weeks ago, I would prefer to see an attack-minded respectable manager like Guardiola come in as a successor because you always know what you're going to get when you spend money to watch the team play – the type of football Matt Busby expected from the club every week entertaining it's die hard supporters. I think we all have to agree that Pep Guardiola has Barcelona playing football that is a joy to watch but I still fancy United beating them in the final, in Fergie we trust!