Javier Hernandez scored a priceless header to secure a Manchester United 1-0 win against Merseysiders, Everton.This goal may prove vital as Manchester United go in search of the milestone 19th title and was met with jubilaition from Manchester United fan's and players alike.
Sir Alex Ferguson fielded quite a contrevesial team with a central midfield partnership of Anderson and Darron Gibson. The defence also saw quite a few suprise omissions with star man and captain Nemanja Vidic and Frenchman Patrice Evra being left out. Up front Ferguson went with the in favour partnership of Javier Hernandez and Wayne Rooney.
It was the home side that were first to threaten goal when Rooneys low cross was met by Javier Hernandez who's shot was saved by ex-united keeper, Tim Howard.
With ten minutes left  in the half  United had another fantastic chance to take the lead when Antonio Valencia's speed and strength saw him easily hand off Everton left back Leighton Baines. Valencia then squared the ball to Nani who side footed the ball along the ground only for the balls route to goal blocked by Javier Hernandez who had fallen previously to the shot.
Everton improved after the break when Tim ­Cahill replaced Beckford and Diniyar Bilyaletdinov made way for Anichebe who looked a threat and was the source of what was most threatening for the Merseysiders. Everton's first real chance, however, fell to possible summer target, Jack rodwell. His 25 yard effort forced a remarkable save from the ever amazing 40 year old, Edwin Van Der Sar.
Alex Ferguson was next to get involved brining in veterans Michael Owen and Ryan Giggs for Nani and Gibson respectively. Tension rose all over the stadium as Rooney stepped over the ball in a position not dissimilair to the one where he scored the remarkable free kick at West Ham, but Rooney's effort could only be tipped over the bar Tim Howard.
"Attack, attack, attack" was the roar from the Stretford End and attack United did but again to no avail as defender Phil Jagielka and keeper Tim Howard came to the rescue to cling on to a draw.
It took United till the 83rd minute to finally get the deciding goal when Valencia's resillience saw him block down an attempted clearence from Sylvain Distin. From this the rejuvinated winger whipped in a delightful cross that was met by Chicharito's head and nodded downward and into the Everton goal bringing the Mexican's goal tally to a significant 19 as United go in search of the 19th title.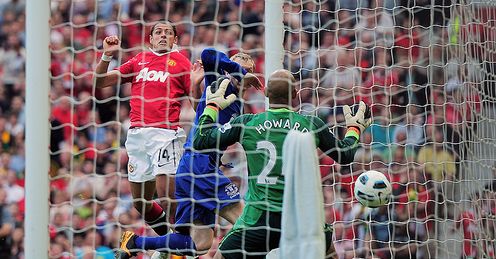 Anderson deservedly recieved Sky Sports man of the match award as he bounced back from a poor performance midweek against Newcastle with a great performance in the middle of the field passing the ball and running forward with brilliant urgency.
Other talking points included penalty claims where Jonny Evan's tangled legs with Jermain Beckford and Rio Ferdinand gently nudged Anichebe as he made his way to the United penalty area but both claims fell on deaf ears as Peter Walton rightly waved play on both times. Officials also somehow judged there to be 5 added minutes leading to nervous times as Everton pressed for the equalising goal but the reds withstood the pressure and kept the ball well.
Today we knocked one set of scousers of their perch but come May we hope it will be the red side we knock and win the 19th title.And this 3 points goes a long way to getting there.