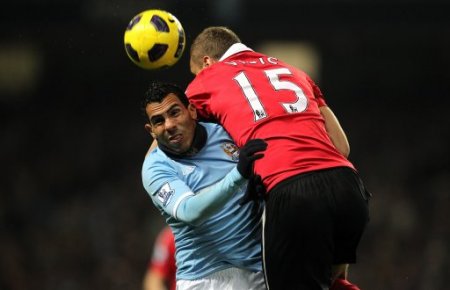 Manchester United and Manchester City will meet Saturday in the semi-final of the FA Cup. Both teams will be without their main strikers (Wayne Rooney & Carlos Tevez) for the special occasion but that shouldn't stop the game from living up to it's high expectations.
Manchester United captain Nemanja Vidic believes the absence of Manchester City striker, Carlos Tevez, this weekend isn't an advantage for Ferguson's Red Army, who still have a chance in winning their second treble.
Carlos Tevez, who once played for Manchester United will miss Saturday's FA Cup semi-final at Wembley after picking up a hamstring injury against Liverpool Monday night. Nemanja Vidic thinks it's about time the other City strikers live up to what is expected of them – instead of being foolish and drinking with OUR players!
Vidic said: "I don't think it is an advantage for us that City are unlikely to have Carlos Tevez fit.
"They have quality players up front. We never underestimate any players we play against. We respect them all.
"Tevez is a quality player but so are Edin Dzeko and Mario Balotelli. It is going to be difficult.
"Balotelli is a good player. He has good ability, is good with the ball and is strong. All players need time to adapt but he has shown good quality. Dzeko and Tevez are not the same player. Obviously Dzeko is a goalscorer who looks to play in the box and get on the end of crosses.
"He is a target man whereas Tevez likes to play on the ball and he comes deep. They are different.
"But they are both dangerous. You have to adapt to any danger an opponent poses and focus on that.
"I couldn't say there is any particular striker you like to play against. Whoever they are, if you give them half a chance they can score a goal.
"I wouldn't say one player is easier to play against than another. Tevez or Balotelli or Dzeko? I couldn't give you an answer as to which one is easier to play against."