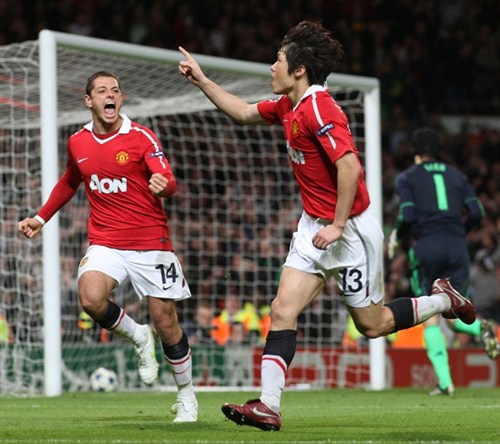 Tuesday's night's Champions League quarter final win against our old adversary's Chelsea saw another terrific performance from Ji-Sung Park. The Korean already has a reputation as a being a big game player and he only enhanced that as he gave another sweat soaked performance in Red that helped see United through to the semi-finals.
Park was not the only stand out against the Blues and he may not have even been United's best player but since his return from both international duty and injury he has slotted back seamlessly into the United side. Before Park went away to the play in the Asia cup for South Korea he was having arguably his best season in a Red shirt having scored six goals and notching three assists by the season's half way point. Had it not been for Park's time away from Old Trafford I would say it was a safe bet to suggest that these statistics would have at least doubled.
As I sat amongst the vociferous United support Park's box to box performance made me think back to the famed 3-0 win over Barcelona in the European Cup Winners Cup in 1984. That night Bryan Robson gave the performance of his life and after notching a brace commentator Martin Tyler bawled out "how can Manchester United even think of selling this man" (Robson was being heavily linked to AC Milan at the time). The reasons I drew comparisons with that event and the most recent of the Reds' European exerts is with Park's contract up at the end of next season some sections of the media have linked the industrious Korean with a move away from the Theatre of Dreams but for me Park is vital cog in the United machine and surely we would be foolish to sell him. Now perhaps my comparison with Ji-Sung Park and Bryan Robson is over the top, however the former South Korean Captain is a proven match winner and they don't come round too often. Just think of last season, Park scored against Milan, Liverpool and Arsenal all massive games, furthermore Park is a player who the manager can give a job to as tactically he is very astute. Last season against AC Milan at Old Trafford and at the San Siro Park was asked to shackle Andrea Pirlo and the Italian play maker didn't get a kick. So Park might not have the pace of the likes Ronaldo or Giggs but he is first and foremost a proper footballer and his reading of the game is superb, added to this Park is now providing the goals from midfield and he notched his seventh goal so far this season in the seventy seventh minute against the men from Stamford Bridge.
After Didier Drogba equalised for Chelsea with fifteen minutes to go a veil of nerves descended upon Old Trafford, no matter; United merely moved up a gear and showed why the bulk of criticism directed at the squad this season is unmerited. Valencia charged down the wing and played in Giggs who teed up our man Park with a lovely lofted pass, Ji then chested the ball under control and rifled an arrowed shot into the bottom corner of the goal. No thrills or spills just getting the job done and this is why Ji is so crucial to the United cause and makes a mockery of any fans who suggested he was only bought back in 2005 to simply sell shirts in the far east. Even one of my Liverpool supporting friends highlights Park as a terrific player and feels his match winning credentials will serve the Reds extremely well as they continue their chase for a second treble. Of course one area in which Park does compare with Robson without any doubt is in his work ethic, on Tuesday Park ran a staggering twelve kilometres and from a personal point of view if a player works hard then they have already endeared themselves to me but as I have shown Park possess much more than just seemingly endless stamina. However against Chelsea Park didn't stop running he hustled and harried Chelsea's midfield in to submission, many Reds lucky enough to be inside Old Trafford on Tuesday stood on their feet to applaud the Korean's desire and drive. Also Park showcased his passing ability too, forty-five passes reached their intended target out of an attempted fifty-three, giving Park an 84% pass completion rate, also these passes were played evenly spread over all of the pitch showing the Korean's movement and further highlighting his importance to the United cause.
Park is now clearly an established squad player at United and thirty still has much to give at Old Trafford, so to the powers that be that are listening don't sell my Park my Ji-Sung Park.