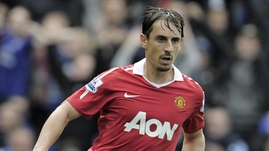 It has been confirmed, Gary Neville will join Sky Sports as a football expert & co-commentator from the start of the 2011-2012 season.
Gary Neville will be sharing his expert opinion live in HD during Barclays Premier League, UEFA Champions League, Carling Cup and international fixtures next season. This latest addition to the Sky Sports panel means we might not have to listen to Ray Wilkins as frequently – the former Chelsea assistant manager that gave footballers of the world a very unique tip Tuesday night when Tottenham Hotspur suffered an humiliating defeat against Real Madrid, "Stay on your feet."
Neville is said to be a replacement for Andy Gray and Richard Keys, who left the company earlier this year after a number of immature incidents. The pair are currently working for TalkSPORT on a morning show.
"I am thrilled to be joining Sky Sports," said Neville, who is the most-capped right-back for England with 85 international caps to his name.
"It has always been leading the way in football coverage. Now I have retired this feels like the perfect way for me to stay involved in football and I am looking forward to bringing my 19 years of match experience into television."
The 36-year-old decided to hang up his boots earlier this year, and has made a number of appearances on MUTV gaining experience and following the beautiful Hayley McQueen to Sky Sports.
"Gary will bring vast experience at the top level of domestic and European football from nearly a decade with Manchester United," said Sky Sports managing director, Barney Francis.
"He will give our viewers great insight when he joins our team next season working on Barclays Premier League, UEFA Champions League and Carling Cup football next season."
StrettyNews.com would like to wish Gary Neville the best of look with his new career as a football pundit.